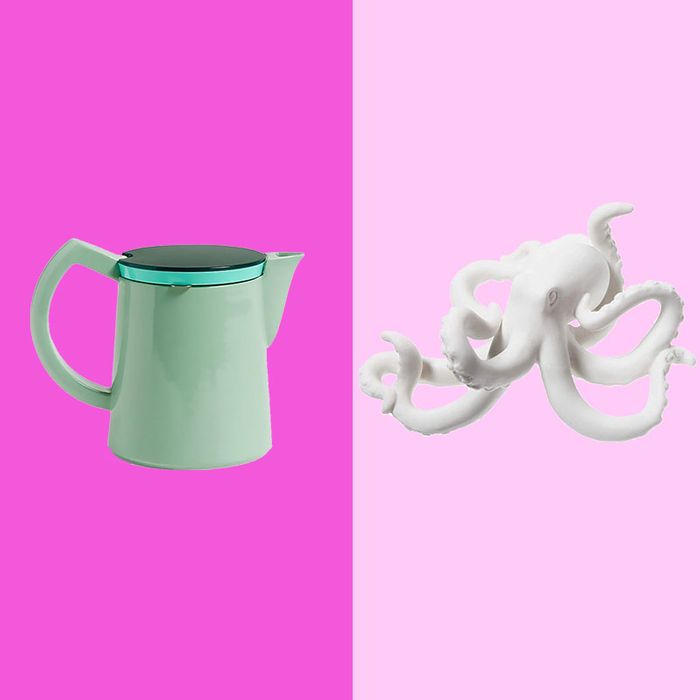 Photo-Illustration: Courtesy of the retailers
When you look back on pictures from your wedding day, it may feel like the two decades since have flown by. That time has hopefully been full of joyful moments, like starting a family, adopting a puppy, or going on an epic cross-country road trip, and hopefully only a few less-than-joyful ones (perhaps an argument over asking for directions on said cross-country road trip?). To celebrate the tough times you've weathered and all the happiness you've shared, be sure to get your husband or wife an anniversary gift that's worthy of the occasion.
This year, the traditional anniversary-gift material is porcelain. While you might think that limits your options to fusty dish sets, we went through our archive of giftable, expert-recommended products to find a wide selection of options, from a status planter for proud plant parents to a Danish-designed coffee pot for couples that caffeinate together (and, of course, there are a few Strategist-approved dishes in here, too). If you haven't been married for 20 years yet, we've also compiled gift guides for milestones along the way, including first, second, third, fourth, fifth, sixth, seventh, eighth, and tenth anniversaries. And if you're looking ahead, check out our list of 25th- and 50th-anniversary gifts.
For the brunch-loving couple
Up your breakfast game with this dainty egg cup. Strategist managing editor Maxine Builder has seen them popping up everywhere, including on the menu at Sant Ambroeus restaurant in Soho and onscreen in Call Me by Your Name.
For the minimalist couple
We're fans of the understated, simple-but-not-basic ceramics from Japanese brand Hasami. They come in six different sizes — ranging from an ultrasmall three-and-a-quarter-inch dish to a dinner-size dish — and are made with a textured, substantial porcelain.
For the Hasami-loving couple with a Target budget
Photo: Courtesy of Vendor
If you like the Hasami Porcelain aesthetic but not the price tag, then these from Our Place are a perfect alternative. Similar aesthetics aside, they're also just good plates: They stack well for easy storage, are made from a durable porcelain, and are neutral without being pastel.
For the couple without matching dishes
After 20 years of use, there's no shame if a few of your dishes have gotten chipped and lost. If you want to start fresh, these plates from dishware start-up Hudson Wilder feel far more expensive than they actually are.
For the couple without matching dishes (on a budget)
At $16 for a set of four, these dishes are an even cheaper option.
For the plant-parent couple
A favorite of cool people like Scott Haven, co-owner of Homecoming, and Sight Unseen co-founder Jill Singer, this is a Strategist-certified status planter. Besides looking neat, it features an integrated saucer for drainage to keep your ZZ or pothos going strong.
For the couple with an abundance of sanseveria
Another sculptural-looking option: These graphic porcelain planters from Light + Ladder. Each comes with a matching drainage tray to protect whatever surface you place it on.
For the couple that is sensitive to smells
The always fashionable Tim Gunn tipped us off to this porcelain chinoiserie-style candle topped with a little Foo dog. He calls the subtle hydrangea scent "a salve for the nose."
For the couple redecorating the bathroom
This little brush holder is an inexpensive way to add some personality to your bathroom counter. Our editor Katy Schneider uses one at home.
For the couple redecorating the whole house
When Strategist editor Alexis Swerdloff moved into a new apartment and wanted to give its "Pottery Barn circa 1998" fixtures an update, she turned to these vintage-looking door knobs that were a breeze to install.