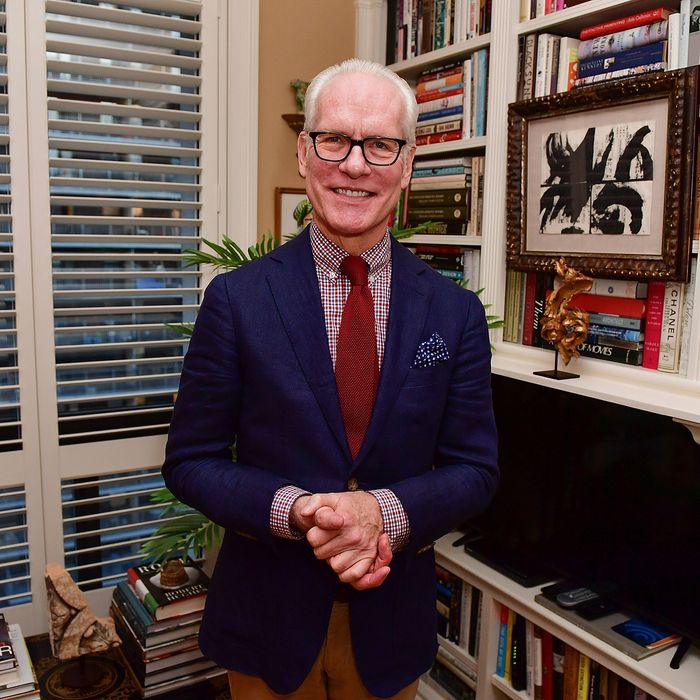 Photo: James Devaney/WireImage/Getty
Every month, the Strategist editors do their version of a haul blog, jibber-jabbering about their favorite purchases of the last four weeks. To get that same personality and taste insight (via receipts), we're inviting interesting friends of the Strat to run down their own buys. For this installment of the Guest Strat Haul, style adviser and Project Runway co-host Tim Gunn on his purchases for the last month.
Many people tend to think that I walk around my apartment in a suit and tie and may even go to bed wearing such. Not to disappoint, but when I'm home, I live in a bathrobe (as I am at this moment). Consequently, my robe experiences a lot of wear and tear. So I return to the same item over and over: the Nordstrom-brand thermal knit-cotton-blend robe in navy or charcoal. I alternate.
I'm a book addict, so a bookstore to me is like catnip to a cat. Among my favorite bookstores in NYC are the Strand in the Village and Book Culture at 112th and Broadway. But my Upper West Side Barnes & Noble is just a short walk from my apartment, so I frequent it the most, as in once a week or more. The political climate of late has caused me to immerse myself in books about the ascension and ultimate fall of the Roman Empire. I can't get enough, especially by Adrian Goldsworthy and Mary Beard. Yesterday at Barnes & Noble, I stumbled upon Mike Duncan's book about "the beginning of the end of the Roman Republic." I can't wait to begin reading — tonight!
This fascinating and lavishly illustrated book is the catalogue to the stunning special exhibit that opened this month at the Met. This staggeringly comprehensive exhibit chronicles what it was like to visit the seat of the French monarchy during the reigns of Louis XIV, XV, and XVI. The catalogue is a gorgeous enhancement.
I always say that if I weren't in fashion, I'd be in interiors. That means I am constantly inspired to spruce up and change around the décor in my home. My latest project was switching around some of the wall décor leading up my staircase, so I picked up Command Picture Hanging Strips to hang the frames. Since I regularly change things up, I always use Command because they don't leave any holes in my walls, which allows me to change and rearrange as often as I need. But I keep them up. I've yet to have one have any sort of fatigue.