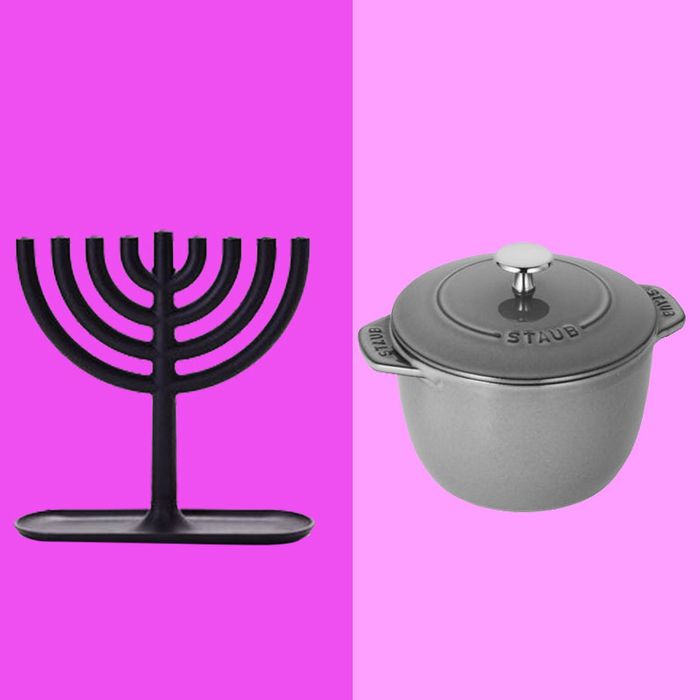 Photo-Illustration: retailers
Iron — the traditional sixth-anniversary gift material — might have more in common with your marriage than you think. The same way iron is forged under superhigh temperatures, your bond has likely been strengthened by high-pressure situations (like when you first moved in together and discovered your vastly different definitions of a "clean bathroom"). And both are quite durable. However, iron isn't necessarily the easiest thing to give as a gift. To help you out, we've rounded up the best iron products we've written about over the years that would make great gifts for your wife or husband.
Since cast iron is a kitchen staple for its ability to conduct heat and easily go from stovetop to oven, you'll find lots of cookware on this list, but there are plenty of other options — like iron plant stands and kettlebells — if you and your spouse are more of the Seamless type. If you're not at the six-year mark yet, we can still help you. We also have guides for first-, second-, third-, fourth-, and fifth-anniversary gifts; as well as ones for seventh-, eighth-, 10th-, 20th-, 25th-, and 50th-anniversaries if you're looking ahead.
For the couple with a tiny kitchen
Perfectly sized for dinner-for-two, this mini Dutch oven is Strategist managing editor Maxine Builder's "go-to gadget" for cooking rice, kimchi stew, braised chicken thighs, and more.
For the couple short on storage space
Besides looking cool, this iron wall ladder stores clothing, blankets, or towels when you're lacking closet space.
For the couple just getting into cooking
If you're starting to stock a "grown-up" kitchen, you'll definitely want a cast iron skillet. Strategist writer Liza Corsillo says it's the best thing she bought in the last decade.
For the couple with a fully stocked kitchen
Even the home cook who has everything probably doesn't have one of these Japanese cast iron precision cookers. Maxine tried one out and was impressed by how "it can draw out flavors from essentially nothing."
For the couple that bakes their own bread
Cast-iron Dutch ovens are especially useful for making bread. Amazon reviewers — and professional chefs – agree this one is perfect for "crusty and chewy" no-knead bread.
For the couple unsure how to clean their cast iron
Maybe you got a cast iron pan off your registry but have been scared to use it because the cleaning process seems so intimidating (you want to scrub it thoroughly, but not so thoroughly that you'll lose the built-in seasoning). This handy chainmail tool, one of our favorite gifts for home cooks, simplifies the process.
For the couple that loves all things cast iron
What do you buy when you already own the entire line of Lodge cast-iron pots and pans? A set of nesting cast-iron bowls that can be used for serving food or just zhuzhing up your coffee table.
For the couple that obsesses over their plants
These white planters with iron legs mix classic style with industrial design. Your cactus will look lovely in it.
For the couple that grills together
Strategist contributor Leah Bhabha told us this steak-branding iron was the best gift she ever gave her boyfriend. Maybe get one with your shared initials to impress summer barbecue guests.
For the couple that likes to stay organized
Photo: retailer
Every type-A couple needs an entryway that meets their type-A needs. This iron-shelf set is the perfect place to hang bags, umbrellas, house keys, and light jackets.
For the couple that goes all-out on Halloween
If you're more into Halloween than July 4th, fill this cast iron "cauldron" with candy to delight trick-or-treaters.
For the couple building a home gym
The cast-iron core gives these kettlebells their weight; the enamel coating makes them gentle on your hands.
For the couple that observes Taco Tuesday
If you make your own tortillas, you'll definitely want this cast-iron press that reviewers say is easy to use and can work for other flatbreads like naan.
For the Francophile couple