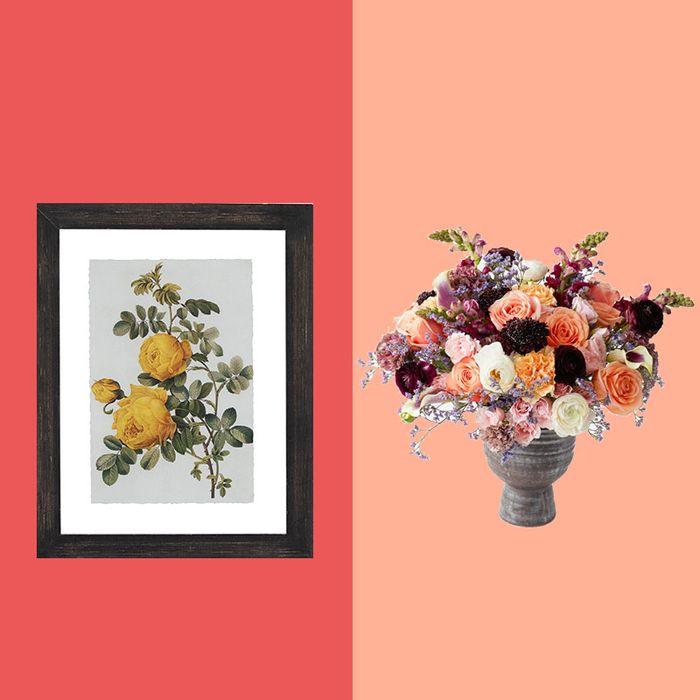 Photo-Illustration: Courtesy of the retailers
After four years of marriage, you've likely settled into a comfortable, daily routine with your husband or wife. The kind of setup where, whenever one of you sits down on the couch, the other instinctively offers a hand for a foot rub. There's still plenty of spark, but you might occasionally find yourselves caught up with the mundane tasks of life and forgetting to take as much time to appreciate each other. So it makes sense that the traditional four-year anniversary gifts are fruit and flowers, symbols of creativity, hope, and renewal.
While a lovely bouquet is always appreciated, we've found lots of creative gift ideas that fit the theme, including a strawberry jam for Francophiles and a faux version of an expensive status flower. If you haven't been married for 4 years yet, we also have guides for first-, second-, and third-anniversary gifts; as well as ones for fifth-, sixth-, seventh-, eighth-, tenth-, 20th-, 25th-, and 50th-anniversary gifts if you're looking ahead.
For the couple that honeymooned in Spain
Yes, olives are technically fruits. This Spanish olive oil (one of James Beard Award–winning chef Jonathan Waxman's top picks) will bring back fond memories of your trip. And the tin is nice enough to keep on display even after it's empty.
For the couple that honeymooned in France
If you spent your honeymoon enjoying leisurely breakfasts of baguettes with fresh jam, try this French pantry staple recommended by Ben Sormonte, a founding partner at Maman. "I've had the pleasure of visiting Alain's farm and saw firsthand how they carefully select their fruits for their juices, jams, and marmalades," he says. "You can really tell how they've been naturally vine-ripened and how his products really honor the integrity and flavor profiles of the fruits and vegetables he grows."
For the couple that would rather look at their fruit
Strategist senior editor Anthony Rotunno likes this set of decorative stone fruits as an affordable alternative to the much pricier "hand-painted, extremely lifelike stone fruits at shops like John Derian." Just add a charming bowl, and you have instant dining-room décor.
For the couple (with dry skin) that would rather look at their fruit
Writer Molly Young likes that this hydrating hand cream is "lightly scented and nongreasy." But the best part is probably the adorable fruit-shaped container (choose from apple, mango, or peach). Plus, the empties are great for holding bits and bobs.
For the couple looking to brighten up the kitchen
It's hard not to be cheery when you're looking at these fruit-shaped sponges, even when you're scrubbing pots and pans.
For the couple renovating a bathroom
This wallpaper, designed by AphroChic and Kim Johnson Studios, is ideal for the windowless bathroom you've been meaning to zhuzh up. The design, inspired by the legacy of dancer and ethnographer Katherine Dunham, features an array of watercolor florals and comes in three shades: maroon, pink, and blue.
For the couple with a sweet tooth
Like melon in a fruit medley, edible arrangements aren't for everyone. But if you're the type of couple who want the showiness of florist-style delivery, along with the time-sensitive burden of consuming multiple pounds of fresh fruit, then don't let us stand in your way. We recommended this chocolate-dipped bouquet as a Mother's Day gift for the mom who "loves fruit even more than she loves flowers," but it'd also be fun to share with your spouse.
For the couple that prefers to drink their fruit
Photo: Retailer
This "fruity and funky" Pinot Noir from Maison Noir (founded by Best Young Sommelier winner André Hueston Mack) is a good choice for the couple who wants a special bottle for dinner or a night out. Better yet, these are bottled in half-bottles, meaning you can enjoy the entire thing in one sitting.
For the couple that puzzles together
Photo: Courtesy of Vendor
Assembling this modern puzzle, with its vivid still life of citrus fruits, would be a fun activity to do as a couple, and it's pretty enough to frame when you're done.
For the couple that bakes together
Suggested as a hostess gift by columnist Chris Black, this cookbook from an L.A.-based pastry chef has plenty of sweet recipes (like strawberry brioche danishes and banana buckwheat cake) to make with your sweet.
For the ecoconscious couple
San Francisco–based Farmgirl Flowers creates new arrangements of seasonal, ethically sourced flowers daily, and they arrive wrapped in recycled burlap coffee bags. They're also a favorite of research professor and author Brené Brown.
For the statement-making couple
We also liked the impressive-looking (if pricier) arrangements from H. Bloom.
For the couple that'll reuse the vase
Freshly cut flowers won't last forever, but this handsome ceramic vase will. Enjoy the flowers before they wilt — we called Urban Stems "our absolute favorite" online flower-delivery service.
For the couple that prefers faux flowers