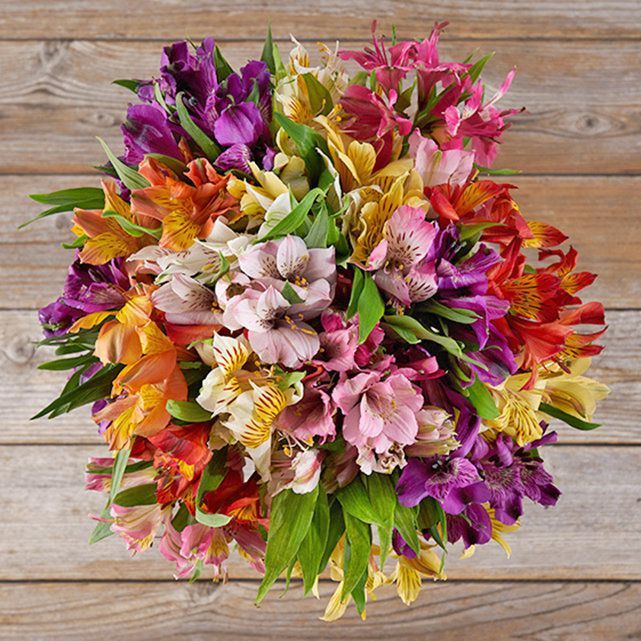 A flower for every mom.
Photo: The Bouqs Company
Even the mom who asks that you buy her nothing will be pleased with a bouquet of flowers, whether it's delivered in person with a (vaccinated) hug or ordered online — especially if you won't be able to see each other in person this year. But not all moms have the same tastes. While one mom might prefer a traditional bouquet of roses, another may want something a little more unique, or even something that's not a floral arrangement at all (like a plant she can watch grow all yearlong). Fortunately, online florists have lots of different options, and we took the time to weed through their offerings and select the best of the best — for all types of moms.
For the mom who likes it curated
Instead of having you scroll through hundreds of options, UrbanStems offers a rotating selection of seasonal bouquets as well as arrangements — like this one — created by Vogue editors.
For the mom who's indecisive
If you're not sure if Mom prefers candy or flowers, you can get both with this arrangement, which comes with a box of Neuhaus truffle chocolates.
For the mom who's kind of a hippie
Over at The Bouqs Company, they source flowers from sustainable farms around the world. But we think Mom will love this arrangement of calla lilies, pink roses, and hypericum berries even if she doesn't know the farm they come from minimizes waste, recycles water, and practices eco-friendly growing.
For the mom who wants to do good
Due to the spate of violent, racist attacks directed at Asian and Pacific Islander communities since the start of the pandemic, San Francisco–based Farmgirl Flowers is donating $10 from each purchase of this bouquet to Asian Health Services, a Northern California–based organization that provides health and social-advocacy services to more than 50,000 patients, regardless of income or immigration status. Like all arrangements from Farmgirl Flowers, it comes with buds sourced from farms with high ethical standards and wrapped in upcycled, biodegradable coffee bags.
For the mom who wants it colorful
With pops of pink, purple, yellow, and orange, this bright alstroemeria bouquet will certainly brighten up her day.
For the mom who thinks pink
If you do like having a zillion options, there is of course always good old, reliable 1-800-Flowers, which will supply these all-pink blooms in a pink-tinted glass vase for Mom, or pretty much anything else her heart desires.
For the mom who lives on the edge
If you dare to move beyond the bouquet, for the more adventurous mom, Telefora offers more unique options like this modern, structural arrangement of white calla lilies, kale and galax leaves in a bamboo dish.
For the mom with a green thumb
If Mom's caught plant fever, this pet-safe and low-maintenance parlor palm will be a nice addition to her collection.
For the mom who appreciates a statement
If your mom believes that bigger is better, The Bouqs Company offers supersized "grand" versions of their popular bouquets. This one has triple the blooms of the already eye-catching original.
For the mom who likes 'em simple
With proper care, this orchid can last up to two months, and in simple white, there's no chance Mom will get tired of it beforehand.
For the mom who likes 'em fake
While everyone loves the real deal, there's nothing wrong with some fancy faux flowers that'll last a lifetime (since no one can tell the difference). These luxurious silk hydrangeas and peonies come with a glass container filled with acrylic "water" and river rocks for a natural look.
For the mom who likes 'em fake (when you're on a budget)
We've written about these silk peonies before, and though they don't come with a vase or fake water, they're still convincing dupes for the real thing. (Just be sure to give them to her in a nice vase.)
For the mom who likes 'em fake (but is also an aesthete)
Strategist senior editor Katy Schneider started noticing anthuriums popping up everywhere a few years ago. Since they can cost $20 per stem, she says they're a great option to buy faux.
For the mom who likes 'em real (but preserved)
Blue larkspur, wispy stems, poppy pods, and brush twigs come together in this organic dried bouquet with a whimsical look. It's handcrafted by a woman-owned team in Washington state and will last much longer than a fresh arrangement.
For the mom who's just as interested in the vase
Even when these yellow garden roses eventually die, Mom will surely find another use for this modern Georg Jensen vase.
For the mom who's a minimalist
This bunch of branches is a selection of pink cherry, peach, apricot, or plum branches (depending on what's in season) and comes in a simple aluminum pail.
For the mom who likes to DIY
If she's the type who likes to experiment in the kitchen, she'll love growing her own microgreens (including a "super salad mix," broccoli, and kale) with this windowsill-ready kit.
For the mom who'd like to eat her bouquet
And if Mom is the type who loves fruit even more than she loves flowers, these pineapple daisies and chocolate-dipped strawberries are guaranteed to arrive in bloom.
Additional reporting by Lauren Levy and Maxine Builder.