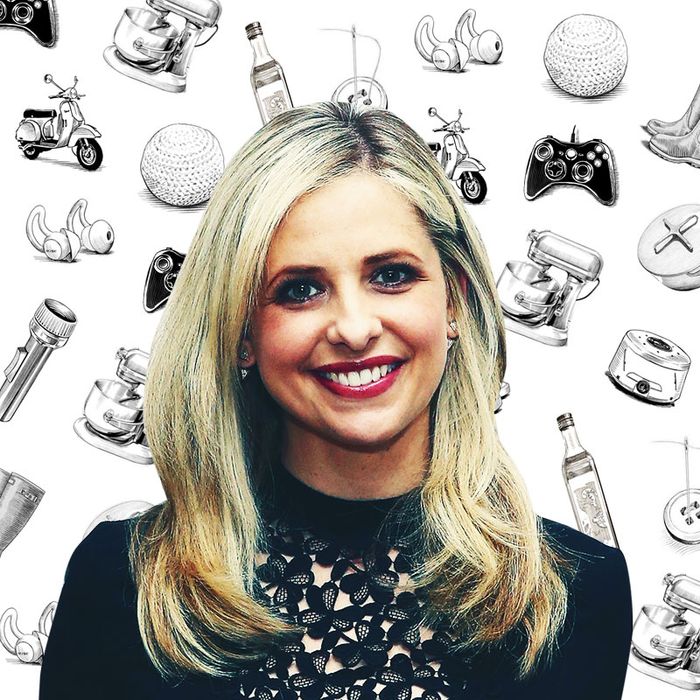 Photo: Robin Marchant/Getty Images
If you're like us, you've probably wondered what famous people add to their carts. Not the JAR brooch and Louis XV chair, but the hand sanitizer and the electric toothbrush. We asked actress Sarah Michelle Gellar, who has partnered with Lysol in its Here for Healthy Schools campaign, about the sunscreen, candles, and hair-straightening brush she can't live without.
I'm definitely a hand-sanitizer freak. I found this by accident in Whole Foods one day. I think someone was spraying it, or it was at the cash register. It smells so good. There's something about lavender that's so extremely calming. It's such a beautiful scent. When you spray this, people will turn around. I was on a bus trip recently with a bunch of people and everybody kept coming to use some of mine. The whole bus smelled really good. When you're in a dirty, grimy situation, a beautiful smell is always an added bonus.
I'm not going to lie: I'm not the best at drying my hair, so I like to get blowouts. When I was at Drybar, they told me about this — I had never used a straightening brush before, but now I can do my entire head in 12 minutes and it looks like I went to a salon. It's brilliant and I'm obsessed. I try not to wash my hair too often, but whenever I have to look nice and dry my hair, I'll use this. I've been giving it to everybody as a Christmas gift.
I'm an obsessive book reader; I'll pull out a book wherever I can. I travel so much, too, and I used to carry all these hardcover books in my suitcases. Now, to be able to have so many selections [on my Kindle] is such a gift. I just discovered a new-to-me author, Lisa Unger, and I've been going through her works. I love a good psychological thriller, and I like that her books have an underlying theme and pose a question that she argues both sides of. I always think it's interesting when an author can make me hear a side of something that I totally disagree with, but understand the logic and reasoning behind. I also just read The Stranger Inside. It's a really interesting dissection of the cycle of violence. And I just got a hold of Alice Feeney's new book, which I'm about to dig into.