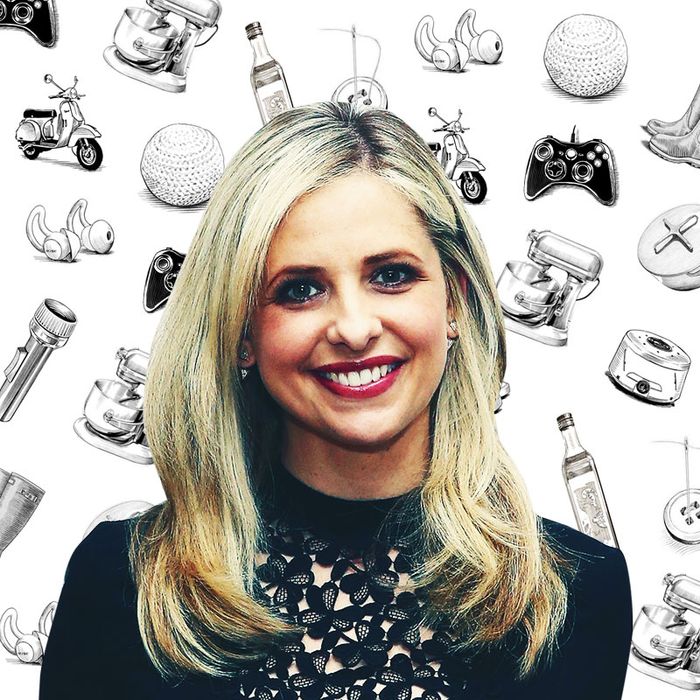 Photo: Robin Marchant/Getty Images
If you're like us, you've probably wondered what famous people add to their carts. Not the JAR brooch and Louis XV chair, but the hand sanitizer and the electric toothbrush. We asked actress Sarah Michelle Gellar, who has partnered with Lysol in its Here for Healthy Schools campaign, about the sunscreen, candles, and hair-straightening brush she can't live without.
I'm definitely a hand-sanitizer freak. I found this by accident in Whole Foods one day. I think someone was spraying it, or it was at the cash register. It smells so good. There's something about lavender that's so extremely calming. It's such a beautiful scent. When you spray this, people will turn around. I was on a bus trip recently with a bunch of people and everybody kept coming to use some of mine. The whole bus smelled really good. When you're in a dirty, grimy situation, a beautiful smell is always an added bonus.
I'm not going to lie: I'm not the best at drying my hair, so I like to get blowouts. When I was at Drybar, they told me about this — I had never used a straightening brush before, but now I can do my entire head in 12 minutes and it looks like I went to a salon. It's brilliant and I'm obsessed. I try not to wash my hair too often, but whenever I have to look nice and dry my hair, I'll use this. I've been giving it to everybody as a Christmas gift.
I'm an obsessive book reader; I'll pull out a book wherever I can. I travel so much, too, and I used to carry all these hardcover books in my suitcases. Now, to be able to have so many selections [on my Kindle] is such a gift. I just discovered a new-to-me author, Lisa Unger, and I've been going through her works. I love a good psychological thriller, and I like that her books have an underlying theme and pose a question that she argues both sides of. I always think it's interesting when an author can make me hear a side of something that I totally disagree with, but understand the logic and reasoning behind. I also just read The Stranger Inside. It's a really interesting dissection of the cycle of violence. And I just got a hold of Alice Feeney's new book, which I'm about to dig into.
Even though I live in Los Angeles, I keep one stocked in my wallet. If I had to buy a new MetroCard each time I go to New York, I'd always be late, so I have it ready to go. There are certain things you never give up even if you move out of New York. I always travel by subway when I'm in the city — it's the only thing I have the patience for.
I've tried a lot of sunscreens. Some of them are great, but you can't put makeup on top of them; others have very strong smells or make me break out. To me, Supergoop has the best of everything and you can pile your makeup on top of it. The brand has a great CC cream, too. Sometimes I'll just put that on when I go out because it has a nice coverage to it. I'll do anything I can to remember to put sunscreen on. There is even a Supergoop finishing spray that you can spray on top of your makeup. The brand has done a really good job with helping me incorporate sunscreen into an everyday routine. I think I discovered it two years ago; another mom friend of mine had it at the beach one day and I tried it and instantly fell in love. Now, I literally use the entire product line.
Archipelago makes some of the most beautiful, longest-lasting candles that aren't overpowering. There's nothing better to me than getting a book, lighting a candle, and taking a bath. That's my "me" time. I recently picked up the Peony scent, which I really like. There are also more masculine scents, which are nice to gift because sometimes candles can seem extremely feminine. They're not too musky, they just have more of an earthy quality to them. I've been using these for years and years — I want to say I found them ten years ago. They're quality candles that take a while to burn. The worst thing is when you get a great candle and then you use it two times and it's gone. These are dense so they last. I gave them to all of my kids' teachers this year as part of their Christmas gifts. Everyone likes to get a good candle, but it's the kind of thing that you don't always want to spend money on for yourself.
These are great. Everybody loves fresh flowers, but it's so depressing when they don't last very long. I love that I can send one of these arrangements as a gift and know that, for an entire year, it will brighten someone's day and remind the recipient that I'm thinking of them. They're one of my favorite gifts to send — I sent one to my mother-in-law yesterday. They make a great birthday gift, holiday gift, or something to just let someone know you're thinking of them. One that someone gifted us actually lasted longer than a year. It was a good run.