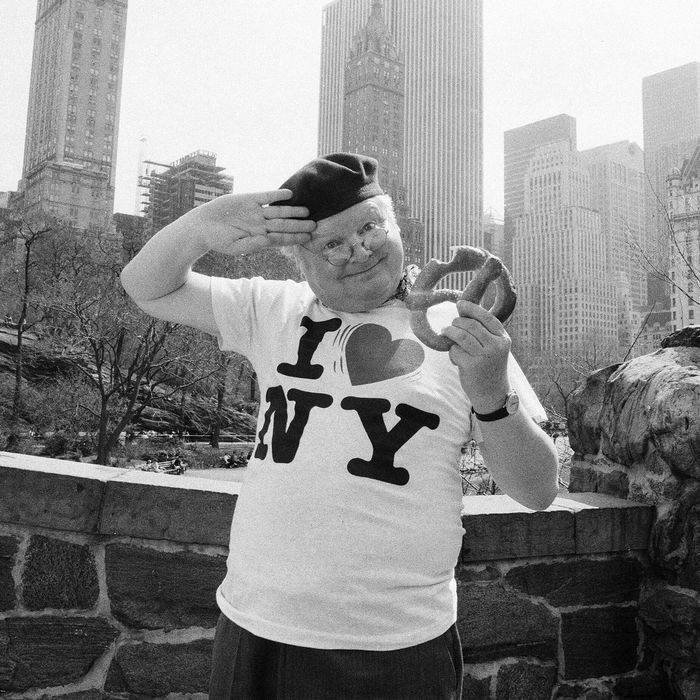 Photo: Mirrorpix/Getty Images
New York City merch may seem like something just for tourists, but those who live in the city know that a certain restaurant baseball cap or grocery-store T-shirt can carry some real prestige. And lately, buying some merch from your favorite small business or restaurant can mean more than just demonstrating a certain city know-all to your fellow New Yorkers. With many places temporarily closed, picking up a baseball cap or a mug can be a way to support your local go-to during a tough time (and we don't think you'll regret having that Odeon baseball cap or Scarr's T-shirt once we can all go outside again). Here, we've rounded up some standout pieces, for everyone from the frequent Frick-goer to the Dimes Square denizen. (And if your neighborhood favorite doesn't sell merch, consider ordering a gift card or some food for delivery.)
A crewneck to wear around the house that will look even better once it's broken in.
If you prefer something more colorful, try this long-sleeved MoMA tee, which was created to coincide with the museum's recent reopening.
A vintage-inspired duffel from the American Museum of Natural History that almost certainly looks like you stole it from the closet of your paleontology-obsessed great uncle. [Editor's note: Items from the AMNH store will not ship until the museum reopens.]
An elegant baseball cap from one of the most elegant places in New York.
Only NY teamed up with the Brooklyn Museum to make merch inspired by the museum's exhibition posters and memorabilia. The text on this mug draws from a retro "An Evening at the Brooklyn Museum" pamphlet.
An ideal small gift for the person who has been on multiple Tenement Museum tours.
If there were ever a time to learn poker or rummy, it's now — and why not do so with these gorgeous playing cards from the Neue Galerie?
Somber on the outside, stately on the inside. [Editor's note: Items from the Morgan Library store will not ship until the library reopens.]
The classic Upper West Side grocer's merch is so astoundingly inexpensive — a T-shirt will set you back $6 and a mug only $4 — that you could ostensibly order it alongside some Zabar's bagels and lox.
If you're missing lining up for a slice at Scarr's, tide yourself over with one of the pizza shop's new T-shirts, which features an illustration of the storefront on the back.
A candle that'll make your apartment smell a bit like Dimes Square. (You could also order the restaurant's new cookbook, Emotional Eating, and re-create your favorite bowl of orange-date muesli at home.)
A Cervo's baseball cap in a nautical red shade almost reminiscent of the restaurant's marinated prawns.