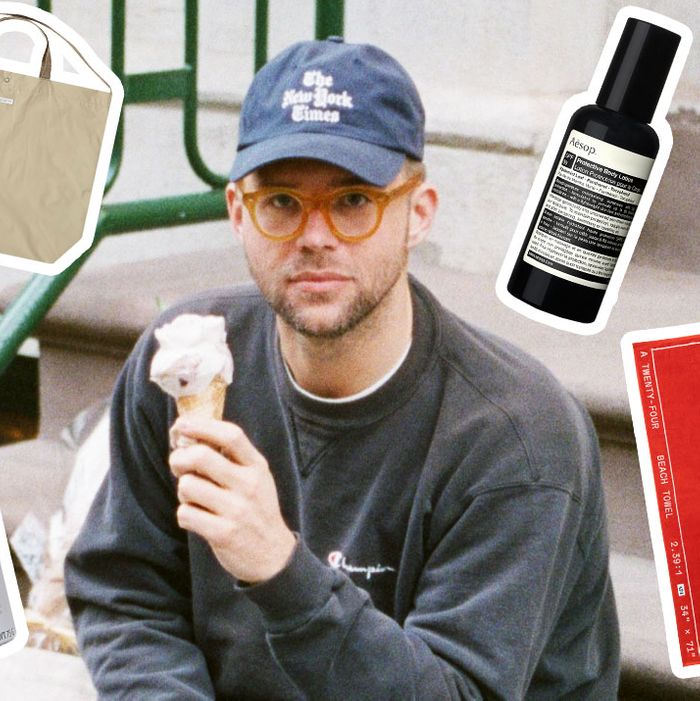 Photo: Yimmy Yayo; Courtesy Retailers
If you're looking for the most powerful hair dryer or handiest chef's knife, those things can be easy enough to find. Other objects of desire are a little more taste-based. What's the next status water bottle or hand wash, for instance? Regular readers of the Strategist will know that we've previously turned to resident Cool Guy Chris Black (he's a partner at brand consultancy Public Announcement) to help us answer both of those questions. For more of Chris's advice, he's now answering reader questions for us in a regular column. If you have a burning question about the next fanny pack or Noah rugby shirt, drop us an email with the subject line "Ask Chris" at strategist@nymag.com.
Recently, a veteran beachgoer told the Strategist about her utilitarian essentials for a day on the sand. Which got me wondering: What products does a stylish dude like yourself never hit the beach without?
Ah yes, a beach day. Nothing like roasting in the sun while trying to simultaneously look at Instagram with subpar Wi-Fi. Who doesn't love it?
As an extremely pale person who has left the sand looking like a fire engine one too many times, I now make sure my beach kit includes some luxe sunscreen. Chanel UV Essentiel will keep your nose from looking like Rudolph's. It smells incredible, and it's also very light and quick drying. I only use it on my face. The Aesop Protective Body Lotion will keep the rest of your skin protected and smelling like a stylish, minimalist apothecary. Aesop is a blue-chip brand that I trust; I simply walked into the store asked what sunscreen they had and bought it. No comparison shopping needed.
Maybe you are looking to BRONZE. If you want to encourage a deep, dark, tropical tan, put on your tiny bather and slather some of this on your pectorals. Nothing says "beautiful tan" like Tom Ford, the man and the brand. A disclaimer: I have not used this product, but I probably would.
You will, of course, have to hydrate continually. I fill up my Snow Peak Kanpai — the Rolls Royce of water bottles — with cold water before I leave the house, and it stays cold for roughly six hours. Refreshing!
You are going to need a towel, obviously. If you're staying at a hotel, it will likely provide one, but I think it's nice to make a statement with your own. This Missoni beach towel will dry you off and telegraph your support for Italian family-owned businesses. It's a not-so-subtle way to stand out among the more basic towels of your friends and fellow beachgoers.
If you are a film buff, A24 (the studio behind the new folk-horror flick Midsommar) has a Widescreen Beach Towel that will let other beachgoers know you are happy to discuss this season's Oscar contenders with them when you need a break from the sun.
This sand-colored tote from Engineered Garments can be slung over your shoulder, and would easily fit all of these beach essentials (it's also sold in navy). The brand doesn't skimp on quality, and its products always feature just enough interesting detail to make them stand out without being loud or obnoxious. Quiet luxury, it's a lifestyle.
I've never been much of a hat guy, but I'm headed to some hot places this year and thinking I should get a baseball cap (which seem to be your headgear of choice). I'm intrigued by a Noah cap, but I worry people will think my name is Noah. What are some others you like?
I have mentioned this on the World Wide Web before, but my summer look is "Ivy Sport." The goal is to look like a tennis player who has been kicked off the tour. Or maybe I am a slightly disheveled pro at an exclusive beachside club, having an affair with a member's wife. I don't know!
The pièce de résistance of my Ivy Sport look is the Nike Featherlight hat in black (or, if you are feeling flashy, volt). Honestly, it's the perfect hat for all seasons. It's super-breathable, and we are checks over stripes on this side of the Atlantic!