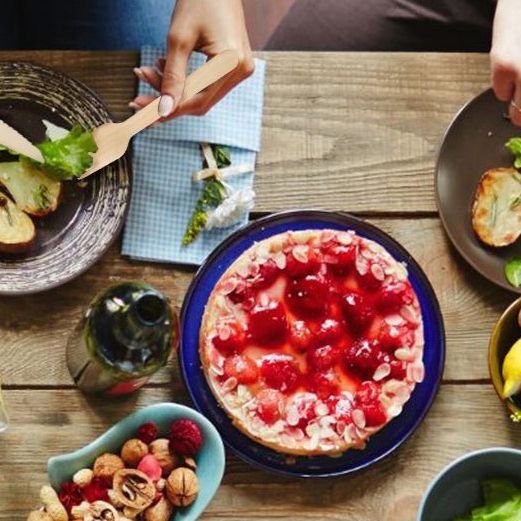 Bamboo utensils you won't feel guilty about.
Photo: Courtesy Wood Collection
It was inevitable that I would start to obsess about the best ways to travel with food. When you're writing a cookbook on potlucking, food prep and transport start to take over every possible recipe idea. As I tested each one for durability, over time it became clear that not all picnic-related buyables were created equal. As the summer season gets under way, I'm sharing my knowledge with outdoor-eating novices everywhere. Some are cheap, ecofriendly fixes to make sure everything stays fresh. Others are accessories that look great and function even better. All of them are tried-and-true picnic essentials that I pack for outdoor eating.
The worst part of picnicking in a New York City park is the often-damp or patchy grass that can make for both unpleasant sitting and difficult cleanup. But my mother-in-law got me the perfect solution — a portable blanket with one waterproof, durable, wipeable side. It can conquer grass, sand, or any other area that you might want to sit in. Folded up, it's an easily portable little rectangle; unfolded, it becomes a five-foot-by-five-foot square.
If you want to use something more environmentally conscious than plastic wrap, this wrap can be used on everything from fruit to sandwiches. Made of beeswax and tree resin and hemp, this breathable wrap can be reused and is biodegradable. I don't trust it with anything liquid, but for sandwiches and solids, it's surprisingly sturdy and keeps food very fresh.
I love bringing along juice and smoothies to an outdoor picnic, but often a regular thermos or bottle still lets in air, which causes liquids with lots of ingredients to separate. This travel bottle uses a vacuum seal, which helps prevent that from happening. From cocktails to fruit smoothies, it's a solution for anything that could start to go bad.
Do you ever pack a bag with ice packs and find that some items are colder than others, depending on proximity to the giant block? These tiny ice packs are much better for distributing temperature, and a whole pack of ten doesn't cost much more than a regular ice pack. They can also heat up as well if you are trying to keep food hot.
Often, I will just pack the foods I want to bring on picnics in the Etee wraps, but if I really do need actual storage containers, nothing beats a Pyrex. Sturdier than plastic but not as breakable as some glass products, they're also oven-, microwave-, dishwasher-, and freezer-safe, so I can use these on literally any type of food item. The essential all-in-one for making, storing, transporting, and serving food.