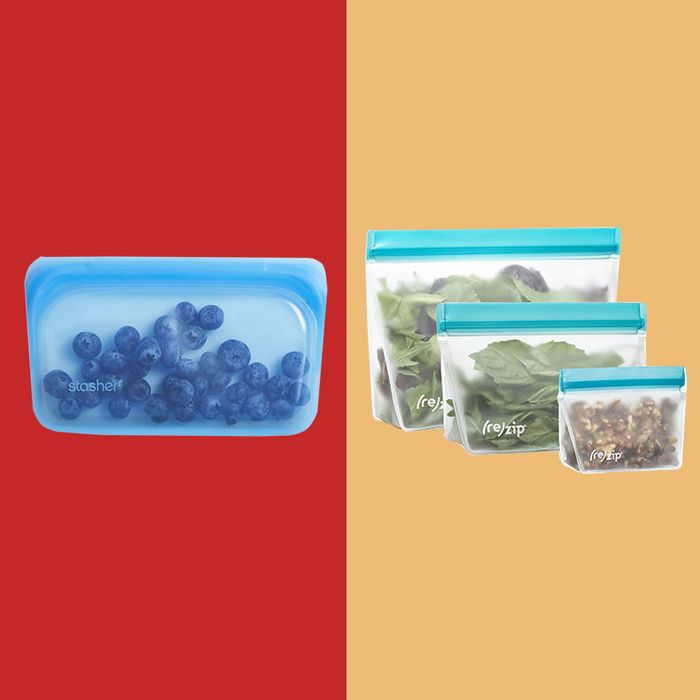 After buying and tossing thousands of throwaway Ziploc bags in my lifetime, I decided to get serious about finding a more environmentally friendly way to store food and leftovers that wasn't so wasteful. I'm now on my fourth straight year of using zero of them.
When I first began my quest, I furiously bought all sorts of reusable bags, but it was a serious challenge to find a replacement that works just as well as the disposable ones (and is ultra-easy to clean, because if they aren't, I promise you'll never use them). Turns out, there isn't just one product that can replace all of those wasteful sandwich baggies; you actually need a small arsenal of different things at your disposal to kick the disposable ones to the curb. (I'm also not talking about Tupperware, which, of course, is inherently reusable.) After buying fistfuls of the things over the past few years, these are my favorite plastic zipper-bag replacements I've found that have helped me kick the Ziploc for good.
The very best reusable food storage bags money can buy are these food-grade silicone ones from Stasher. I have every size, shape, and fun color they make, and while they are pricey, I reach for them above all other food storage options I have in my kitchen. They can go in the microwave, freezer, and dishwasher, absolutely never stain or leak, and even though I've washed mine in the dishwasher hundreds of times (with the high heat drying cycle on, even), they haven't fallen apart or degraded in any way. They are so useful that I've branched out to using them in other areas of my life as well.
I use this tiny 4.5-inch pocket-sized Stasher bag to store the cheese bits I use to give my senior dogs their pills and also to stash an individual lipstick in my purse — cleverly avoiding the mess that can result when a cap pops off the tube, smearing lipstick all over your wallet, keys, and hairbrush. The large "stand up" size (which can hold up to 56 ounces) is perfect to use as a makeup bag alternative, because even if an eye-shadow palette cracks or a bottle of foundation leaks, cleanup is a breeze — and when it's not busy holding beauty products, it's large enough to marinate a pork loin in.
My most-used size of Stasher is this classic 7-inch "sandwich size," which is perfect for storing a few handfuls of leftover green beans, a chicken breast, or sliced cheese for sandwiches, while my boyfriend mostly uses the shortie "snack" size to freeze pieces of sliced banana to pop on his cereal in the morning. The half-gallon sized Stasher is the largest bag they make, and it's good for folks that like to sous vide things, as it has a slim profile and can hold just over 64 ounces.
This cost-effective set of six reusable silicone bags is a good choice if the Stasher bags are out of your price range, but they can't take quite as much abuse as the Stasher bags can. I have a set that gets used almost exclusively for taking snacks in my car or to work, as I can't be trusted to always bring the empty bags back home in a timely fashion. They have a flat, stand-up base that makes them easy to fill and are safe for the microwave, dishwasher, and freezer — but will definitely last longer — if you hand-wash them instead. I've noticed that the slightly thinner silicone material means they actually work a little better than the Stasher bags when you need to use one as an ice pack for bumps or bruises.
Stasher is my everyday go-to, because they are so easy to clean and so versatile, but these all-silicone food-storage bags are the undisputed star of our kitchen. They hold up to 32 ounces, are absolutely airtight and totally leakproof (I put water in one and stored it upside down for four hours, then squeezed it hard and still had zero spillage), and never stain or retain odors — even after holding oily spaghetti sauce. They are specifically great for freezing (rated for use all the way down to -58 degrees Fahrenheit), and I've had almost no freezer burn while using them (due to the fact that it's ultraeasy to squeeze out any extra air that could get trapped inside and cause dehydration and oxidation — the two causes of freezer burn in the first place).
I've frozen huge batches of homemade dog food in them weekly for the past year, and they're still going strong. I don't use them to boil food, but they are rated for use up to 482 degrees Fahrenheit (they aren't meant for sous-vide cooking, though — you'd be better off using Stasher for that). I have run mine through the dishwasher inside out to clean them at least 150 times, with zero damage. I even use them to sneak snacks into the theater because they make absolutely zero crinkling noise. They stand up for easy filling pretty well on their own, but if you're trying to store liquids in them by yourself on a regular basis, you'd do well to spring for this hilarious old-person invention: a hands-free baggie stand.
These zipper-top bags (made of FDA-grade PEVA material) are the closest thing I've found to the classic disposable zipper-lock storage bag. They're airtight, easy to open and close, and are especially ideal for dry snacks: chips, nuts, crackers, and cereal. I've also stored fresh herbs and cut-up fruit in them. They aren't so great for really saucy items, as they tend to stain easily. You'd also do well not to put them in the dishwasher, as any contact with the machine's heating element will result in a melted mess. But they never tear or split — and have lasted through 100-plus day-to-day uses so far. They're especially great for organization: I've even used the medium-size one to corral tampons in my tote bag, and the smallest size to stash makeup that tends to break easily and make a huge mess inside my purse.