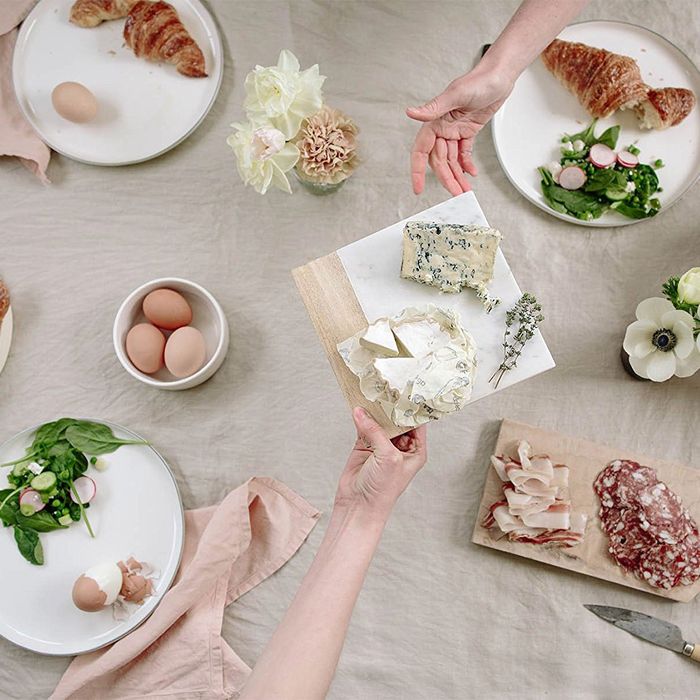 No more crumply plastic wrap.
Photo: Courtesy of the Retailer
Plastic bags are so ubiquitous a part of life in New York that we barely register them. Many of us hardly notice when one is caught in the branches over our heads, blocking a storm drain, or lodged under the track rails. The average plastic bag is used for 12 minutes before we discard them — 23 billion of them each year.
Last week, Governor Cuomo introduced a bill that, if passed, would ban single-use plastic bags. Though the bill stops short of banning produce bags or plastic wrap, as well as disposable rigid-plastic items like straws, utensils, and takeout containers, there are ecofriendly products that can help wean you off of all your disposables. They're the things that allow me to feel good about doing my part without sacrificing looks. Below, the actually nice-looking reusable items that I've been using to get ahead of the ban.
Anytime you are about to reach for plastic wrap, use this instead. These beeswax wraps do the job of taking care of leftovers — clinging to the tops of bowls, keeping a lemon-half fresh — but you can also take it to the deli counter and use it for cheese or cold cuts. For the crafty, it's rigid enough to be folded origami-style into pouches that can hold loose items like mushrooms or chips. It's reusable, lasts for almost a year, and when you're done? Put it in the compost bin and order a new set. [Editor's note: We've also written about another type of beeswax wrap before.]
This lunch box is perfect for people who like books, or at least like objects whose exteriors belie their purpose. It's sort of the unisex, Olympia Le-Tan take on a lunchbox. Plus it's quite large — think Anna Karenina-size — ideal for picking up a bagel, or a sandwich plus an apple and cookies. At home, I keep it on my cookbook shelf; at work, it blends right in with the rest of my desk accessories.
If you're not as much of a sandwich person, this bowl is just great for salads, grain bowls, and burrito bowls. It comes with a little dressing pot and a fork with a slanted edge that is pretty decent at cutting things. Designed to be easy to hold with one hand, it's ideal for springtime park-bench eating.
Iced-coffee season is upon us, which means that plastic straws are about to be everywhere. Taiwan and Britain both recently announced a ban on plastic straws, and the E.U. reportedly has one in the works. Even if you're not leaving the country, these stainless steel straws provide a vastly superior drinking experience. Plastic straws are among the easiest environmental nuisances to forego, especially if you have a polished stainless-steel straw in your backpack or handbag. [Editor's note: This is another set we like.]
This burlap wine bag is a game changer. Rolled up, it fits inside a clutch or a back pocket for wine pickups en route to a party. For competitive types, it doubles as an excellent blind-tasting bag.