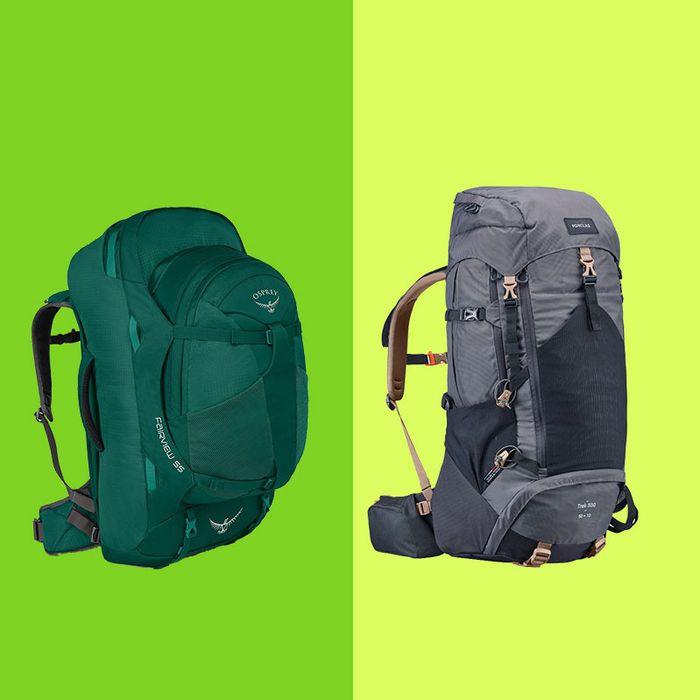 Photo-Illustration: The Strategist; Photos: Retailers
Hauling all of the clothing, toiletries, and gear you need for a monthlong trip in a backpack might sound like a nightmare, especially if you're used to rolling luggage. But there are plenty of instances when traveling with a backpack is easier, especially if you've got plans to hop on buses or trains, or are going to cities where paved roads (and therefore surfaces for easy luggage-rolling) are in short supply.
The challenge is to find a travel backpack that's big enough to fit everything you might need, yet is still comfortable to carry. So to help you find the best carry-on and travel backpacks for long trips, we spoke with 14 frequent and intrepid travelers, who spend weeks on the road (or the hiking trail) at a time, about the bags they're most excited to pack up and strap onto their backs. While not as sleek as their wheeled counterparts, these backpacks will serve you much better on longer and more adventurous journeys. Just don't forget the packing cubes.
Like several of the experts we talked to, JourneyWoman editor-in-chief and frequent backpacker Carolyn Ray is a longtime fan of Osprey's backpacks for longer, more rugged trips. The Osprey Porter has been her "go-to pack" for years at this point, and she most recently used it during a three-month journey across Mexico. The 65-liter bag has a bucket-style opening, which gives you easy access to all your stuff with one quick zip around. It also has loops on which to attach a smaller day pack.
James and Susan Feess, bloggers at The Savvy Backpacker, have tried many backpacks in their time. But Osprey's classic Farpoint is the one they keep returning to. It's just about the perfect backpack for long-term travel," they tell us. "It has some of the best and most comfortable shoulder straps and harness we've used. It's lightweight, it has a detachable day pack, it looks nice, it is pretty affordable, and we like Osprey's lifetime warranty."
Washington Post reporter and inaugural New York Times 52 Places traveler Jada Yuan also cites Osprey as her top travel-backpack brand. When spending her year abroad reporting for the Times, she used the 40-liter Fairview, which is the women's version of the Farpoint above — but not before trying and failing to travel with a set of rolling luggage. "I don't know how I got through 16 stops of my trip before buying the Osprey Fairview," she recalls. "My back and shoulders hurt all the time. I needed something with strong lumbar support, a waist belt, and a chest strap so that I could make it through the trip without getting crippled." The Fairview, she says, is perfectly bare-bones: "Just one giant cavity, plus a zippered section for your laptop and a bunch of straps on the outside for carrying, say, a bulky jacket that won't fit anywhere." She took it across Europe, Africa, and Asia, noting that with the addition of zipper locks, it was relatively secure against thieves. Yuan traveled with the overhead-compartment-friendly 40l version of the bag, but non-minimalist packers could definitely upgrade to the 55l version. "Or go up to 65l," Yuan suggests. "No one ever checks."
Though loyal to Osprey, Ray also pointed us to Gregory's line of travel backpacks, which she likes for their style, practicality, and fit. Her pick is the 60-liter Deva backpack, with a breathable back panel that makes multiday hiking more bearable. "Whether I'm hiking the Camino de Santiago or the new 'Canadian Camino' in Prince Edward Island, these packs are so comfortable that I almost forget I'm wearing one," she says.
Award-winning CNN travel journalist Oneika Raymond swears by High Sierra's affordable frame backpacks, which can be used for long trips as well as backpacking. She's used hers while traveling from Bolivia to Botswana, and tells us that the pack is "lightweight, relatively inexpensive, sturdy, and stylish," with an ergonomic design that fits her body perfectly. "I like it because it has a top compartment, which I typically reserve for undergarments, and the bottom front compartment, which I'll reserve for shoes," she adds. "Because the middle compartment is very large, it's ideal for clothing. I can pack quite a lot of things in the bag, but because it's tall and narrow, it still remains sleek and fairly easy to carry."
Atlas Obscura senior editor and writer Gemma Tarlach's 55-liter Kelty has seen it all, and then some: New Zealand's South Island wilderness, a hurricane in Iceland, and a trekking accident in Chile's Torres del Paine national park. "I took a tumble off the trail and ended up sliding down a mountainside of scree with my pack dragging behind me," she recalls. "By the time we came to a stop, the pack was in better shape than I was." She even used the bag to carry provisions for a winter season on Antarctica's McMurdo Station: "It performed the task with great dignity." The pack, as Tarlach puts it, is "nothing super-fancy — just built for adventure." While Tarlach has had her Kelty for so long that the exact model has been discontinued, this one has the same capacity and a similar design.
Atlas Obscura editor-in-chief Samir Patel, meanwhile, vouches for Mountainsmith packs, which are similarly designed for adventurous, off-the-beaten-path travel. He has two and says that this 45-liter pack is the closest in style to his since-discontinued models.
When traveling on assignment, photographer Daniel Rodrigues takes along his trusty Forclaz trekking backpack. He finds it particularly suited to rail travel — as in, crossing the Sahara on an iron-ore transport train. "After having suffered a lot, she is still like new, and that's something I love about her," he says of his pack. "The kind of trips I do can be rough and dirty at times, and she still holds up." In addition to being comfortable — Rodrigues says the Forclas "adjusts perfectly to the body," allowing hours of walking — the pack is also the perfect size for carrying clothes, a sleeping bag, and even a tent.
Adventure writer and blogger Ashley Gossens has a slightly older version of this Granite Gear pack — a sure sign that the brand's designs are worth the investment. "I love it because it is lightweight with tons of space for multiday treks," she says. "It is available in different torso lengths, which is great for me since I am short. It has extra-comfy padding on the hip belt, which is also adjustable. I also really like that it has a detachable top pouch that I can use for taking just the essentials to explore around camp." On Gossens's five-day, 45-mile trek in the Glacier Peak wilderness of Washington, she was easily able to fit her tent, sleeping bag, food, and more into the pack.
If you're lugging expensive gear around — especially photography equipment — a discreet, secure pack is a must. XpatMatt blogger Matt Gibson upgraded to this bag after an ill-fated trek through Kyrgyzstan, and he hasn't looked back. "I like that it looks good," he says. "But more important to me is that it doesn't scream 'photography backpack,' because that often makes you a target for robbery in certain places. It also has a ton of safety features that make it much more difficult for your average thief to get into, such as mesh wiring in the fabric and easily lockable zippers and pouches."
Some long trips require a sturdier and more durable bag than others, as photographer Hunter McRae can attest. She has a couple of Lowepro bags, which are designed with camera storage in mind, that she swaps between for different adventures. Her waterproof pick, the cult-favorite Lowepro DryZone 200, has sadly been discontinued — but you might have luck finding one via secondhand resellers. McRae also recommends the Lowepro Photosport. "Even if I'm just bringing a single body and a lens or two, it's the most comfortable way to lug them around, and it leaves me room for water, extra layers, and kids' stuff."
Rodrigues is also a Lowepro fan and will opt for one of the brand's day packs to carry his photography equipment while on the road with his larger-capacity trekking rucksack. "Everything fits," he declares. "And when I say everything, I mean everything: three cameras, three lenses, computer, drone, and sometimes even clothes."
And here's a no-nonsense carry-on option courtesy of Bess Carey, director of people and culture at Atlas Obscura — as well as America's favorite traveler, Rick Steves. "I'm embarrassed about how much I like this backpack," Carey says. "My parents got it for me when I was in high school and headed to Europe on a trip where we were supposed to travel with just a carry-on. Nearly 20 years later, I am still using it for certain types of travel, even though I have nicer, fancier suitcases and a hiking backpack that I didn't have back then." Today's model is "basically the same" as the one Carey's parents got her back in 2002, which is still in usable condition. "I like it because it's bare-bones," she adds. "I never worry about it getting dirty, it absolutely doesn't look worth stealing, either."
The Strategist is designed to surface the most useful, expert recommendations for things to buy across the vast e-commerce landscape. Some of our latest conquests include the best socks for traveling, travel shoes for men and women, dopp kits, rolling luggage, weekend bags, travel necessities, and portable speakers. We update links when possible, but note that deals can expire and all prices are subject to change.
Every editorial product is independently selected. If you buy something through our links, New York may earn an affiliate commission.