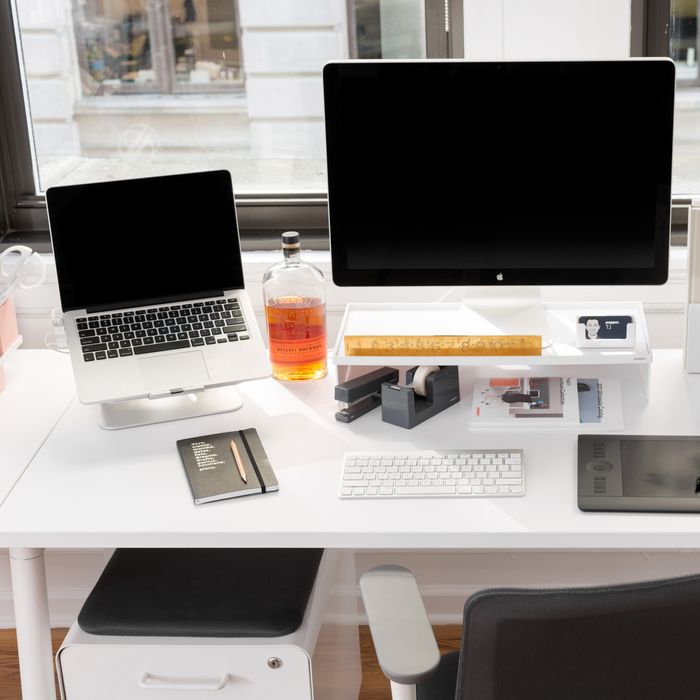 The desk of T.J. Zafarana, the art director at Poppin.
Photo: Poppin
A fancy desk setup isn't necessary for keeping a job, but the right homey and visually interesting accessories can at least make your office — the place where you spend most of your daytime hours — more inviting and (who knows?) may even boost your creativity. Here, we reached out to the creative types and design experts — from clothing designers to interior designers to art directors — who would know about the best and most stylish décor for your desk-scapes.
Desktop tools and knickknacks
It's always a good idea to keep your business cards in a prominent position, especially if you're meeting with clients all the time. Here's a card holder that doesn't look quite so corporate, one designed for Brooklyn home décor store Souda, that comes recommended by Brooklyn-based furniture and interior designer Leah Ring. "It's minimal and chic and will make a great impression on anyone who happens to walk by your desk."
To zhuzh up your files, Ring also recommends investing in nicer paper clips. "Fancy paper clips aren't for everyone, but if you work in a field where you hand off hard-copy deliverables to your clients or project partners, I think adding a little style via interesting paperclips, like these from Areaware, is a nice touch!"
We'd almost recommend this dog-shaped stapler if you want something kookier for your desk: it's a very well-known design-y stapler from Italian brand Ellepi, an office-supply company based outside Milan.
And we think this pair of golden scissors from Danish brand Hay (a Strategist favorite) is very stylish, too — think of how nice it will look peeking out of a desk cup.
New York-based interior designer Kelly Behun enjoys perusing East Village store Nalata Nalat, which sells handmade goods from predominantly Japanese artists, for office supplies. In particular, "I like the character of the Futugami brass pieces. The tape dispenser is charming and has a nice heft to it."
Stationery
Stephanie Michaan, a New York-based interior designer and founder of The Interior, likes the brand Appointed for stationery, because she finds theirs minimal and functional. "I highly recommend this brand for keeping your desk organized." Here's a desk planner that's no-frills, with room to jot down notes and cross out tasks.