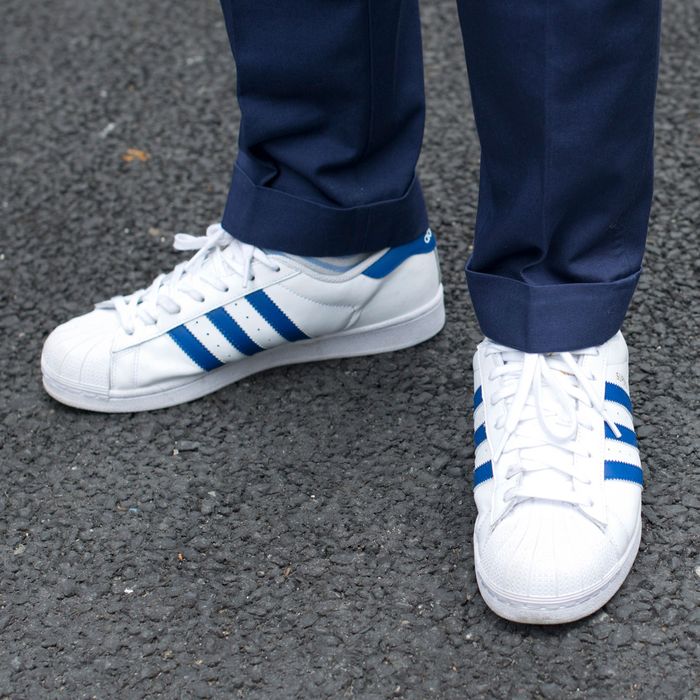 Photo: Kirstin Sinclair/Getty Images
Here at the Strategist, we like to think of ourselves as crazy (in the good way) about the stuff we buy, but as much as we'd like to, we can't try everything. Which is why we have People's Choice, in which we find the best-reviewed products and single out the most convincing ones. (You can learn more about our rating system and how we pick each item here.)
And while we've written about the best shoes for men before — including the best monochrome sneakers, the best rain boots, and even the best slippers — here, we've rounded up the best shoes from Adidas, as praised by the most enthusiastic reviewers on Zappos.
Best-rated Adidas shoes
With over 500 reviews, the Samba Classics receive top marks for comfort and style, with one reviewer writing, "The Samba Classic is my favorite trainer, both for indoor soccer and for just plain hanging out. Incredibly comfortable shoe, and it fit precisely as expected." One reviewer, who is on his third pair, writes, "I've never had a single issue with this shoe. Molds to your foot very quickly. Extremely durable sole that will last for years. Looks great, easy to clean, no unsightly creases where you bend your toes, and comfortable." Reviewers also loved the overall adaptability of the sneaker: "I buy a pair of these classic shoes about once a year, and wear them nearly every day. They're sturdy, well-made, comfortable," writes one. "Very comfortable with classic styling and versatility. I use mine for training, leisure, and skating," adds another.
Best-rated (less expensive) Adidas shoes
Reviewers were in agreement that these are by far "the gold standard of slides." One reviewer writes, "This is, in my estimation, the best deck sandal available. I've been using them for over 15 years and would not buy any other deck shoe/sandal." A second reviewer enthuses, "These are by far my favorite pair of sandals. I have worn them for at least ten years, and let me tell you, they last forever! I am a former collegiate athlete (soccer) and would wear them after games, practice, everywhere! Overall an excellent buy and worth the price." Reviewers specifically praised the slides for their excellent arch support. "These slides are comfortable, hold up well, and have actual arch support. Back in college (in the '80s) all the swimmers and water-polo players wore them constantly. I know why. They are the best, and thanks to Adidas for not messing with what works." Another reviewer adds, "My doctor recommended these to wear around the house because of their excellent arch support. They are exactly what I needed."
And now for some micro-picks for every type of Adidas shoes you might be looking for.
Best Adidas cleats
Reviewers praise these athletic sneakers for their excellent comfort, and this style is a particular favorite among soccer players. "Bought my first ever pair of Mundials after hearing literally millions of great reviews and, sure enough, they're great. Super-soft kangaroo leather upper is fantastic and gives you a great feel of the ball, while the footpad is comfortable," writes one reviewer. A reviewer who bought these for her 41-year-old husband writes, "[He] had been wearing the same pair of Copas since his freshman year of college. Can you believe that after 23 years they fell apart? I bought him the exact same size in these new Copas and the fit was perfect. This story is a similar one to many a soccer player that adores their beloved Copas." Another reviewer writes, "We recently purchased these shoes for our son who plays coed soccer now that he is a dad. He kept calling us these past few months and asked if we kept his old Copas. So for Christmas, we purchased a pair for him as a gift. Same glove-like fit, same kangaroo soft leather, same price as 14 years ago. These are great shoes!" However, several reviewers note that the sneakers run large, with one reviewer advising, "These run big! Believe what others say and go down a full size."
Best Adidas sneakers for skateboarding
Reviewers love these sneakers for their overall durability and style, and they are an especially good bet for skateboarders. "I'm an ex-skater, and I've always found skate shoes to be the most robust. I'm hard on shoes. I tear through Chucks within a week (holes develop at the foot fold), but these Adidas skate shoes are tough as can be!" writes one reviewer. "Super-good shoes. Durable if you're a skater," adds another. One parent who bought these sneakers for a son writes, "I love the classic look and they are more durable than most skate shoes. Comfortable, nice looking and reasonably priced." Many reviewers note that the shoes are best for people with narrow feet, with one reviewer writing, "These took a few days to break in, but now they fit like a glove and are super-comfy. If you have wide feet, they probably aren't for you."
Best everyday Adidas sneakers