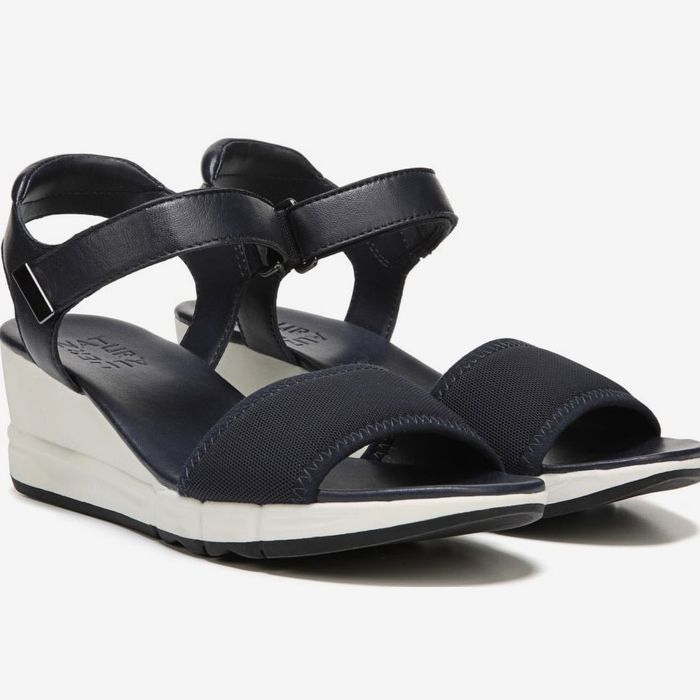 As soon as summer heats up and I get my first pedicure of the season, I start getting click-happy with online sandal shopping. This often backfires, and I have to schlep five boxes to the post office because my wide feet often don't belong in the shoes I buy. But I have had successes, and now know that I need four things from a sandal: all-day comfort, a wedge to give my five-foot-one frame a little height, adjustable straps, and traction. Finding them year after year takes a concentrated trial-and-error effort.
For my search this year, I got samples from a few trusted brands and wore them each for 10 to 12 hours. The pairs below handled: running up and down subway stairs for both daily commutes, post-work drinks, shopping at Target for a few hours, birthday parties, and plenty of standing and walking. It's rare for a wide-foot sandal to truly cover the entire bottom of my foot, but these 10 sandals made me feel fully supported and comfortable all day long, with minimal blisters, even after first wear. Now it's safe for you to get late-night click-happy, too.
I've never owned anything nubuck, but it's fun to say and soft to wear. I associate it with my dad's work boots, but these asymmetrical-strapped sandals are the opposite end of the fashion spectrum. They have a nice rubber outsole and what Clarks calls an "OrthoLite" footbed, which gives good traction and comfort for walking up three flights of stairs to a rooftop bar or using a standing desk. (It worked for both.)
I have plantar fasciitis, and I can't wear insoles in sandals, so arch support is an absolute must. This sandal felt like a memory foam mattress for my foot — especially my arch. They are so lightweight and cushy that I could run a short distance in them, and, like many Easy Spirit sandals, it has a Velcro ankle strap — not that you can tell. But it does mean these are adjustable for various ankle sizes. The crisscross front keeps toe cleavage at bay, too, which was clutch.
I took these for a spin on a 97-degree day and my feet didn't get all sweaty and slippery in them, because of the breathable liner in the sandal. Naturalizer calls these a "sport wedge," and although I wouldn't play basketball in them, I did walk a few avenues in Times Square while wearing them. They feel stable and shock-absorbing, and the fabric over the toe makes it stretchier for wider feet. Again, there's hidden Velcro. I asked my friend if she could tell, and she had no idea and un-Velcroed them in the middle of a Broadway theater. I am preaching the gospel of Velcro to everyone now. I tried and loved the leather ones, which differ a bit from the ones pictured here, which have a sportier white bottom.
I have envied this peep-toe, geometric-cut leather style on friends for years, but these LifeStride sandals are the first time I've ever seen them for wide feet. My whole foot was covered with leather without feeling constrictive, and while these have a three-inch cork heel and are great for a night out, they wear with the comfort of a flat. My favorite feature was the sneaky elastic straps at the back of the shoe to both help tug them on and give a little more flexibility for wide feet as I walked. The sole is also super soft, almost like walking on a rug. These were my favorite find of the bunch.
These three-inch-tall wedges are straight-up orthotics with hard soles that take a little getting used to, but once you break them in, the arch support is excellent for all-day wear. The straps are partially elastic and easily adjustable on the classic espadrille silhouette. I like these best paired with a flowy maxidress.
LifeStride calls the soft, supportive sole of this two-inch wedge sandal the "Soft System," and that's a spot-on description. It is very cushy, yet hard enough to support your foot and keep it in place. I was particularly into the chambray-looking navy but it also comes in black or nude.
This sandal was oddly light, as if the cork base was empty inside, but it was still very supportive. At first glance, it can look dressed-up, but I think the tiny "e" logo makes it a bit more casual. The grooved, rubberized bottom of the shoe was great when I was rushing across just-washed linoleum floors at my office with a full cup of iced coffee. Phew!
These were the lowest-heeled wedges that I tried and worked as a nice middle ground between flats and a heel. The elastic bands are so stretchy that someone with a double-wide (EE) foot could wear these too. The only caveat her