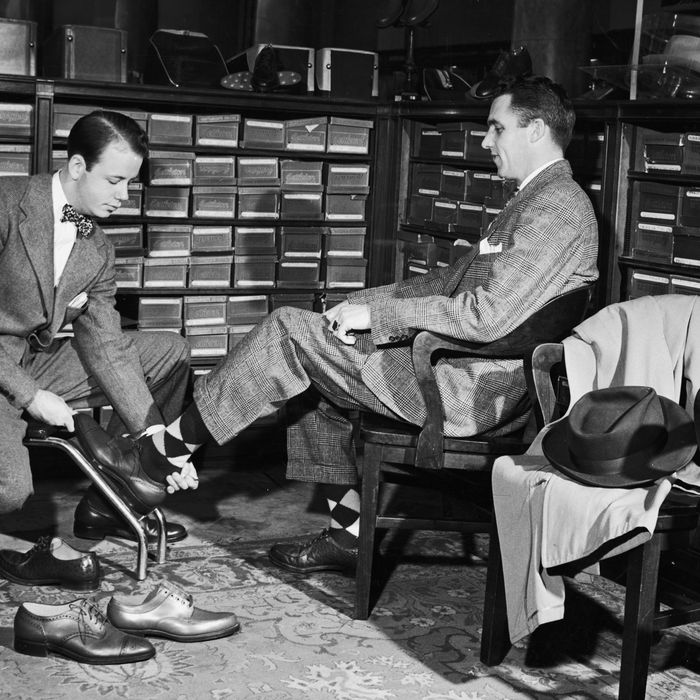 Photo: Lambert/Getty Images
We've written about orthopedic shoes for women that actually look nice. To find out the best options for men, we spoke to Manhattan-based podiatric surgeons Jacqueline Sutera and Scott Melamed about orthopedic shoes that promote foot health without sacrificing style.
According to Melamed, the most common ailments affecting men's feet include plantar fasciitis, Achilles tendonitis, sprains, strains, and fractures. Luckily, choosing the right shoes can help protect your feet and ankles from injury. Melamed suggests that buyers consider "how much mileage and what kinds of terrain [your shoes] will see, and how much time will you be standing." To save your feet, Sutera also recommends tossing shoes before they wear out and varying styles throughout the week to reduce wear. Below, 17 of their recommendations.
Both Melamed and Sutera recommend Cole Haan as a great option for both dressy and casual shoes that are stylish and comfortable. Melamed particularly likes the Zerogrand line, which features running-shoe-style notched rubber soles that promote flexibility. These oxfords even boast a breathable knit upper.
The Warren cap-toe oxford is Sutera's choice, and it features a bit of a lift in the heel and rubber soles, which she finds "the most comfortable" and makes dressy shoes feel like sneakers.
Wearing the same style of shoe every day can take a toll on your feet. So if you're wearing oxfords one day, switch to loafers the next, advises Sutera, to give your feet some variation. Try these classic wing-tip loafers with tassels from Florsheim, a brand that Melamed recommends.
Ecco is another favorite of our experts. Sutera likes that they offer a range of styles, from fashion sneakers to dress shoes. The Jeremy Hybrid is just that, offering the best of both worlds with its derby-inspired leather upper, removable insoles, and a wedged rubber sole. (It's on sale, too.)