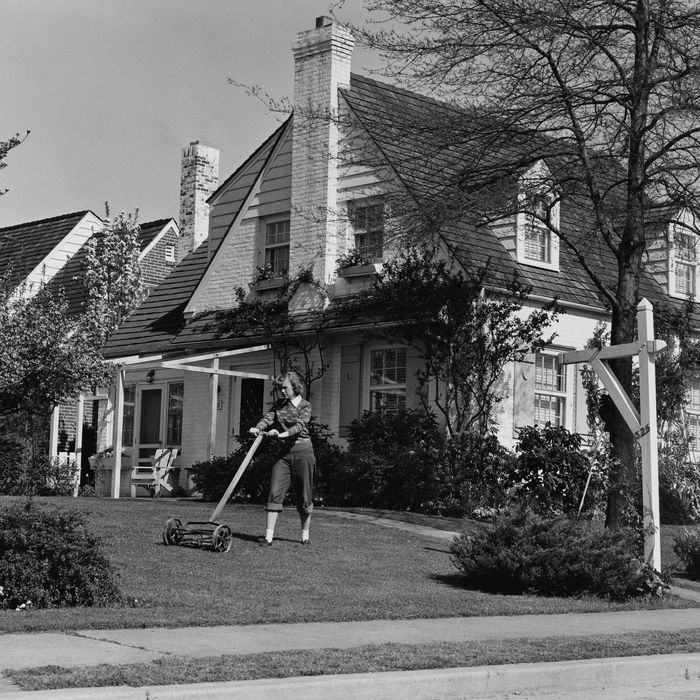 Photo: Lambert/Getty Images
Here at the Strategist, we like to think of ourselves as crazy (in the good way) about the stuff we buy, but as much as we'd like to, we can't try everything. Which is why we have People's Choice in which we find the best-reviewed products and single out the most convincing ones. (You can learn more about our rating system and how we pick each item here.)
And while we've written about lots of yard tools before — including the best garden hoses,  the best gardening shears and pruners, and the best backyard grilling tools — here we've rounded up the best lawn mowers, as praised by the most enthusiastic reviewers on Amazon.
Best-rated lawn mower
With nearly 2,500 five star reviews, this mower is described by hundreds of reviewers as powerful. "This mower chopped through my tall grass like soft butter," writes a happy shopper. A first-time owner of a mowing machine also compared her experience to cutting butter, saying, "This is the first time I've ever cut a lawn myself, it was amazing and easy. I am a 5-foot female. This lawn mower cut my grass like a knife through butter. I had tall grass with flowers and it's been raining a lot so I haven't had the chance to cut it. I also have a large backyard." She calls the whole experience "a breeze." Another reviewer penned almost 1,000 words on this lawn mower, writing that compared to others he's bought, this one has held up the longest: "I abuse this thing. It sits in the rain, the snow, the heat, and the cold. Amazingly, every spring I plug it in, squeeze the handle, and it starts right up. Can't say that for even lots of gas mowers." One mowing veteran warns that the cord on this electric mower is tough to get used to at first, but advises, "Once you get that down, you will enjoy using this mower. It's got enough power to handle lawn mowing and even the occasional wayward branch. It's easy to maneuver and switch between bagging and mulching."
Best-rated (less expensive) lawn mower
This old-fashioned reel-style mower attracted many shoppers looking for a more lightweight, less heavy-duty option. One customer prefers this manual mower to vibrating, loud gas ones because, as he explains, with this mower, "No more buying gas, no more struggling to pull on the cord hard enough to turn the mower on, and no more complicated wire-pulling to turn it off. All I have to do is push forward, and the grass gets cut. Stop walking, and it stops cutting. It's easy to maneuver, and it's not so heavy that I can't pick it up and carry it up a flight of stairs to my porch if I need to. I'm never using a gas mower again." Another customer who also wanted to go back to the basics appreciates that it doesn't need gas or electricity to work, noting, "The greatest thing about this mower is that it isn't a gas guzzling, pollution spewing, noise making machine. There's no more gas or oil to purchase, and all you smell is your freshly cut grass." Many warn that this mower can't handle tall grass or weeds, but one who describes his yards as "not huge, but not a postage stamp either" and filled with "a whole lot of exactly what this mower supposedly can't handle" says "it's a very well-made mower, the blades are pre-sharpened, the reel turns easily and smoothly, and the mower cuts cleanly even through the heavy stuff with very little effort."
And now for some micro-picks for every type of lawn mower you might be looking for.
Best electric lawn mower
This lawn mower offered a first foray into electric mowing for many experienced self-mowers. One reviewer who has been mowing his lawn for over 60 years and calls himself a "stubborn old guy," is "never going back" to gas after trying this. He says, "Things which are easier with this mower than my old gas mower include: lighter, much less vibration, much quieter, much easier to start, no gas, no oil, no air filter, no tuneups. To start, you press a button, squeeze the bail (just like your gas mower). That is it." The grass catcher is another well-reviewed feature, with one customer writing "I had so underestimated how useful it is. Best of all, it completely eliminates the need for any sweeping (or dreadful leaf blowing) along walkways, streets, or driveways; the mower vacuums everything up, leaving the area perfectly clean and manicured, like the lawn just walked out of a barbershop." He also writes that though he originally felt the mower would be too small, a few uses changed his mind: "More and more, the benefit of the smaller size and light weight of this mower becomes apparent. The little mower gobbles up weeds and even moderate brush as it maneuvers in and around, over and under, various obstacles and edgings."
Best lightweight lawn mower
"Lightweight" is a word used by hundreds of reviewers to describe this Sun Joe mower. "I assumed it'd last a season and I'd upgrade from there but no, it's a little trooper obliterating most everything in its path. It's light and easy to use," one writes. Another reviewer, who had been "scared of gas- powered lawn mowers that are big and bulky, hard to push around, and quite dangerous to be honest," calls the Sun Joe mower a lifesaver. One writes, "I've always been.They explain, "This was very easy to put together very easy to maneuver. It picks up acorns and leaves so easily." More than one reviewer also admitted they fully underestimated the strength of the mower: "We've had record rainfall here in Phoenix since October. I feel like Paul Bunyon chopping down trees and after numerous cutting sessions with a weed eater and a full week recovering like a prized fighter, I needed a lawnmower," one reviwer says, adding, "When I took this 'plastic' hilarious toy looking mower out there I didn't have very high expectations. I took it slow and to my surprise it was cutting through those weeds like it was a hot butter knife through butter. I didn't think it would make a dent in the weed forest but it chopped it down with no problem."
Best reel lawn mower
Many reviewers noted how natural their lawn looked after using this mower, like one who says, "The scissor cutting mechanism gives a cleaner look to the freshly mowed lawn. It doesn't look butchered as it does with a power mower, it looks very natural." He also adds that the mower is also "so quiet," a feature that many others loved about it as well. Another reviewer says, "using this mower gives an incredibly clean cut as if you snipped the grass with a pair of scissors. It's quiet so I won't bother neighbors if I mow early in the morning." One who "bought it so I could mow the lawn later in the evening without being that guy that keeps everyone awake," thinks it cuts grass better than most push reel mowers, but advises, "If you let the grass grow too tall, it'll require a few runs over."
Best lawn mower with string trimmer
The 3-in-1 combo of trimmer, edger and mower drew customers in, especially those looking to tame unruly grass. One customer who admits his grass was overgrown says, "The mower attachment is the best invention since high speed Internet. It easily snaps in, and the whole thing is as light as a weed whacker. Instead of mowing my yard in strips, it was more like I was vacuuming my backyard. Plus, while I was mowing, it was easy to snap the whacker out of the base and do corners and edging, so no extra step to do.This thing plowed through without slowing down, like a small bush hog." But another reviewer who claims his lawn "looks almost identical to my next door neighbor's professional cut" warns that although it might feel like you're vacuuming your lawn, "don't use it like a vacuum cleaner." Instead he provides helpful tips for a clean cut lawn with this mower, writing, "You need to set a direction, and go at a steady pace, walk from beginning to end without stopping. And from time to time, stop and clean the clipping built ups from underneath the trimer and cart, it will make for less messy clippings afterwards."
Best self-propelled lawn mower
Many originally purchased this mower because of its ability to self-propel. One, who says this mower "worked like a champ," notes, "the self-propelled mode is great, especially if you are not strong enough to push it up an incline. My 4'10" 100 lbs wife tried it out in the tall grass and had no problem at all." Others love how quiet it is, like one who says that feature is "great when you don't want to make a racket or are cutting the grass at a not-so-appropriate time of the day (really early or late)." He goes on to say he didn't love the high price tag but feels it's totally worth it, explaining, "For the ease of use, no longer needing to mess with gas and oil, the cutting performance, and the fact that the battery system is interchangeable with plenty of other Greenworks lawn tools, this was a no-brainer for me."
Best cordless lawn mower
Dozens of reviewers commented how pleasantly surprised they were with the long battery life on this electric mower. One who, says this mower "feels like a gas mower," says that the batteries are "a very good size, and have a real good quality heft to them, along with a little button to show you how much power is left. There are two of them, and they charge in less than 30 mins. And by the way, the battery does not slowly lose power and then slowly taper off to a barely spinning blade. It goes full strength until it's depleted. I really like that." Another experienced mower says using this mower was the "most fun I've had in a long time," and it's "one of the best mowers on the planet." She continues, "It's powerful with an easy to reach lever to adjust forward speed. No gas cans sitting around and no trips to get one. No choking, puking, or sputtering engine." Many also commented on how quiet it is, one saying, "it is about as loud as my new cordless electric toothbrush. You absolutely do not need ear protection with it." He also loves that it's electric, taking out the negative effects of gas, such as the fumes. He writes, "You can take a deep breath any time you want and not have to worry about getting a big hit of carbon monoxide."
Best quiet lawn mower
Over a dozen reviewers called this mower "the Tesla of lawn mowers," because it's not only electric, but it's also the most high-quality mower many have experienced. One who admits he actually owns two Teslas writes, "I've learned to hate gas fumes, oil changes and the sound of a combustion engine. That being said, this mower is awesome. Very quiet. Always starts. Even has headlights so you can mow at night. It mulches grass, sticks and leaves very well and I've never needed the bag." The eco-friendly aspect became the biggest seller for reviewers, but most fell in love with how quiet and strong it is. One writes, "This was my first electric lawnmower and I'm never turning back! It's so light and easy to use. Plus, it's a lot quieter than any gas lawn mower I've ever experienced. The turbo charger get the battery up to full speed in minutes and I can mow my entire yard on one charge! It folds up easily for storage and cleaning. No more fluids. No more having to replace the carburetor."
The Strategist is designed to surface the most useful, expert recommendations for things to buy across the vast e-commerce landscape. Some of our latest conquests include the best women's jeans, rolling luggage, pillows for side sleepers, ultra-flattering pants, and bath towels. We update links when possible, but note that deals can expire and all prices are subject to change.
Every editorial product is independently selected. If you buy something through our links, New York may earn an affiliate commission.