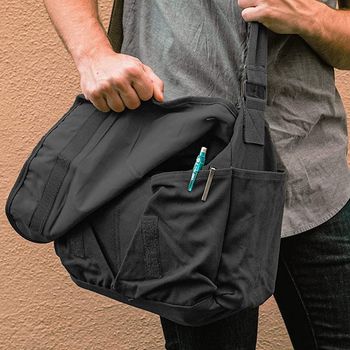 There are a lot of ways to carry your everyday necessities, but many feel a little too casual or technical for use in the office. If you need something that has the carrying capacity of your backpack but looks a little more boardroom than classroom, a stylish messenger bag is as good as it gets. So while we've written about plenty of bags before — including the best weekender bags, gym bags, and even toiletry bags — here, we've rounded up the best messenger bags for men, as praised by the most enthusiastic Amazon reviewers.
Related Articles: Best Weekender Bags | Best Gym Bags
Best-rated messenger bag
Well over 7,000 five-star reviews praise this Newhey messenger bag for its overall design and durability. One freelance writer calls this their "dream messenger bag" because it's "gorgeous, durable, well-made, versatile [and] can hold everything and then some," including their laptop, notebooks, water bottle, pens, and more. "It looks stylish, but it is also very practical," writes another reviewer. They specifically call out that the bag has a padded laptop pocket, is secured with a zipper and buckles, and is constructed from water-resistant canvas. And a third reviewer who purchased this for their husband says that it "looks much more expensive than the $50 price" and can attest that it's "held up well over two years." They write, "My husband uses this bag to carry his laptop to and from work, and people stop him all the time asking about it. Honestly, if I could give this bag 10 stars, I would."
Best-rated (less expensive) messenger bag
This Osoce bag is much smaller and much cheaper than the Newhey one, but that's exactly why reviewers like it. It's the "perfect size" according to a reviewer who purchased this for their husband, who previously carried his things to work in a plastic bag. "He now takes his mask, phone, phone charger, and other miscellaneous things to work" they write, noting that it has "lots of storage compartments and the fabric can be wiped down." Another reviewer says it's a "great high-quality product for a low price!" They like that it's "cute and discreet" while also practical: "It fits all my stuff (phone, wallet, keys, sunglasses case, a small bottle of hand sanitizer, a ziplock full of disposable masks and a small bottle of water)." And a third reviewer was happy that it suited their "reluctant" bag-wearing husband. "Once he tried it, he LOVED it. He uses it everyday. It's really very smart looking, and well made."
Best messenger bag for school
This Sechunk messenger bag has more than 3,000 five star-ratings, and over 40 students and parents note that it's spacious enough to carry plenty of school supplies. One school counselor purchased the "functional" and "cool-looking bag" for work and says it can "hold my laptop, several books, folders, and laptop cord with room to spare." Another student who appreciates the bag's extra pockets adds that it's a "great-quality bag and comfortable on the shoulder, even with a lot of weight." And a third reviewer calls this their "favorite school bag" because it's "insanely durable because of the heavy canvas, and [it] doesn't compromise style for functionality." After a year of using it, they say the bag is still in "solid condition" and that they're "still [as] in love with the bag as when I first received it."
Best messenger bag for work
"I used to use a military-style, khaki messenger bag, but I needed something more professional to line up with my office job," writes one five-star reviewer of this bag. "This Kenneth Cole Risky Business Messenger Bag fit the bill. It's sleek, handy, and professional." Dozens of other reviewers seem to agree, using the word "professional" as a descriptor. One reviewer goes so far as to call the bag a "must have for a young professional." They write, "Now that I have graduated and have a 'real' job, I continue to use it and always get a ton of compliments on it!" As for its functionality, they write that its "main pocket is big enough to hold my 15" laptop, an iPad, and a few folders/papers, and the back pocket can hold a charger cord or two along with all of my pens." And a third reviewer says it strikes a rare balance: "Need a classy upgrade to canvas or messenger bag? Trying to appear both mature but also cool and sexy? Well, this bag somehow manages these once-thought-impossible feats."
Best (less expensive) messenger bag for work
More than 4,500 reviewers give this water resistant messenger bag five stars, and dozens say that it looks "professional." One reviewer who bought this for a friend "couldn't believe how nice and professional looking this bag was," especially for the price. "This is such a good deal and even a leather bag would pale in comparison," they write. Another reviewer who was "looking for a more professional laptop bag than my typical messenger" says this Taygeer "fits the bill very well." They like that the "construction is durable, zippers are large and reliable, and it has a surprising amount of storage throughout. Easily fits everything I need with plenty of room to spare." Others like that it holds up to extensive use, including a reviewer who says "the difference in quality is night and day" compared to their previous work bags. "This is rugged, has solid zippers, and no cheesy plastics. It appears much better designed and built."
Best convertible messenger bag
Nearly 900 reviewers give this convertible Crocod bag five stars, including one who was "tired of choosing between backpacking and shoulder side bags." The convertible feature is "super convenient" for another reviewer who also likes that the bag itself has "ample space for big laptops," a "dedicated section for tablet storage," and "a lot of small pockets so you will never run out of space for all your chargers, cables, and other accessories." And a third reviewer points out that while its versatility is a plus, they "love that the straps tuck away and hide nicely when being used as a messenger bag. You honestly would not know the straps are there."
Best messenger bag for laptops
Reviewers love that this isn't your typical messenger or laptop bag. "The bag looks just like the picture and feels well-constructed and durable. It's beautiful, with just a touch of something more exotic and interesting than the average laptop bag," writes one. Another was shocked how high-quality it is, writing, "It's the largest one they have holds my 18 inch laptop plus plenty of room for papers and folders. This is a bag I would have expected to find in a store for at least $150, if not more in the above $200 range." Another adds, "This messenger style leather satchel far exceeded my expectations." He also notes that not only could it fit his 17-inch laptop, but there's plenty of room left over: "I could fit most of my desk in here." One teacher fully agrees this bag is large and worth the money, commenting, "In any case it is very spacious, my dinosaur of a laptop can fit comfortably in it along with all of my books and all of my paraphernalia (I carry around lots of things)."
Best (less expensive) messenger bag for laptops
More than a third of reviewers say that they use this messenger bag for their laptop. "It definitely makes carrying my laptop a much more pleasant experience," one writes, especially since it can hold so much more than just a laptop. "It's got two HUGE pockets (not too big) on the front, which carry all of my charging cables, power bank, AirPods Pro, extra pen/Sharpie, any dongles I might need, and honestly still has room to spare." Many agree with this user who thinks no additional laptop sleeve is necessary. "Even if you don't have a cover on your computer, the inside of the bag is very plush and soft so you don't have to worry about scratches," they write. Dozens of reviewers also point out the bags reinforced corners as another protective feature. One reviewer, whose number one criteria for a messenger bag was corner protection, describes this one as excellent. Another speaks to the sturdiness of this bag: "I feel like my ridiculously expensive computer will be protected if I were to drop it."
Best compact messenger bag
This messenger bag is a favorite among travelers and reviewers who prefer an all-in-one, compact bag. "I travel extensively and I needed a Bible bag so I could bring my scriptures with me on trips. This one is perfect for my needs. It has so many little pockets, it seems there is a space for anything," reviews this content shopper. Another frequent flyer comments that this bag is perfect for travel: "The rest of the bag has tons of pockets and cubbies to replace the wallet or organize other things. Easy to get to everything, including passports and IDs while on the go. Can't speak for other uses but for a nice, compact, functional travel bag at a great price, this is a gem." Many remark that while its size is definitely a plus, another huge selling point is the durability. "The canvas material is sturdy, and the adjustable strap is a good length for crossbody use. Plus, it feels like it will last a long time," as one puts it. Many feel it's relatively complex because there are so many compartments, but as one sums up, "Overall, the bag does have way too many pockets, but that is a great thing for travelers like me."
Best everyday messenger bag
Many mention that while this won't be your carry-all bag because it is on the smaller size, it's ideal for everyday use: "This is a beautiful, well-constructed bag. Heavy weight canvas. Solid and carefully placed stitches. Perfect size for a daily-use man-bag. Kind of very attractive retro styling. Should last for years unless you drag it behind your car," raves one. Another agrees, noting the size is "perfect" because it's "not too big and not too small." He continues, "The canvas is nice and soft, not stiff like so many. It could be used daily as a purse or man-bag. It's not large enough for a laptop which I don't haul around anyway." One disagrees that this bag is too small to carry everything, explaining, "This is a great bag to have if you're the type of person who finds themselves toting around a number of items on a daily basis and need some extra room. Comfortable to carry, even with a decent amount of weight and has just the right amount of sag and a floppy design to be a up-to-the-task every day bag."
Best durable messenger bag
Durable is the word dozens of five-star reviewers use to describe this Carhartt messenger bag. Happy customers include a construction project manager who "expects it to last for years" and says that on top of being well-made and water-resistant, it's the "perfect size" for their "tablet, notebook, and a few tools, and it has a front pocket with easy access for my tape measure." Another reviewer says it "pays for itself just from the durability alone," since it's "made out of a nice, thick canvas — exactly what you'd expect from Carhartt." And a third reviewer, who "basically lives out of my truck and work bag," similarly says the Carhartt is "made tough. Tough material, tough straps and hooks, tough zippers. It can take abuse." And they add that it's "big enough to hold spare clothing and all things I need while out working."
Best vintage-looking messenger bag for men
Dozens of reviewers report getting compliments on this messenger bag, with many impressed by how good looking it is. "It's possibly one of the best looking messenger bags I have come across," writes one reviewer. Another says it's "the combination of letter straps, with the brass hardware, and treated canvas" that give it "the appearance of a vintage messenger bag." And a third reviewer says it looks so nice, you'll be a "young fashion icon." But the good reviews don't just focus on this bag's looks. "It has two compartments, two large pockets outside, two smaller ones inside, one back pocket, two side pockets for bottle/umbrella etc," writers one customer, outlining all the ways in which it's useful, too. It's also waterproof, which many appreciate.
The Strategist is designed to surface the most useful, expert recommendations for things to buy across the vast e-commerce landscape. Some of our latest conquests include the best acne treatments, rolling luggage, pillows for side sleepers, natural anxiety remedies, and bath towels. We update links when possible, but note that deals can expire and all prices are subject to change.
Every editorial product is independently selected. If you buy something through our links, New York may earn an affiliate commission.