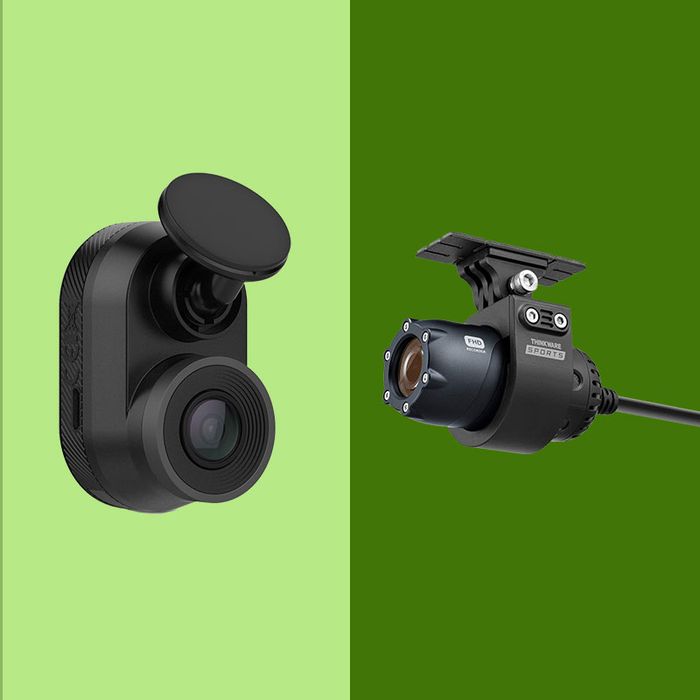 Photo-Illustration: The Strategist; Photos: Retailers
Video evidence of anything you may experience on the road can be very helpful for insurance claims (not to mention entertaining TikToks). The best way to get that evidence is with a dash cam. Dash cams are usually mounted to your windshield or dashboard with strong adhesive or suction cups (they can also be attached behind your rearview mirror) and allow you to record video of what's happening in front of your car and, often, behind it. Unless you're quite handy or buy a very basic setup, you'll want a pro to handle installation, since dash cams require power and wiring. When a dash cam is discreetly installed, you'll barely notice it, yet it can provide a lot of peace of mind. To help you find the best dash cam, we talked to five experts — including custom car-security installers and camera professionals. Here are their favorites.
Best overall | Best less expensive | Best with built-in GPS | Best 4K | Best for motorcycles | Best extra-small
What we're looking for
Camera: First, consider the specs of the camera. Look out for the field of view (FOV), which tells you how wide of an area your camera can record. Most dash cams have FOV angles between 130 and 160 degrees, with an average of about 140 degrees, which should give you a view of multiple highway lanes or a large intersection in case of an accident or someone cutting you off while merging. The larger the angle, the wider the view.
You want your dash cam to have a decent resolution so that any footage it records is sharp enough to distinguish important details — if your dash-cam video looks like it was shot using a potato, that's not much help. According to the experts we spoke to, you should look for a minimum resolution of 720p, but if you want the clearest picture possible, some high-end dash cams go all the way up to 4K. That may seem like overkill, but it's handy if you're trying to read a license plate.
Another spec to look for is whether the camera has night vision. An accident can happen at any time, and having a camera that can properly record an incident in low light is crucial. Finally, if your dash cam has "parking mode," that essentially means it has a motion sensor and can record what's happening around your car even when the ignition is off. This feature allows you to catch anything that might scrape or bump your car on the street or in a parking lot.
Storage: Most dash cams record on and come with a microSD card that holds between 16 and 32 GB; if you want more storage, you'd swap in a larger-capacity card. Dash cams often overwrite old footage to save space on the card, though you can typically save important footage manually. Or you may be able to pull it up and save it if your dash cam has a supported app (this is true of every camera on this list). Many newer dash cams are capable of sensing when a crash has occurred and will automatically prevent that data from being overwritten. To keep your footage extra-secure, several dash cams give you the option to record to the cloud, so recordings are backed up virtually.
Single-channel or dual-channel: A single-channel system has just one camera and solely monitors the front of the car, while a dual-channel system has both front and back cameras. A rear camera is usually smaller than the front camera and mounts to the car's rear window to record what is happening behind you. A single-channel front camera is the most common dash-cam style. If you drive in a lot of traffic where you may be rear-ended or park on the street, having that extra camera in the back could be beneficial.
Best overall dash cam
FOV: 139 degrees | 1440p (2K) resolution | Night vision: Yes | Parking mode: Yes | MicroSD and optional cloud storage | Dual-channel
This South Korea–based brand was name-checked by three of our experts. According to Stefano Loria of AutoCraft NYC, BlackVue is "the best dash-cam company on the market" both from a customer perspective and a professional one. The DR750X-2CH has dual 1440p cameras — one for the front of the car and one for the rear — and an automatic parking mode that senses and records approaching objects when the ignition is off. It has both microSD storage and optional cloud storage, so you can access footage from anywhere with an internet connection. "Even when you're not in your car, you can remote into it to see if something's wrong," Loria says. According to Danny Tran of Houston's HTX Dash Cams, "The sleek look helps the camera hide in plain sight." It has a 139-degree field of view and superior night vision, which allows you to easily capture license plates in low-light areas, as well as advanced driver assistance, which can warn you about potential collisions ahead.
Best (less expensive) dash cam
FOV: 140 degrees | 1440p (2K) resolution | Night vision: Yes | Parking mode: Yes | MicroSD and optional cloud storage | Dual-channel
This dash cam was suggested by Tran as well as Ronen Yossef, owner of Toronto's Car Systems Installation. VIOFO is "a really nice, budget-friendly brand," Yossef says. Although it's not as sleek as our top pick, Yossef and Tran like that the A129 Plus Duo is a two-camera system with 1440p resolution, Wi-Fi connectivity for downloading video, night vision, and parking mode. "It's suited for anyone who wants a reliable camera with the top perks without breaking the bank," Tran says. The dash cam has a 140-degree field of view and optional cloud storage.
Best dash cam with built-in GPS
FOV: 140 degrees | 1440p (2K) resolution | Night vision: Yes | Parking mode: Yes | MicroSD and optional cloud storage | Dual-channel
Both the administrator of the dash-cam review site DashCamTalk (who asked to remain unnamed, because the site contains videos of potentially litigious situations) and Mark Steinberg, senior technologist at B&H Photo Video, recommend the Thinkware brand. Steinberg highlights how "responsive" the company is to customer needs and says the top-of-the-line Q800PRO model has the "full load of features people with expensive cars really want." Those features include night vision, cloud storage, dual-channel recording, parking mode, and 1440p resolution. Also notable: The built-in GPS tracker "shows you exactly where you were" when specific footage was recorded, which can be useful for insurance claims or police reports, and internal thermal detection protects the device in extreme temperatures.
Best 4K dash cam