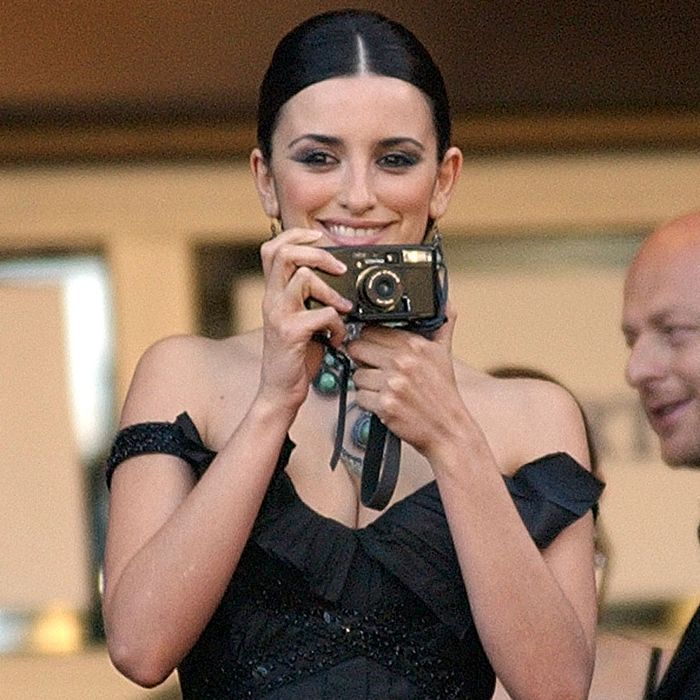 Photo: Frank Micelotta/Getty Images
No, you haven't accidentally clicked on a story from 2007. Even though we're all walking around with high-quality cameras in our phones these days, the experts we consulted tell us there are still myriad reasons a point-and-shoot camera remains a rewarding piece of gear even in 2021. If you're a snap-happy smartphone user, for instance, you may be frustrated with losing image quality whenever you zoom in. If you're a content creator who wants to record in 4K, a point-and-shoot is much more affordable than upgrading to the newest 4K-capable phone (and it's both more affordable and much more portable than lugging around a DSLR). Or maybe you're a parent and you prefer the idea of offering your kids a bombproof point-and-shoot to play with instead of worrying that they'll drop your phone.
One big benefit of a point-and-shoot in any situation is the physical feel of a camera in your hands, which can make you that much more intentional with the shots you compose — without requiring the ten additional lenses of a DSLR or breaking the bank. "If you go outside with an actual camera and the intention to really look or take photos, it feels different," says Allison Johnson, a tech writer for The Verge. "It also seems less intrusive to other people than pulling out your phone. It comes off differently."
To find the best point-and-shoot cameras for every purpose and budget, we asked five photographers (many of whom review or sell cameras for a living) to tell us about their favorites. Below, the 12 most recommended, from two sub-$200 waterproof shooters to a modern Canon that looks like a 1940s film camera.
Best point-and-shoot cameras under $200
You probably don't expect much from a digital camera that costs less than $100, right? According to Mark Steinberg, a senior technologist at B&H Photo Video and an amateur photographer, and Steven John, a photographer and a Strategist contributor, the Sony DSCW800 will change your mind about low-cost digital cameras. "With a 20.1mp sensor, the W800 snaps crystal-clear images, and it can record 720p HD video," John says. Although 720p video is "hardly groundbreaking these days, it's more than enough visual clarity for your kid's sporting event, your Christmas morning, or to document your success with a Hula-Hoop," he adds. Similarly, while the 5x zoom, according to John, "won't have you capturing the expression on a ballplayer's face from the nosebleeds," it's still going to get you a far closer, clearer shot from distance than your cell phone will, says Steinberg, who notes that many phones "still have no optical zoom." Steinberg adds that this camera has a great panorama feature, something that's "rare for $99 technology." To use it, just "hold the shutter down, pan left to right, and it'll do a live stitching of everything it sees," he says.
Photographer Lanna Apisukh is a "huge fan" of the Fujifilm brand. Steinberg likes the XP140 in particular because it's "drop-proof from six feet, waterproof to 82 feet, and very slim and pocketable, even with a 5x optical zoom." Unlike the Sony W800, the 16.4mp XP140 shoots in 4K video. Plus, he says, you can "hand it to your child and feel confident they won't be able to destroy it, even if they want to." (He says this from experience, having bought the camera for both of his kids.) That same durability makes this camera a great choice for "the outdoorsman who doesn't want to make as big an investment," he says. And the XP140 connects to Wi-Fi, so you can transfer your photos directly to your cell phone for easy sharing to social media.
After covering the digital-camera space for years, Johnson says this rugged, slightly less expensive (and slightly better-looking) camera that can connect to Wi-Fi is a favorite. It may not look like it, but this model is water-, shock-, freeze-, and dustproof, so it can be used underwater and withstand a fall from six feet. "It can take all kinds of abuse you would not feel okay doing to your smartphone," she says. The downside, and the reason it's a little more affordable, is that can't record in 4K, but its 1080p video resolution is plenty for anyone who isn't a professional influencer.
Best point-and-shoot cameras under $400
Both Steinberg and Johnson call the TG-6 the best rugged point-and-shoot on the market. Like the W150 and the XP140, it's waterproof and drop-proof, but unlike those cameras, according to Steinberg, it has "built-in GPS in case you lose it, 4K video resolution, 4x zoom, and built-in Wi-Fi sharing," which means you won't need to connect to an external network to start sharing between your devices. It can also be dropped from seven feet, instead of six.
According to Apisukh, Canon's PowerShot line has "always been a solid choice for casual shooting as a beginner." She prefers the more expensive G9, but Steinberg likes this slightly less expensive model, which has a "very respectable" 25x zoom as well as a "bump on the body for a nice grip." It shoots 20mp images, more than any of the rugged options, and has built-in Wi-Fi.
Cameras from Panasonic's Lumix line came up three times in our conversations, and of the recommended models, the DC-FZ80 is the most affordable. According to Johnson, it's the "size and shape of a traditional point-and-shoot" in that you can "hold it in one hand and fit it in a coat pocket." But it also has an ergonomic design more reminiscent of a DSLR, which she says is "a nice form factor to have because you can really grab on to it, and your shot will be less shaky." The 19mp camera can shoot in 4K and has a whopping 60x zoom for capturing everything from distant wildlife to sporting events.
According to Mary-Irene Marek, a photography specialist at Adorama, Sony is a "hugely popular brand, especially with young creators." This 18mp Cybershot is one Steinberg calls "exceptional." He likes that it's "sleek and compact, with a great grip on the side that makes shooting one-handed much easier." There's even a flip-up screen for easier selfies and self-timer shots. Although the camera can't capture 4K video, Steinberg points out that it does have a 30x optical zoom, which is particularly notable given how much slimmer it is than the DC-FZ80. Plus, he says, it has the "best autofocusing of any camera near to it in price," making it a great choice for the photographer who wants to capture candid moments quickly.
John says the 20.1mp Panasonic Lumix ZS100 is a "fine choice for the photographer wishing to snap images of landscapes, nature, sporting events, and so forth," and he calls it a "phenomenal choice for anyone who is equally interested in capturing video footage." (So much so he says it replaced his "clunky video camera completely.") That's because it records in 4K and, like the HX80, has a "blazing fast autofocus," he says, which ensures that "you will capture the scenes you want in the way you want." He adds that you "won't find better video quality until you move into the price range and physical size of the DSLR realm."
Best splurgeworthy point-and-shoot cameras
When it comes to point-and-shoot cameras, as with TVs, the more you spend, the better image quality and design you'll get, says Johnson. Four splurgeworthy cameras rose above the rest in our reporting, with this 20.1mp PowerShot model earning praise from two of our panelists. According to Steinberg, Canon has really "keyed in on the market segment that is people who want to take beautiful photos in their spare time." He describes the G9 as "very sleek, very well made, and fast, with the latest Canon processor." While he says it's "going to do well in almost any situation" and can handle most people's video needs (it records at 1080p), he adds that it's an especially great camera for "shooting people close to you, because it has a wide enough angle for indoor shots, a built-in flash, and dynamic image processing." On top of that, he says it has a "retro, 1940s Rangefinder look that says, 'I'm a photographer.'" Apisukh also praises the G9, calling it "great for casual shooting, like portraits, pets, travel, landscapes, and still life." She points out that, as with many of the cameras on this list, "you can get your pictures to your iPhone or computer with quick sharing" over Bluetooth, NFC, or built-in Wi-Fi.
This smaller Nikon is the latest version of the CoolPix A900 that John considers his trusty everyday camera. He has "owned three variations of this camera" and says each subsequent version became his "go-to for the casual photography that comes with nights out at bars or concerts, day hikes, trips to the zoo or beach, and so on." He especially likes that these cameras "slip into a small bag or even into your pocket, yet the lens extends far enough out for an impressive 35x optical zoom." When paired with its 20mp sensor, that zoom capacity is the reason for the price.
Both Steinberg and Allison recommend this point-and-shoot, which has an 83x zoom. Steinberg calls it "the king of the superzooms" and says the optical zoom is what makes it especially popular among his customers. ("If you've used binoculars with 20x zoom, just try to imagine 83x," he says.) As he explains, "It's totally automatic, but with a huge lens that you don't have to interchange, making it great for the traveler, or someone watching their kids play sports from the stands, or the nature photographer who doesn't want to carry a lot of gear and miss, say, a whale breaching." Johnson is also a fan and says this zoom lets you take the kinds of shots "you wouldn't even consider with your phone, whether you're into hiking, wildlife, or just family portraits."
While Apisukh doesn't own this camera yet, she says many of her friends "love it for travel and street photography." Despite being such a small camera, it uses a "fast Leica lens, so you can expect really nice optics with shallow depth," she adds. (That high-quality lens also explains the cost.) Apisukh's friends say that they love using the touchscreen on the back to select their focal points and that its premium-feel "dials and buttons simulate the feeling of analog cameras and feel less like a computer." The camera shoots 4K video and has built-in Wi-Fi for quick uploading to your devices. And although you might not guess it from its sleek design, it's also shockproof and waterproof.
The Strategist is designed to surface the most useful, expert recommendations for things to buy across the vast e-commerce landscape. Some of our latest conquests include the best acne treatments, rolling luggage, pillows for side sleepers, natural anxiety remedies, and bath towels. We update links when possible, but note that deals can expire and all prices are subject to change.