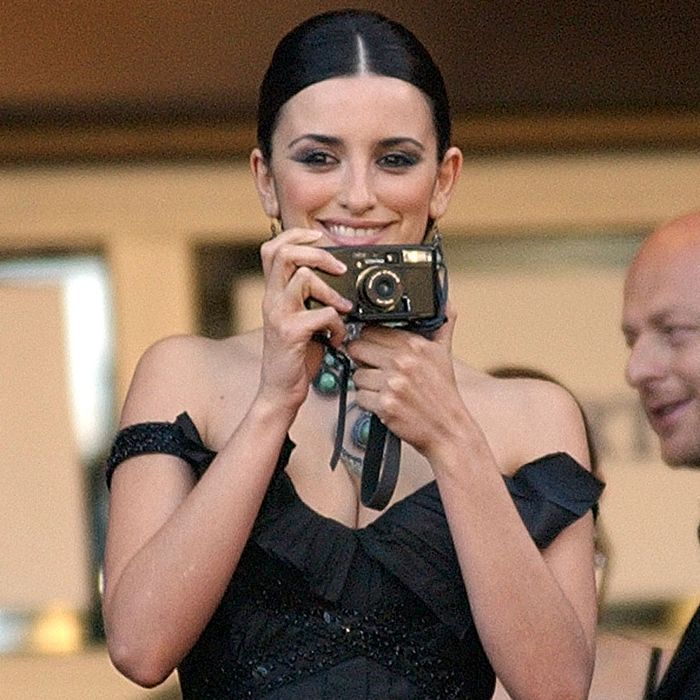 Photo: Frank Micelotta/Getty Images
No, you haven't accidentally clicked on a story from 2007. Even though we're all walking around with high-quality cameras in our phones these days, the experts we consulted tell us there are still myriad reasons a point-and-shoot camera remains a rewarding piece of gear even in 2021. If you're a snap-happy smartphone user, for instance, you may be frustrated with losing image quality whenever you zoom in. If you're a content creator who wants to record in 4K, a point-and-shoot is much more affordable than upgrading to the newest 4K-capable phone (and it's both more affordable and much more portable than lugging around a DSLR). Or maybe you're a parent and you prefer the idea of offering your kids a bombproof point-and-shoot to play with instead of worrying that they'll drop your phone.
One big benefit of a point-and-shoot in any situation is the physical feel of a camera in your hands, which can make you that much more intentional with the shots you compose — without requiring the ten additional lenses of a DSLR or breaking the bank. "If you go outside with an actual camera and the intention to really look or take photos, it feels different," says Allison Johnson, a tech writer for The Verge. "It also seems less intrusive to other people than pulling out your phone. It comes off differently."
To find the best point-and-shoot cameras for every purpose and budget, we asked five photographers (many of whom review or sell cameras for a living) to tell us about their favorites. Below, the 12 most recommended, from two sub-$200 waterproof shooters to a modern Canon that looks like a 1940s film camera.
Best point-and-shoot cameras under $200
You probably don't expect much from a digital camera that costs less than $100, right? According to Mark Steinberg, a senior technologist at B&H Photo Video and an amateur photographer, and Steven John, a photographer and a Strategist contributor, the Sony DSCW800 will change your mind about low-cost digital cameras. "With a 20.1mp sensor, the W800 snaps crystal-clear images, and it can record 720p HD video," John says. Although 720p video is "hardly groundbreaking these days, it's more than enough visual clarity for your kid's sporting event, your Christmas morning, or to document your success with a Hula-Hoop," he adds. Similarly, while the 5x zoom, according to John, "won't have you capturing the expression on a ballplayer's face from the nosebleeds," it's still going to get you a far closer, clearer shot from distance than your cell phone will, says Steinberg, who notes that many phones "still have no optical zoom." Steinberg adds that this camera has a great panorama feature, something that's "rare for $99 technology." To use it, just "hold the shutter down, pan left to right, and it'll do a live stitching of everything it sees," he says.
Photographer Lanna Apisukh is a "huge fan" of the Fujifilm brand. Steinberg likes the XP140 in particular because it's "drop-proof from six feet, waterproof to 82 feet, and very slim and pocketable, even with a 5x optical zoom." Unlike the Sony W800, the 16.4mp XP140 shoots in 4K video. Plus, he says, you can "hand it to your child and feel confident they won't be able to destroy it, even if they want to." (He says this from experience, having bought the camera for both of his kids.) That same durability makes this camera a great choice for "the outdoorsman who doesn't want to make as big an investment," he says. And the XP140 connects to Wi-Fi, so you can transfer your photos directly to your cell phone for easy sharing to social media.
After covering the digital-camera space for years, Johnson says this rugged, slightly less expensive (and slightly better-looking) camera that can connect to Wi-Fi is a favorite. It may not look like it, but this model is water-, shock-, freeze-, and dustproof, so it can be used underwater and withstand a fall from six feet. "It can take all kinds of abuse you would not feel okay doing to your smartphone," she says. The downside, and the reason it's a little more affordable, is that can't record in 4K, but its 1080p video resolution is plenty for anyone who isn't a professional influencer.
Best point-and-shoot cameras under $400
Both Steinberg and Johnson call the TG-6 the best rugged point-and-shoot on the market. Like the W150 and the XP140, it's waterproof and drop-proof, but unlike those cameras, according to Steinberg, it has "built-in GPS in case you lose it, 4K video resolution, 4x zoom, and built-in Wi-Fi sharing," which means you won't need to connect to an external network to start sharing between your devices. It can also be dropped from seven feet, instead of six.