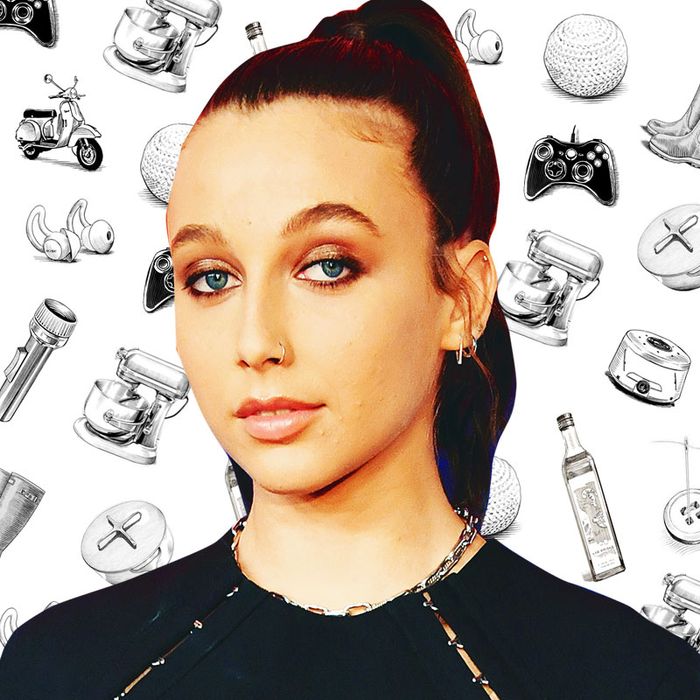 Photo-Illustration: Getty
If you're like us, you've probably wondered what famous people add to their carts. Not the JAR brooch and Louis XV chair but the hairspray and the electric toothbrush. We asked YouTuber Emma Chamberlain — who recently won a People's Choice Award, launched a planner, and rebranded her Chamberlain Coffee company — about the towel, creamer, and boots she can't live without.
I've been using this perfectly designed "As Seen on TV" product since the fifth grade. My mom and I saw it at CVS, thought it was smart, bought one, and I've used it ever since. I'm telling you, it is not like a regular towel. It's super thin and light — you twist your hair in it then button it in the back. I hate the feeling of sopping wet hair on my neck after a shower. With this, I can just walk around my house after a shower without dripping water everywhere. I'm a very chill person, but the minor inconveniences of wet hair or a heavy towel on my neck will send me over the edge.
Milk is a huge no-no for me. This creamer is a non-dairy, vegan dream. My mom found it years ago — she's super into healthy food and wanted a tasty creamer that didn't have sugar in it. We used to order cases of it because we would go through it so fast. At the time we started using it, the company was small, but now it has gotten really big — I buy it at Whole Foods or order it on Amazon. All the flavors are really great; the original one takes your coffee from good to crazy good. It's so creamy but not overly sweet.
Everything bagels are probably my favorite food, but recently bagels haven't been sitting right with my tummy. So this everything-bagel seasoning is a dream. After it went viral on TikTok, I was like, "This is kind of genius." I first put it on avocado toast and it changed my life. Now I put it on everything — eggs, sandwiches, pasta. It makes most anything taste like an everything bagel. I'm pretty obsessed.