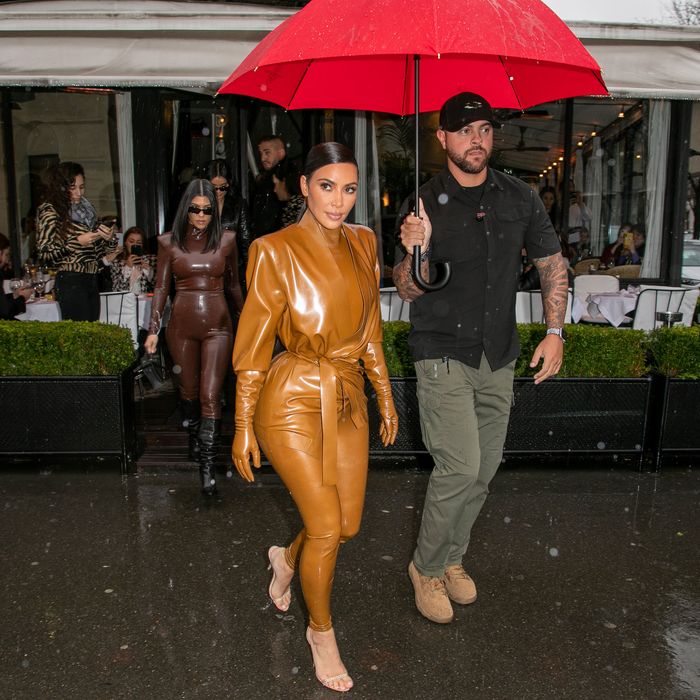 Photo: Marc Piasecki/GC Images
After months of loafing around the house in nothing but loungewear, we know it'll be a hard sell to get you into "hard pants," as they say. But can we offer you leather leggings instead? We can't promise they'll be as comfortable as, say, your baggy sweats — although some of our experts swear they are — but they're sure to be a nice foray into real clothes again for those heading back into the office or enjoying the last of the outdoor activities for the season. And since we know lots of faux-leather looks, well, faux, we consulted 12 experts for the ones that actually look real and are worth the money. Below you'll find everything from pull-on to side-zip, patent to bubblegum pink.
Best overall faux-leather leggings
These are our most-recommended faux-leather leggings, with three of the cool people we spoke to name-checking this SPANX pair as their favorite. Some of the leggings on this list are a bit more structured and resemble more of a pant, but these fit "like an actual legging with a faux-leather look," says stylist Rasheena Liberté. That means you get the leather look with all the comfort of athleisure. Liberté says that also makes them "the perfect starter legging." They come in a wide range of sizes — the inseam comes in petite, regular, and tall, and the sizing goes from extra-small to 3X. And because they're from SPANX, who specialize in shapewear, our experts tell us they're quite "slimming," a factor Bronté Laurent, the designer behind par Bronté Laurent, is intrigued by. She doesn't own them yet, but said they were next on her list of leather leggings to purchase after spotting them on a friend, who "praised their comfort and how easy they were easy to slide into," she adds. "This is rare since I find faux leather extremely hard to actually get into. There is usually some struggle from my experience." Despite the struggle, she still thinks leather leggings are a closet essential. Fashion writer Belle Bakst, known as Little Fashion Stylist on Instagram, thinks these are a staple because they feel comfortable yet look polished. She says, "Whether you're layering with a band tee, an oversize sweater in a bright color, or just running out to grab a coffee, you'll feel put together enough to run into someone you know."
Another SPANX favorite is this patent-leather pair, an even more elevated version of our most popular faux-leather legging. "I love a black patent-leather legging worn with an oversize hoodie or T-shirt and cowboy boots — or Uggs for the colder months," says Devine Blacksher, associate fashion editor at the Cut. "It gives a comfortable casual look some edge." Liberté agrees, saying this option is "for the person looking to take a risk," as it's more of a statement piece. "It's shiny, it's bold, and it's memorable," she says. And because these are SPANX brand, it's no surprise that the compression feature is a big sell. "My favorite part of this legging is the attention to detail in the waist that gives support to the extra tummy area we all despise without compromising the overall style," she says.
Best faux-leather leggings under $50
Photo: Retailer
If you already have black leather leggings you love, Dawn Ellerbe, a former Olympian turned plus-size fashion influencer, suggests this H&M pair. "I love that they come in five rich colors for fall and winter," she says. And Ellerbe thinks the olive green, burgundy, and gray might actually be more versatile than you think if you style it right, especially because it has a universally flattering high waist. "They have the polish of a pant with the comfort of leggings. Even while many of us are still working from home, these give loungewear a stylish upgrade," adds Ellerbe.
Photo: Retailer
Real leather is actually pretty cozy, but warmth can vary when you're talking about faux leather. That's why Baskt likes this thermal-lined option. "Prevent the cold from ruining your #ootd with a pair of the Calzedonia faux-leather leggings," she says. "They're thermal on the inside, keeping you warm, toasty, and still cute." And, unlike many of the leggings on this list, these come in shades other than black. The colorway shown here is what the company calls "yellow dark gold," but they also come in dark gray, wine purple, and, of course, black.
If you want your faux-leather leggings to feel more like pants, but you like the seamless look of pull-on leggings, consider this pair with a zipper on the side. While blogger Aysha Sow doesn't own these herself, she'd like to — she says she's especially impressed by the style and cut. And that's to mention nothing of the price. For less than $40, you're getting the seamed look of some of the other (more expensive) leggings.
Liberté says "Zara is a great place to shop for high fashion dupes," and these leggings are no exception. Not only are they affordable, she says, but the leather (albeit fake) looks nice and not plasticy as sometimes faux-leather leggings are. "In real life, the leatherette look is spot on and adds a high fashion touch to any outfit," she says. She does note that the sizing runs a little small so "if you have curves, be sure to size up." These also have a hidden zipper at the hip — in black with fabric covering it — so from all angles you can get that seamless look.
Another Zara favorite, this one's different than the above — and everything else on the list. Instead of the tapered leg, this pair is cropped and flared more like a boot cut jean, making them look more like an actual pair of pants. Sow owns this pair and says she loves both the style and the fit.
Yet another Zara favorite, this pair comes recommended by Sow, who says they have two front slits at the hem that "make your legs look longer." They are also comfortable, she adds, and "really hug the body." That could be due to Zara's so-called "bi-stretch technology" that promises to help them stretch in every direction.
Photo: Retailer
To Katie Sturino, founder of Megababe and body positive activist, the best part about these leggings designed by model Hunter McGrady is the size range, which goes up to 5X. They come in five colors — including an unexpected olive green — and though they only have a 27-inch inseam, Sturino, who's tall herself, loves "where they hit at the ankle."
Kamara Williams, founder of Kharma Media and In Thing, says "faux-leather leggings are a must for two reasons: they're super versatile and have a major style pay off." Because these have a button and functional back pockets, she thinks they can actually "substitute for your jeans."