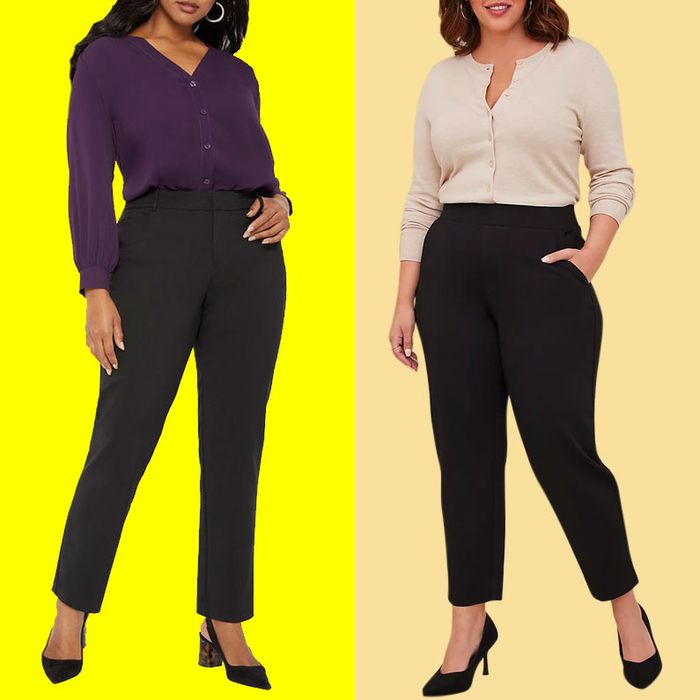 Photo-Illustration: Courtesy of retailers
For many, returning to the office presents a sartorial identity crisis: If your pandemic "uniform" was a sweatshirt with sweatpants, how do you go back to a pantsuit? My best advice is to start with a pair of black pants, the most important basic to have in a work wardrobe. Black pants can be sharp, smart, and oh-so versatile — pair them with Converse for a casual look or imitate something rather Scandinavian with a turtleneck. The only problem, specifically for those shopping plus-size, is that "the lack of size-inclusive options means it is hard to find clothing that is high quality," says freelance stylist Ansley Morgan. I saw this firsthand while doing research for our black pants guide, with size ranges at some brands topping out at XL. To help you find well-fitting, comfortable pairs that will last through your 9–5, I talked to plus-size working women — including writers and entrepreneurs — about the work pants they rely on. (As a bonus, all but three of the pairs below are under $100.)
Every pair of pants recommended below is available up to at least a size 28 with some brands offering up to size 40. (You'll notice that plus-size-specific labels Eloquii, Torrid, and Universal Standard earned the most mentions from our experts.) One tip that I found useful from the plus-size-jean story I worked on comes from Virginia Sole-Smith, author of the Burnt Toast newsletter, who tried on dozens of pairs of jeans for a series she wrote called "Jeans Science": To get the best fit, know the measurements of your hips, waist, and inseam, and pay close attention to size charts, rather than committing to a specific number in a traditional sizing system. I asked our panelists to describe the sizing details of their recommendations as much as possible. I also noted the inseam for each pair of pants, including petite- and tall-specific lengths.
You don't want to wear a pair of work pants that end up looking like a wrinkled mess even before your lunch break. So you should consider the material makeup of the options you come across. The most popular fabrics tend to be those that are easier to care for, like polyester, and breathable, like cotton. I listed the main fabric of every pair below.
Generally, work pants will have some sort of stretch in them — usually either spandex or elastane. "Stretch is often thrown out as the solution for plus-size bodies, but I find it to be of limited use," Sole-Smith previously told me. You don't want too much, but you also want to be comfortable — which is why content creator Nikki Apostolou's advice is to find a pair with around 2 to 3 percent of stretch. "The pants will still look straight or structured but have a lot more ease when sitting or even moving around," she explains. With that guidance, I designated each recommendation as either not stretchy, stretchy, or very stretchy.
After a while, black pants can all start to look the same (trust me, I have seen so many on this beat), but I made sure to mention any details that make a pair stand out.
Best overall black work pants for plus sizes
Sizes: 14–28 with 27- (short) 29- (regular), and 31-inch (tall) inseams | Material: Cotton | Stretch: Stretchy | Design details: Hook and bar closure with hidden button at waist, flat-front pockets
Eloquii takes our best-in-class blue ribbon for its tailored (and top selling) Kady Fit Pant. Several panelists shared a similar sentiment to brand consultant and entrepreneur Megan Ixim, who calls the plus-size brand a go-to for workwear as its styles strike the right balance of trendy and timeless. The reason these pants won comes down to different body-specific fits that the brand sells. There's the Classic, which is designed for those with proportional hourglass shapes (with a defined waistline). The Viola is for someone who wears a larger size in bottoms than in tops. And the Gena is cut to account for fuller mid-sections with narrower hips and thighs. You can also choose between regular (with a 29-inch inseam), short (27 inches), and long (31 inches) lengths. This bespoke quality is why the Kadys rise above the rest. Content creator Ashby Vose (who works with Torrid) points out that since Eloquii has offered the pants for years, the brand has really perfected them on the fit front. Lifestyle blogger Ashley Carter agrees, adding that the Kadys are "worth every penny" for their high-quality fabric (a combination of cotton, nylon, and spandex) and how well they keep their shape.
Best black ponte pants for plus sizes
Sizes: 00–40 with a 27-inch inseam| Material: Rayon | Stretch: Very stretchy | Design details: Matte black zippers at hem, flat waistband
There was a consensus among the working women we talked to: Universal Standard is, well, a standard-bearer when it comes to plus-size workwear. This marks the brand's first appearance on our list. Known for style and size inclusivity (here's their helpful size chart for reference since it doesn't follow a traditional system), Universal Standard is one of your best bets when trying to find black work pants, says writer Reneice Charles. She considers the Moro Ponte Pants a foundational piece of her wardrobe. Editor Maya Kosoff is also a fan; she was "pants allergic" until she tried on the ponte pair. Unlike past pants, she describes how the waistband of the Moros lays flat around her hips, legs "were slim but still breathable," and the cuffs taper perfectly around her ankles. And just so you know: The pill-, wrinkle-, and crease-resistant fabric is made for being on the go.
Best pull-on black work pants for plus sizes
Sizes: 00–40 with a 32-inch inseam | Material: Nylon | Stretch: Very stretchy | Design details: Invisible zip pockets
Universal Standard bills this pull-on style as another option for fans of its Moro Ponte Pants, made from the brand's signature fabric. The pull-on pair features two notable (and noticeable) upgrades: the first is their more flared leg that gives them a little more flair (but not enough to go into disco-era territory), the second is the addition of zippered pockets, which will lay flatter when they are zipped closed. Casey Brown, the blogger behind Streets, Beats, and Eats, considers them "some of the best-quality [pants] you will find at the under-$100 price point," especially as they don't wrinkle or stretch out as much as others. These have an impressive cost-per-wear — she likes that they work whether she's on the clock (with a bodysuit for a put-together, polished look) or off, if worn with the right sneakers. "You can wear them outside the office without [them] feeling stuffy," Brown says.
Best (less expensive) pull-on black work pants for plus sizes
Sizes: 00 to 6X (equivalent to 10 to 30) with 25- (extra short), 27- (short), 29- (regular), 31- (tall), and 33-inch (extra tall) inseams | Material: Rayon | Stretch: Very stretchy | Design details: Elastic waistband, faux fly, side slits on hem
If you're really not ready to part with your joggers, consider these pull-ons from Torrid. They come highly recommended by Apostolou, who says the professional-looking ponte knit actually has the same comfort level as lounge pants. "They don't leave me thinking about what I'm wearing all day," she says. "I just know I look and feel great in them." That's in part because of their higher spandex content (4 percent to get technical). This allows the pull-ons to conform to your body (so no bagging or gapping anywhere) while still being flexible enough that you feel supported, Apostolou explains. And as with other Torrid pants, you can personalize their fit by choosing from one of five inseams: extra-short (25 inches), short (27 inches), regular (29 inches), tall (31 inches), and extra-tall (33 inches). For reference: Apostolou goes with the "tall" option for her five-foot-eleven frame. "I've had to wear many work pants in my life where they looked like I shrunk them in the dryer," she says. These, fortunately, do not.
Best pleated work pants for plus sizes
Sizes: XXS–3XL with a 31.5-inch inseam | Material: Linen and rayon | Stretch: Stretchy | Design details: Elastic waist in back, faux front fly, pleating, interior drawstring
Once Strategist writer Tembe Denton-Hurst decided she wanted "trousers like the Scandi-style women proliferating my social feeds," her hunt began. "This might be a simple task if I had hips. Or legs that taper off seamlessly into my calves. But I do not. I have thick thighs," Denton-Hurst explains. This pair from Vince — with its tapered leg, pleated waist, and ruched back (to eliminate uncomfortable "bunching or pinching or pulling") — turned out to be everything she was looking for. Denton-Hurst has been wearing the pants weekly since they arrived. "I feel like I'm wearing fancy pajamas constantly, but everyone else thinks I'm put-together and stylish," she adds. And although these are pricier, she justifies the purchase through the cost-per-wear philosophy, calculating that these have cost her about $10 a day since she bought them.
Best cigarette-style black work pants for plus sizes
Sizes: 00–40 with a 29-inch inseam | Material: Nylon | Stretch: Very stretchy | Design details: Invisible zip pockets, cuffed or uncuffed ankle hems
Show a little ankle with Universal Standard's All-Day Cigarette pair — or not, if you go with the cuff-free option (note: the brand doesn't list whether there's a difference between the inseams). These are designed to be a dressier version of the brand's ponte styles (namely, the Moro and the Smart Signature) with a silhouette that skims over the legs. Ixim likes that the pants have "a great allowance for the hip and thighs," but not so much that they look baggy or obscure your shape. "If you're looking for a classic black pant that looks refined but also allows you to sit comfortably throughout the day, these are it," Ixim says. So these aren't your typical skin-tight cigarette pants — plus, they actually come with pockets, a feature that Ixim usually doesn't find with the style.
[Editors' note: Some sizes are currently sold out, but you can sign up to be notified when yours becomes available again.]
Best carpenter-style work pants for plus sizes
Sizes: XXS–6XL with a 29-inch inseam | Material: Cotton twill | Stretch: Not stretchy | Design details: Elastic waist in back, larger patch pockets
These are "a no-frills, well-made pair of pants" — something she has struggled to find in the past — says content creator Sydney Scott. "They're something that I'd normally see a thin person wear and envy. But I don't have to, because they come in my size." Scott acknowledges that Big Bud Press — a California-based label that happens to be a favorite of musician Phoebe Bridgers — has been notorious in the past for its unpredictable sizing, but she explains that it recently revamped its system. She wears a 2X, which gives her a snug, hugging fit — though she recommends sizing up if you're looking for more give, as the pants are made completely from cotton twill with no stretch. Scott likes that this prevents them from becoming baggy through the day or getting "awfully wrinkly when you sit." She'll usually wear them with a "lesbian classic" combo of a tank top and Blundstones (an outfit that has occasionally caused her to accidentally match with her girlfriend).
Best overall black work jeans for plus sizes
Sizes: 00–40 with 24- (petite), 27- (regular), 32-inch (tall) inseams | Material: Cotton | Stretch: Very stretchy | Design details: Deep pockets, button and zipper front
By far, our panelists preferred skinnies to any other cut of jeans. So it only seemed right to give the "best overall" title to a pair in that style. But the Seines are special, at least according to freelance pop-culture writer Maggie Fremont. "In the plus-size world, where 'amount of stretch' seems to be the focus when it comes to skinny jeans, finding a pair that offered me the structure I craved without feeling like my guts were being choked seemed like an impossible task," Fremont explains in her review of the jeans. The Seines proved to her that it is possible to find that balance — these are just-right over her hips with some looseness at the ankles, which is "a godsend for a thick-calved girl addicted to skinny jeans." But the best part is how easily she can move, sit, and even dance with the Seines on. "These jeans just make me feel good," Fremont says. And like our "best overall" Kadys, the Seines come in a number of different cuts, including mid-rise and high-rise, and lengths — with regular, tall, petite, and even an ankle-zip version.
Best (less expensive) black work jeans for plus sizes
Sizes: 10–30 with 25- (extra short), 27- (short), 29- (regular), 31- (tall), and 33-inch (extra tall) inseams | Material: Rayon and nylon | Stretch: Very stretchy | Design details: Elastic waistband, smoothing front panels
The Bombshells live up to their name: Shammara Lawrence, co-founder of size-inclusive community the Power of Plus, praises their curve-contouring and butt-lifting abilities. "Every time I wear these pants, I feel so powerful," she says. These feature a gap-proof elastic waistband that hugs her hourglass figure — they're the sort of pants you don't mind having on all day — plus they're just under half the price of the Universal Standard Seines. These jeans also have the distinction of appearing all over our archives. They're a favorite of Megababe founder and multi-hyphenate Katie Sturino. And the Bombshells were crowned the "best for plus sizes" in our giant jeans guide, with petite-plus influencer Tinsaye Berhanu describing them as "really comfortable without rolling down when you're moving around." These also come in the same five different inseams as the Torrids above: short, extra-short, regular, tall, and extra-tall.
Best straight-leg work jeans for plus sizes
Sizes: 14–30 with a 27.5-inch inseam | Material: Cotton | Stretch: Stretchy | Design details: Fly button, belt loops
I heard about this pair from content creator Sydney Scott while reporting on plus-size jeans. Straight-leg styles (compared to skinnies especially) are harder for plus-size folks to find, according to Scott, but these (which are a part of Target's plus-size collection called Ava & Viv) have a "pretty shockingly great" fit. And for $35, Scott says the jeans rival the ones at much higher price points. The slightly slimmer leg means these are "snuggly everywhere but don't feel like they're squeezing me," Scott says. There's none of the dreaded waist gapping, either. Unlike other plus-size-specific jeans, these aren't so stretchy but they also are stretchy enough compared to straight-size pairs that don't usually consider curves, she adds.
• Nikki Apostolou, content creator
• Casey Brown, the blogger behind Streets, Beats, and Eats
• Ashley Carter, lifestyle blogger
• Reneice Charles, writer
• Tembe Denton-Hurst, Strategist writer
• Maggie Fremont, freelance pop-culture writer
• Megan Ixim, brand consultant and entrepreneur
• Maya Kosoff, writer and editor
• Shammara Lawrence, co-founder of size-inclusive community the Power of Plus
• Ansley Morgan, freelance stylist
• Sydney Scott, content creator
• Virginia Sole-Smith, author of the newsletter Burnt Toast
• Ashby Vose, content creator
Additional reporting by Dominique Pariso
The Strategist is designed to surface the most useful, expert recommendations for things to buy across the vast e-commerce landscape. Some of our latest conquests include the best acne treatments, rolling luggage, pillows for side sleepers, natural anxiety remedies, and bath towels. We update links when possible, but note that deals can expire and all prices are subject to change.