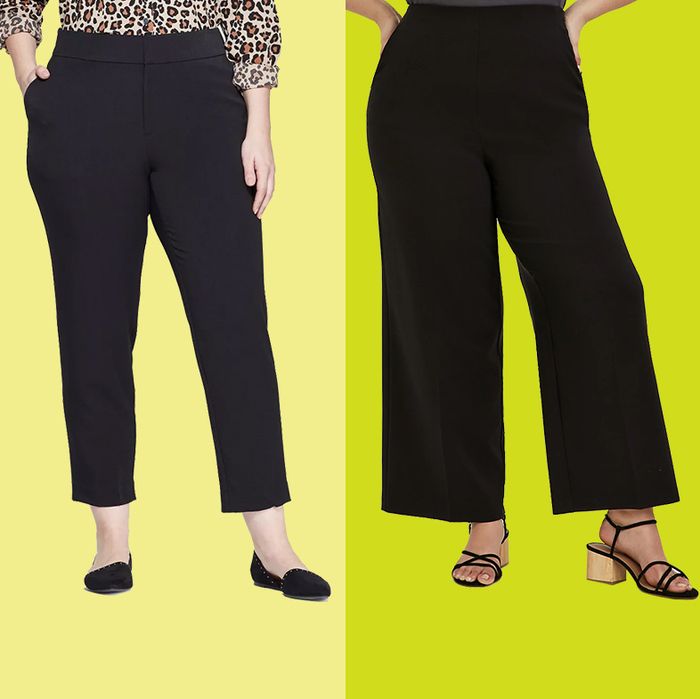 Photo: Courtesy of retailers
Whether you work in a high-powered office, run around the city all day for meetings, or freelance from your couch, having a go-to pair of black work pants to throw on when you need to look professional is a must. "Black work pants are a staple in any closet and should stand the test of time," says freelance stylist Ansley Morgan. "But the lack of size-inclusive options means it is hard to find clothing that is high quality." So we talked to her and 11 other plus-size women, whose jobs run the gamut from photographer to fashion stylist to entrepreneur to CEO, about the work pants they rely on for their day jobs and side hustles. Read on for their favorites, including high-waisted trousers, breezy culottes, and even a pair of polished-looking jeans. A note that all of the pants on this list fit at least a size 20, with some accommodating up to a size 40 (we've noted which have extended sizes in individual blurbs).
Best
under-$100
plus-size
black
work
pants
The consensus among the cool people we talked to is that Universal Standard is the, well, standard-bearer when it comes to plus-size workwear, and three styles, vetted by six different women, appear throughout this list at different price points. According to writer and life coach Reneice Charles, "Universal Standard is known for their quality, style, and size inclusivity," so they're a good retailer to start with when trying to find the perfect pair of black work pants. She calls their high-waist Moro Pocket Ponte Pants (which are available in sizes 00 to 40) her "go-to pants" and a "foundational piece" of her wardrobe. The mid-weight Ponte fabric is also pill-, wrinkle-, and crease-resistant, so it's especially great if you have to travel for work. Another fan of these pants is Strategist contributor Maya Kosoff, who told us she was "pants-allergic" until she discovered them. Kosoff describes the fit like this: "The waistband lay flat around my hips. The legs were slim but still breathable. The cuffs tapered so nicely around my ankle." Interested buyers should know that Universal Standard has a "Fit Liberty" guarantee, so if your size goes up or down within the year, you can return the item you've purchased for a brand new pair, and the company will donate your old pants to First Step and Dress for Success.
Eloquii is another brand that got name-checked as a go-to source for plus-size work pants (with four women mentioning various styles by name). "Eloquii is my go-to brand for work attire," says brand consultant and entrepreneur Megan Ixim, who likes how their pieces straddle the line between "trendy and timeless." Lifestyle and fashion blogger Ashley Carter pointed us to this particular pair of black work pants, saying "The Eloquii Kady Fit Pant is worth every penny because the fabric is so high quality, the pants keep their shape, and they come in three fits." Ashby Vose, the head of brand at plus-size contemporary label Ori, agrees: "The Kady Fit Pant is Eloquii's signature work pant, they've offered it for years and have perfected the fit." The pants' three fits break down as follows, according to Vose: The Classic Fit is designed for proportionate hourglass shapes and goes up to a 26, the Viola Fit is designed for those who wear a larger size on bottom than on top and goes up to a 28, and the Gena Fit is designed for those who carry their weight in their midsection with smaller hips and thighs and goes up to a 28. The pants are also available in tall, regular, and short lengths, so they'll fit a variety of heights as well as sizes. In addition to black, they come in six colors with matching blazers for suiting, too.
Ixim pointed us to Eloquii's 9-to-5 Stretch Work Pant, saying they have "a nice stretch" that makes them comfortable all day long. They go up to a size 28, and, like the Kady pant, are available in regular, tall, and short lengths.
Both model Isabelle Yong and plus-size fashion blogger-slash-dancer Tanvi Geetha Ravishankar love these high-rise pants from Torrid, which accommodate up to a size 30. "As a plus-size girl, I will highly recommend keeping a pair of black palazzo pants in your wardrobe, because they accentuate the length of your legs," regardless of how tall you are. Ravishankar agrees and adds that she appreciates how the high waist and wide leg feel retro, but still modern enough to look professional.
Two of the cool people we talked to also praised J.C. Penney's Worthington line for its affordable options. Arianne Thigpen, a fashion blogger and co-founder of Austin–based community Curvy in Austin, told us she has always relied on the Worthington line for work attire and particularly loves the Ponte Straight Pull-On Pants — which go up to a 5XL, or 34 — because "they're basically thick, fancy leggings." Model and fashion blogger Sabrina Servance also recommends these, noting that the already reasonably priced pants often go on clearance (and when they do, she buys two pairs at a time).
For another affordable pair, try Target's Ava & Viv line, which makes a pair of mid-rise work pants that Servance says are "perfectly cropped." They go up to a size 30 waist and are also available in gray, navy, and khaki.
"I recommend the Power Pockets Allie Sexy Stretch Ankle Pant, which goes up to a 28