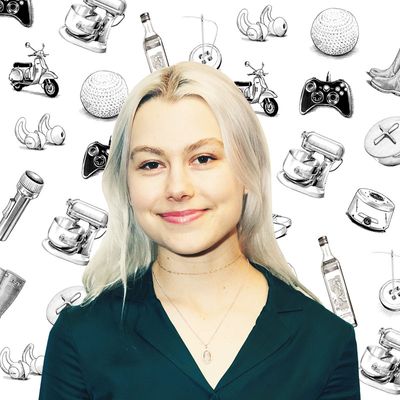 Photo: Alison Buck/WireImage
If you're like us, you've probably wondered what famous people add to their carts. Not the JAR brooch and Louis XV chair but the hairspray and the electric toothbrush. We asked musician Phoebe Bridgers — whose second album, Punisher, comes out on Friday — about the online classes, planners, and supplements she can't live without.
Since 2018, I've made all of my demos on this thing. I'm a really bad engineer, so I need simplicity — I've always been obsessed with voice memos, and this is just a souped-up version of that. It's just got one giant button you push to record, and then you engineer yourself on your phone. It has saved my ass and I recommend it to everybody. It's also a preamp, so I've been plugging different mics into it and not even touching my laptop when recording or doing radio sessions at home.
This notebook is always with me. I like the black, softcover Moleskines with big pages and no lines. They're nondescript and sweet, plus they're less stiff, so you can fold them over. I write everything in mine; I even transcribe notes on my phone into it. It also has to-do lists, my dreams, and other little entries. I don't feel like I've fully written a song unless it's in my notebook. I've used them for so long that now that I can look back through old ones and remember exactly where I was in the world when I was using them. Sometimes I'll spill something on one and use that as an excuse to get a new notebook. But typically, they last me a year.
I'd been thinking a lot about Margaret Atwood — her book Oryx and Crake predicted a lot of this pandemic — when I got an ad for her MasterClass. I was like, Oh shit, this is the best targeted ad ever. She's my favorite author. I love listening to her talk, and I didn't go to college, so it's been fun to have homework but be able to do it on my own time. I'm secretly hoping I'll get songs out of it, like I did from reading Oryx and Crake. On the new album, "I Know the End" and "Chinese Satellite" are both inspired by Atwood's writing.
The sci-fi name of these supplements is very Atwood. They're super expensive, but they contain so much stuff. They're one of the few supplements I've taken where I feel an immediate benefit. I'm pretty square — two glasses of wine has me on my ass — so maybe it's just me being extra sensitive, but they make me feel so much better. When I take them I feel a little happier and a little less stressed. They're a perfect dose of serotonin. You can have them on an empty stomach, but I have breakfast before taking a truly sick amount of supplements, including two of these.
I respect the gadgetry of the vibrator world, but I want something super simple. This one is small, so you're not afraid it's going to, like, explode out of your bag if you travel with it. It's a nonintimidating choice, whether you're a beginner or not — I'm not. I've tried others that are bigger and more exciting-looking, but then I try to shove one into my bag and it turns on at weird times.
Photo: Retailer
This is a microphone for little kids that makes a cool sound. I like it because I'm not a huge gearhead, but I want things to immediately sound good, and this provides an instant little echo even though it's totally a toy. It doesn't plug in anywhere, it literally just has a spring inside that makes the sound. It's fun to run around the house singing into it. I used mine on Jimmy Kimmel, and I've seen people using them on Instagram. They look awesome, although they kind of look like a Fleshlight?
I'm so obsessed with this planner that I reached out to its designers to have them work on my album packaging. They did all the fonts for me. I love how much freedom this gives me. There's no daily mantra, or section where I have to write what I'm grateful for. I'm especially loving it now as a way to note the days passing. I took a little break because it was depressing to look at all the dates of shows that got canceled, but I've started using it — particularly the space for to-do lists — to organize my days again.
I've been finding Sky Ting Yoga's livestreams super comforting in quarantine. I bought the monthly subscription to its channel and have been using it every day. I keep saying my quarantine body is like Ronda Rousey's: I'm eating more than ever, but also exercising more than ever, so I'm just gonna be yoked by the end of this. Some of the instructors are clearly stoned, and that's great. I love going to the Sky Ting studio in Chinatown whenever I'm in New York, because it's not like doing yoga in West Hollywood, where you feel all types of guilt with everyone in crazy-expensive outfits. Yoga can make you feel like that a lot. The Sky Ting vibe is the perfect balance between separation from your day and people you'd actually hang out with.
It is crazy to me that in this country you can buy someone's freedom for $500. There are people in jail for minor offenses who are getting sick right now, which is deeply offensive to me. If I'm going to spend $200 a year on Sky Ting TV, I see it as essential to give money to the Bail Project too. It's one of those charitable organizations where the money is going somewhere totally tangible and has an immediate effect.
This is my quarantine uniform. It blurs the line between pajamas and real clothes, and is also kind of sci-fi. I feel like a superhero when I put it on. I have two, but my mom sewed patches and my name on one of them, so I don't wear that one outside the house. They now fit even better than when I first got them, though they're more gray than black. You do have to completely strip to go pee, so that's a little rough. But the jumpsuit is so comfortable, it makes up for that.
The Strategist is designed to surface the most useful, expert recommendations for things to buy across the vast e-commerce landscape. Some of our latest conquests include the best acne treatments, rolling luggage, pillows for side sleepers, natural anxiety remedies, and bath towels. We update links when possible, but note that deals can expire and all prices are subject to change.