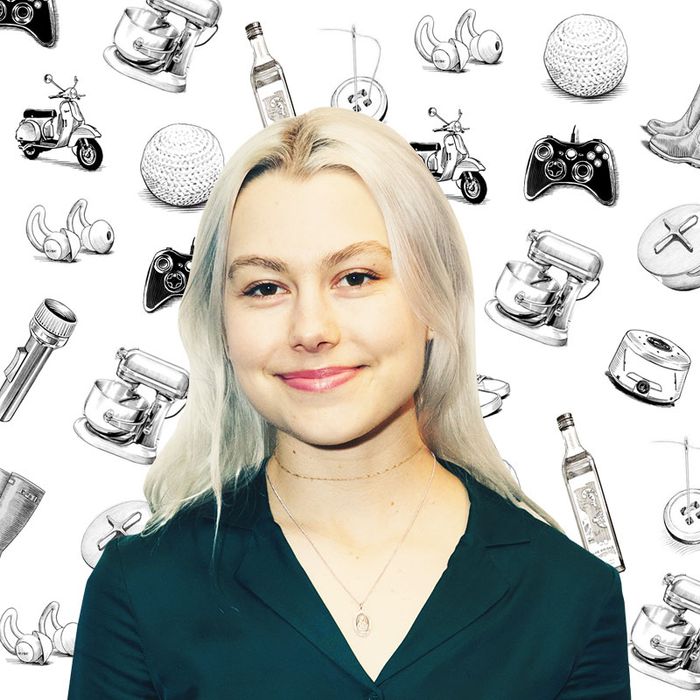 Photo: Alison Buck/WireImage
If you're like us, you've probably wondered what famous people add to their carts. Not the JAR brooch and Louis XV chair but the hairspray and the electric toothbrush. We asked musician Phoebe Bridgers — whose second album, Punisher, comes out on Friday — about the online classes, planners, and supplements she can't live without.
Since 2018, I've made all of my demos on this thing. I'm a really bad engineer, so I need simplicity — I've always been obsessed with voice memos, and this is just a souped-up version of that. It's just got one giant button you push to record, and then you engineer yourself on your phone. It has saved my ass and I recommend it to everybody. It's also a preamp, so I've been plugging different mics into it and not even touching my laptop when recording or doing radio sessions at home.
This notebook is always with me. I like the black, softcover Moleskines with big pages and no lines. They're nondescript and sweet, plus they're less stiff, so you can fold them over. I write everything in mine; I even transcribe notes on my phone into it. It also has to-do lists, my dreams, and other little entries. I don't feel like I've fully written a song unless it's in my notebook. I've used them for so long that now that I can look back through old ones and remember exactly where I was in the world when I was using them. Sometimes I'll spill something on one and use that as an excuse to get a new notebook. But typically, they last me a year.
I'd been thinking a lot about Margaret Atwood — her book Oryx and Crake predicted a lot of this pandemic — when I got an ad for her MasterClass. I was like, Oh shit, this is the best targeted ad ever. She's my favorite author. I love listening to her talk, and I didn't go to college, so it's been fun to have homework but be able to do it on my own time. I'm secretly hoping I'll get songs out of it, like I did from reading Oryx and Crake. On the new album, "I Know the End" and "Chinese Satellite" are both inspired by Atwood's writing.
The sci-fi name of these supplements is very Atwood. They're super expensive, but they contain so much stuff. They're one of the few supplements I've taken where I feel an immediate benefit. I'm pretty square — two glasses of wine has me on my ass — so maybe it's just me being extra sensitive, but they make me feel so much better. When I take them I feel a little happier and a little less stressed. They're a perfect dose of serotonin. You can have them on an empty stomach, but I have breakfast before taking a truly sick amount of supplements, including two of these.
I respect the gadgetry of the vibrator world, but I want something super simple. This one is small, so you're not afraid it's going to, like, explode out of your bag if you travel with it. It's a nonintimidating choice, whether you're a beginner or not — I'm not. I've tried others that are bigger and more exciting-looking, but then I try to shove one into my bag and it turns on at weird times.