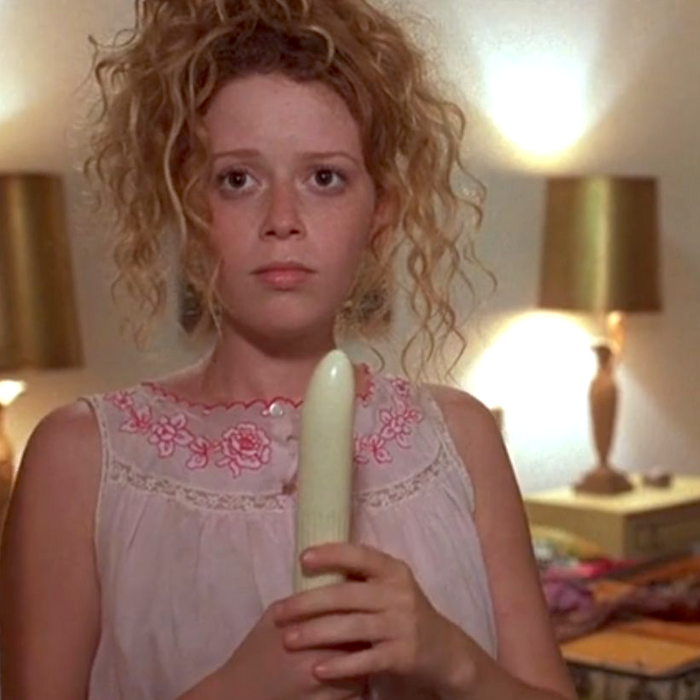 The search for the right vibrator can be daunting (and expensive). It's also highly individual since no two bodies are the same. Among the thousands available to choose from, there are subcategories, including very large and very small vibrators with multiple vibration patterns, those that attach to the tip of your finger, others that simulate tongues, even more that approximate penises, wearable vibrators with remote controls, and a growing category of vibrators that use suction to specifically stimulate the clitoris. We talked to 29 sex experts, sex educators, sexologists, shop owners, and professional reviewers about the 38 best vibrators. (If you're searching for the best lube to go with it, the best sex toys for couples, or the best sex toys for men, we have you covered there, too.)
Best overall wand vibrator
Originally marketed as a muscle massager, the Magic Wand (formerly the Hitachi Magic Wand) was released in 1968 and quickly took off as a vibrator. It's been a categorical favorite ever since. Today's rechargeable version is cordless, plus it's lighter and quieter than the original. Carol Queen, Ph.D., staff sexologist at Good Vibrations in San Francisco and curator of the store's Antique Vibrator Museum, says it "has a well-deserved reputation for being strong and consistent; many users really love it and make it their go-to sex-toy friend, and so many have had their first orgasms with this power player." Writer Beca Grimm agrees: "It's the Maybelline Great Lash of vibrators — the same no-frills shit your mom used (maybe still uses?) that gets the job done." Archie Bongiovanni, sexual-health educator and events coordinator at the Minneapolis store Smitten Kitten, calls it "the Cadillac of vibrators" and points out that it can feel good on a penis, too, along with the clitoris and vulva. While it got the most recommendations of any toy on this list, a few of our experts did note that it can sometimes be too intense when used directly on more sensitive areas of the body. "It's too powerful for me, so I like to put a cover on it or place it on my hip bone so I can still feel the vibrations," says sex educator Lola Jean. Pleasure-based sex educator and kink trainer Lateef Taylor also recommended buying Hitachi wand attachments to explore different sensations with the wand on different body parts.
Best-designed wand vibrator
While the Magic Wand is the gold standard, if you prefer something a little more aesthetically pleasing, there are plenty of other wands to consider. "Some people are very visually stimulated, and looking at something less utilitarian and more designed can be helpful," Taylor notes, adding that the Doxy falls into this category. Several of our reviewers name-checked Doxy. "I bought it as an early Christmas present for myself, and it's my all-time favorite vibrator," says sex blogger Quinn Rhodes. "It's a powerful and rumbly wand vibrator that really taught me about my body and how to make myself come."
Best compact wand vibrator


The Le Wand Petite shares the shape and intensity of the Magic Wand but in a much smaller toy that's easier to travel with, store, and handle. "Despite the size, it still packs a powerful punch, and the smooth silicone head is perfect for broader external stimulation on any type of body, regardless of gender," says Lisa Finn, brand manager at Babeland. Sex educator and blogger Kelvin Sparks agrees and adds, "The smaller size also means it fits between bodies without getting in the way, so I'd recommend it for people looking for a vibrator they want to use during penetrative sex." Shan Boodram, author of The Game of Desire and host and producer of Quibi's Sexology, says it delivers on both aesthetics and power. "It's a toy that I use solo, with my partner, on my partner, and casually on other parts of my body," she says. Plus, "if it's left laying around and company comes over (because, seriously, I do use it casually), I'm never embarrassed if it's spotted."
Best large wand vibrator


On the other end of the size spectrum is the O-Wand, which Hayley MacMillen, former digital wellness editor at Allure, describes as "absolutely giant (you could hit someone over the head with it and probably knock them out)." This is thanks to the extra-large motor, which is also responsible for the wand's "really rumbly vibes and really intense clitoral stimulation."
Best (less-expensive) wand vibrator


Photo: retailer
Tyomi Morgan, certified sexologist and pleasure coach, told us about Sweet Vibes, a San Diego–based company that offers all of its toys for $50 or less, "which is a steal for anyone on a budget." The brand also offers a lifetime warranty on all of its products. One of Morgan's favorite toys in the line is the Charmed wand vibrator, which Morgan calls a "staple." The large, bulbous head of the Charmed makes it "easy to use on larger parts of the body, while the curved tip on the front allows the user to precisely place the vibration" wherever they may want it. "Everyone needs a pleasure device that can also double as a body massager," Morgan adds.
Best quiet vibrators
Discreet, waterproof, and rechargeable, the Je Joue Mimi works for both solo and couple play, without a lot of noise. Bongiovanni recommends it for anyone looking for a quiet toy. With adjustable vibration patterns and speeds, the Mimi is ideal if you're into a more mellow toy. Andrea Barrica, CEO and founder of O.school, says it's her go-to because "intense vibration from a wandlike toy and suction toys are too intense and feel painful to me." When we tested this as part of a review of high-design vibrators, one of our testers simply said, "The Mimi, so soft."
Like the Mimi, the Touch is made of supersoft, medical-grade silicone that's totally waterproof. It's also one of Bongiovanni's recommendations for quiet toys. Olive Moore of Narcisse NYC in Brooklyn says it's "perfect for people with roommates, or if loud buzzing takes you out of the moment." One of our testers said that compared to other We-Vibe vibrators she's tried, "the Touch is more contoured to fit in your hand and around your anatomy and has deeper rumble power." The ergonomic, handheld form is perfectly sized for stimulation across the labia and clitoris.
Best multipurpose vibrator
Nefertiti Mitchell, founder and owner of Ghettoff, an appointment-only adult-toy shop in Inglewood, California, says the best vibrators are those that can do many different things for many different types of bodies. Her favorite multipurpose vibrator at the moment is the Enby from Wild Flower. One side of this silicone toy is smooth, and the other is ribbed. The whole thing is very flexible so you can wrap it around a penis, using the textured side as a stroker. "You can also lay it flat on the bed, straddle it, and ride it," says Mitchell, noting that the smooth side has a ridge that's designed to "come in contact with your clitoris."
Best vibrator for couples
Another popular toy that can be worn during intercourse is the Eva II from Dame Products. Sid Azmi, the owner of Please in Brooklyn, likes that this small vibrator with two flexible arms allows for hands-free play. The Eva is designed to rest between the labia, using its arms to secure it comfortably in place. This means it can deliver direct clitoral stimulation, no matter what position you're in or how often you move. Azmi says, "It's nice to not always have to masturbate on your back, and it's great for use while having sex with a partner." She points out that many people have trouble achieving orgasm through internal stimulation alone. Madeline Cooper, whom we spoke to for our roundup of best sex toys for couples, also recommends the Eva vibrator: "You just press a button and it vibrates, so you don't have to be holding something in place while you're engaging in intercourse or other kinds of intimacy."