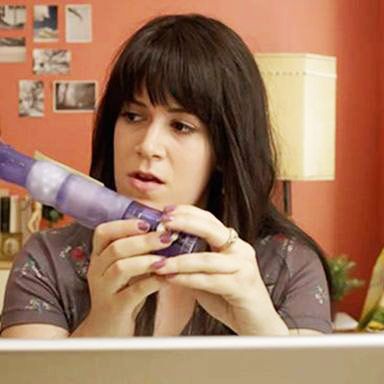 Photo: Courtesy 3 Arts Entertainment
The search for the right vibrator can be daunting (and expensive). It's also highly individual — since no two bodies are the same. Among the thousands available to choose from there are subcategories, including very large and very small vibrators with multiple vibration patterns, those that attach to the tip of your finger, others that simulate tongues, even more that approximate penises, wearable vibrators with remote controls, and a growing category of vibrators that use suction to specifically stimulate the clitoris. Just in time to spark ideas for a great Valentine's Day gift for your partner (or a gift you plan on giving yourself), we talked to sex experts, shop owners, and professional reviewers about the 17 best vibrators. (Plus if you're searching for the best lube to go with it, the best sex toys for couples, or the best dildos, look no further.)
Best quiet vibrators
Discreet, waterproof, and rechargeable, the Je Joue Mimi works for both solo and couple play — without a lot of noise. Archie Bongiovanni, sexual health educator and events coordinator at the Minneapolis store Smitten Kitten, recommends it for anyone looking for a quiet toy. With adjustable vibration patterns and speeds, the Mimi is ideal if you're into a more mellow toy. Andrea Barrica, CEO and founder of O.school, says it's her go-to because "intense vibration from a wand-like toy and suction toys are too intense and feel painful to me." When we tested this as part of a review of high-design vibrators, one of our testers simply said, "The Mimi, so soft."
Like the Mimi, the Touch is made of supersoft, medical-grade silicone that's totally waterproof. It's also one of Bongiovanni's recommendations for quiet toys. Olive Moore of Narcisse NYC in Brooklyn says it's "perfect for people with roommates or if loud buzzing takes you out of the moment." One of our testers said that compared to other We-Vibe vibrators she's tried, "the Touch is more contoured to fit in your hand and around your anatomy, and has deeper rumble power." The ergonomic, handheld form is perfectly sized for stimulation across the labia and clitoris.
Best vibrator for couples
According to Jacq Jones, sex educator and owner of Baltimore's Sugar shop, the We-Vibe Sync is "the most popular vibe for couples in the world." (The We-Vibe Sync is also at the top of our roundup of the best sex toys for couples.) She says, "It was the first that was designed to put vibration and pressure on both the G-spot and the clit and also to be worn during sexual intercourse." Because of its unique u-shape, it can be used during sex with both partners enjoying the vibrations. Bongiovanni says, "With the additional We-Connect app and Bluetooth, this is a great toy to wear out and about while a partner controls the vibration, and a fantastic long-distance toy." Emmy Williams, manager of Narcisse NYC, loves the Sync because "the fit of the toy and the vibration patterns can be customized for your preferences to a near limitless degree."
Another popular toy that can be worn during intercourse is the Eva II from Dame Products. Sid Azmi, the owner of Please in Brooklyn, likes that this small vibrator with two flexible arms allows for hands-free play. The Eva is designed to rest between the labia using its arms to secure it comfortably in place. This means it can deliver direct clitoral stimulation no matter what position you're in or how often you move. Azmi says, "It's nice to not always have to masturbate on your back, and it's great for use while having sex with a partner." She points out that many women have trouble achieving orgasm through internal stimulation alone. Madeline Cooper, whom we spoke to for our roundup of best sex toys for couples, also recommends the Eva vibrator: "You just press a button and it vibrates, so you don't have to be holding something in place while you're engaging in intercourse or other kinds of intimacy."
Best-looking vibrator
When it's not in use, the Crave Vesper doubles as a minimalist piece of jewelry, in silver, gold, or rose gold. In our guide to the new design-y vibrators, a Strategist tester said, "It's a sexy object. I love wearing it. Sometimes my partner will pull it out of the bedside table by the chain, and it's just sexy." Jones likes that Crave is an ethical company using all body-safe materials, and says "it's a really pretty necklace and it has way more power than you'd expect." Megan Fleming, a sex therapist, is also a fan of the Crave Vesper and notes that you can even have it engraved. The Vesper is compatible with any USB charger, so there's no need to carry around a separate cord if you're traveling.
Best suction-sensation vibrators
Unlike a traditional vibrator, the Satisfyer uses pulses of air and pressure waves — similar to the sensation of oral sex — on the clitoris. The unique toy can be very enticing: Jones says, "One of my co-workers had to make rules for herself on how often she could use the Satisfyer." Angela Wells, founder, president and CEO of Vibrant, Planned Parenthood's sex-toy e-tailer, likes her dapper penguin version because "he's always dressed and ready for a party," but it's available in sleek rose gold as well.
Azmi, Fleming, and several other experts we spoke with warn that suction toys aren't for everyone. "The thing about suction toys is that they can be very expensive and are very specific. Not every woman likes her clitoris to be sucked on," says Azmi, who suggests testing one out on your hand and talking to a salesperson before investing in one. But if you are ready to buy, Azmi votes for the Lelo Sona. The head is made with silicone, which is less porous than plastic, making it easier to keep clean. "If you can't clean it, well, then to me it's not worth the investment," Azmi says. Zoë Ligon, the founder of Spectrum Boutique, also recommends the Sona. "It's one of our best-selling toys and the only external toy that has won a place in my bedside drawer, not including my wand-style massagers," she says.
Best tonguelike vibrator
Another vibrator that feels similar to receiving oral sex, the ergonomic Mimic can be used externally on the clitoris and labia or even on testicles. The flat surfaces and edges of the Mimic provide different levels of pressure and vibration so you can customize your experience. "I can't say enough about the Mimic," Wells says. "It's totally waterproof, which I love, and fits perfectly during intercourse or other play with my partner." Ava Mir-Ausziehen, a performer, writer and sex-toy reviewer for Sssh.com, is also a fan of its thin, flexible shape. She says, "I love that it conforms to your body and accommodates your own pleasure zones."
Best fingerlike vibrator
Best for those seeking the pressure and feel of a fingertip, the Fin from Dame — a newer brand founded and designed by women — has two vibrating patterns and three speeds. Amy Boyajian, owner and founder of Wildflower Sex, likes that it can tether to your hand during solo or couple play, so "there's no dropping it, and it almost becomes an extension of your fingers." Our testers agreed that Dame's vibrators were the softest of the bunch, with silicone that "feels like expensive silk."
Best rabbit-style vibrator
Rabbit vibrators, made most popular by Sex and the City, are dual stimulation toys that feature both an internal arm designed to hit the G-spot and an external vibrating element (sometimes in the shape of bunny ears) to target the clitoris. According to our experts, rabbit vibrators have gotten much better over time. Both Fleming and Azmi called out the We-Vibe Novaflex as their favorite in the category. "It can be used with a remote controlled app, and the external part is flexible so you can move it to fit your body. It's a real upgrade because these types of vibrators used to be much more rigid," Fleming says.
Best thrusting vibrators
If you're seeking a toy for internal use with a thrusting feel, Fun Factory's Stronic line of waterproof, silicone toys is an expert favorite because of the toys' smooth, comfortable insertion and powerful motion. "These toys produce a powerful thrusting motion," Bongiovanni says. "They actually move in and out instead of around and around or side-to-side. This rhythmic pulsating is smooth and nearly silent." The shape of this slim model is geared toward G-spot stimulation and offers a choice of seven speeds and three rhythm settings.
The Bi Stronic combines the thrusting power of the Stronic G with a "rabbit style" vibrator for an external, clitoral buzz. Sex expert Lorraine White says, "The unique motor (precision German engineering!) in the shaft can be set to mimic a natural thrusting motion while vibrating. The clitoral section of the vibrator can be controlled separately, allowing you to either focus just on G-spot stimulation or to enjoy blended clitoral and G-spot stimulation."
Best oscillating vibrator
Jones admits that the Zumio X is "weird-looking — like a rechargeable toothbrush that lost its head," but also says it's one of her favorite vibrators to have come out in the past year. The pinpoint tip provides intense clitoral stimulation and it also moves in a unique, oscillating pattern that some may prefer to a traditional buzzing toy. "The Zumio is unlike any other toy I own or have seen on the market," says Moore. "The tip actually moves instead of just vibrating, which makes for really unique sensations."
Best sex toy for all bodies
Because all bodies are different, finding toys that can be used in a number of different ways is important to both Azmi and Ligon. The more flexible a vibrator is the more kinds of bodies it can potentially please. According to Azmi, the Pico Bong Transformer, which has been around for a number of years, is a vastly underrated toy. Azmi likened the toy's shape to a "jump rope with two bulbous ends," and told us that when you turn it on, the whole thing vibrates. The open-ended design allows you to use it in a multitude of different ways, including internally, externally, with a partner or alone, and even wrapped around a penis like a cock ring or simply to massage your neck. It's pliable so it can do a bunch of things, which makes it especially nice for people of all genders and people with changing bodies.
Best wand vibrators
Originally marketed as a muscle massager, the Magic Wand (formerly the Hitachi Magic Wand) was released in 1968 and quickly took off as a vibrator. It's been a categorical favorite ever since. Today's rechargeable version is cordless, lighter, and quieter than the original. Carol Queen, Ph.D., staff sexologist at Good Vibrations in San Francisco and curator of the store's Antique Vibrator Museum, says it "has a well-deserved reputation for being strong and consistent; many users really love it and make it their go-to sex-toy friend, and so many have had their first orgasms with this power player." Writer Beca Grimm agrees: "It's the Maybelline Great Lash of vibrators — the same no-frills shit your mom used (maybe still uses?) that gets the job done." Bongiovanni calls it "the Cadillac of vibrators," and points out that it can feel good on a penis, too, along with the clitoris and vulva.
The Le Wand Petite shares the shape and intensity of the Magic Wand, but in a much smaller toy that's easier to travel with, store, and handle. "Despite the size, it still packs a powerful punch, and the smooth silicone head is perfect for broader external stimulation on any type of body, regardless of gender," says Lisa Finn, brand manager at Babeland.
On the other end of the size spectrum is the O-Wand, which Hayley MacMillen, former digital wellness editor at Allure, describes as "absolutely giant (you could hit someone over the head with it and probably knock them out)." This is thanks to the extra-large motor, which is also responsible for the wand's "really rumbly vibes and really intense clitoral stimulation."
Best flat-tip vibrator
The flat-tip and curved shaft of the Lelo Gigi are designed to maximize contact with the G-spot, but its fans — and there are many — also like it for clitoral use. One of our testers called it "the yacht rock of vibrators," for its widespread appeal. "I really like the shape of this one for someone who is a bit weary of penetration," says Finn. "The shaft isn't super thick or girth-y." Queen points out that "because it's long-ish and slim enough to fit easily between partners," the Gigi is a great toy for couples.
Best vibrating rings
Along with new designs for clitoral and G-spot vibes, there's a growing market of vibrating rings for penises that can be used either alone or with a partner. If you're looking to experiment with one, Samantha Bard, co-owner Shag Brooklyn, calls the Primo Minx "a great starter ring. It's comfortable, stretchy, and unassuming." She explains that "wearing this around the shaft and balls so it restricts blood flow [gives the wearer] a very powerful orgasm."