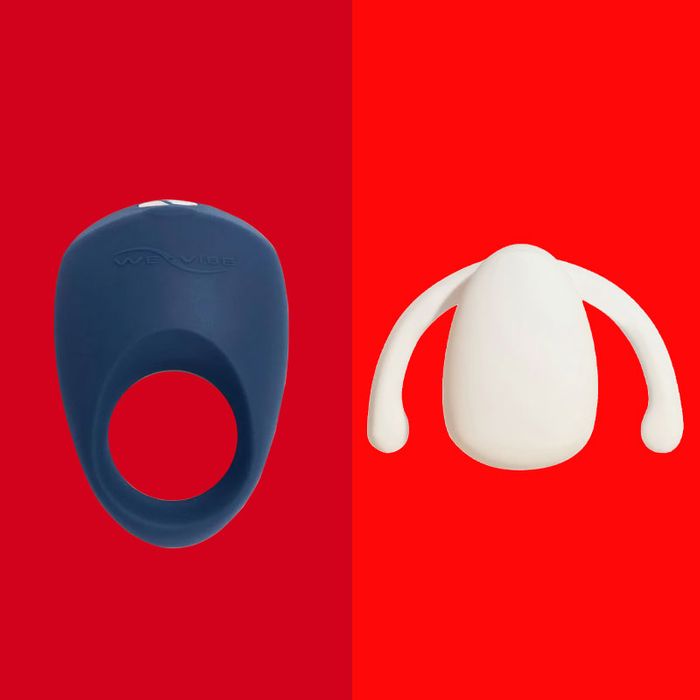 Photo-Illustration: The Strategist; Photos: Retailers
While almost any sex toy (from a high-design vibrator to a decidedly non-vibrating dildo) can become a couples sex toy, if you're looking to try something totally new — or want some help mixing things up in the bedroom — there are plenty of clever, innovative sex toys designed specifically for couples. To save you the trouble of trying out a bunch of duds, I asked eight experts to share their favorite couples sex toys — ones that are safe, easy to use, and, of course, lots of fun.
Best overall | Best body vibrator | Best rabbit vibrator | Best wearable vibrator | Best bullet vibrator | Best hands-free vibrator | Best bendable vibrator | Best air-suction toy | Best ring | Best adjustable ring | Best stroker | Best open-design stroker | Best strap-on harness | Best dildo for strap-ons | Best accessory 
What we're looking for
Type: Experts say you'll want a different type of toy depending on the type of pleasure and play you seek, so we've noted the types — from vibrators to rings to strokers.
Material: You want to make sure you're investing in toys that are made of high-quality, body-safe materials. Body-safe materials — which include things like silicone, glass, metals like stainless steel, and ABS plastic — are nonporous, so they are less likely to harbor harmful bacteria or viruses and are, therefore, more hygienic. Please note that a couple of toys on this list are made from thermoplastic elastomers (soft plastics that are often porous), so they should not be shared between partners and should be disposed of after the manufacturers' set number of uses.
App compatibility vs. non-app compatibility: While you can get plenty of fun with a toy that's not app-compatible, one with app-compatibility options for creativity and play in the bedroom is great for long-distance couples.
Best overall couples sex toy
Vibrator | Silicone | App-compatible 
The original couples sex toy — according to Emily Morse, doctor of human sexuality and host of Sex With Emily on SiriusXM — is from We-Vibe (a Canadian company that celebrated its 14th anniversary last month). Although there have been a few different versions of this wearable, C-shape vibe over the years, the company's Sync is arguably the best. Morse goes as far as to call it "the ultimate couples toy," and Vanessa Marin, a licensed psychotherapist and writer specializing in sex therapy, says it's one of her favorites. The way it works is fairly straightforward. One end can be worn internally, and the external part could lay on the clit, explains Carolanne Marcantonio — a licensed clinical social worker and sex therapist based in Brooklyn and fan of the Sync. "You could wear it during penetration for both G-spot and clitoral stimulation," she says. That means you're experiencing stimulation from penetration as well as from the toy at essentially every possible angle. What makes the Sync user-friendly is that the angle of the toy is adjustable, so it bends to more comfortably fit the wearer's shape. Plus, it can be controlled with an accompanying app, so you or your partner can adjust the settings without fiddling around with tiny buttons down there.
Best body vibrator
Vibrator | Silicone | Not app-compatible 
If the Sync seems too complicated and you're looking to keep things simple, several experts we talked to suggest small vibrators with vibrations that get stronger as you squeeze them. The Minna Limon is one example, and it comes recommended by Marin. It responds to the strength of your squeezes — the harder and more intense you want it to vibrate, the harder you squeeze it, she explains. It's "very intuitive" and ergonomic, since there aren't any buttons to fiddle with.
Best rabbit vibrator
Vibrator | Silicone and ABS plastic | App-compatible 
Those in long-distance relationships might want to try a toy from high-tech-vibrator line Lovense, which Madeline Cooper (a licensed clinical social worker and therapist who specializes in sexuality and relationships) recommends, because it is app-compatible. Cooper notes that the app has video-chat accessibility while you're using the toys.
Best wearable vibrator
Vibrator | Silicone | App-compatible 
For those who prefer strictly clitoral stimulation, sex and intimacy coach Davia Frost tipped us off to the app-controlled We-Vibe Moxie, which she calls "the best 'panty vibe' on the market" thanks to its strong magnetic clip. The vibrator can be inserted into your underwear or underneath a pillowcase and is held in place by a magnet that attaches to the outside. "It's a really strong magnet. I like it because, if you're into humping and stuff like that, you can connect it to something," Frost says. Because it connects to the We-Vibe app via Wi-Fi, your partner can adjust the vibration settings from across the room — or across the world — directly from their phone.
Best bullet vibrator
Vibrator | ABS plastic | Not app-compatible 
If you're looking for an especially accessible couples sex toy, several of the experts we talked to suggest using a small bullet vibrator that you can hold while having sex. Marcantonio says the We-Vibe Tango is "the smallest and strongest on the market." It's rechargeable and waterproof and has a small button on the bottom that lets you try eight different settings of varying intensities. Since it's about the size of your finger, you can easily place it on your clit during penetration. It's not cumbersome and won't get in the way, says Marcantonio. It's versatile too: "Anyone can use it — you can use it on the testicles, the inner thighs, nipples," she says. "The sky's the limit, and the whole body's covered in nerve endings, so we can really experience pleasure anywhere."
Best hands-free vibrator
Vibrator | Silicone | Not app-compatible 
If you prefer something that keeps your hands free, Cooper recommends Dame Products' Eva vibrator. The vibrator sits on top of the clitoris and has wings that tuck under the labia, she explains. Since you just press a button and it vibrates, you don't have to hold anything in place while with your partner.
Best bendable vibrator
Vibrator | Silicone | App-compatible 
If you're intrigued by C-shape vibrators but looking for something even more flexible, Shelby Sells (a love, sex, and life coach) recommends the Crescendo from MysteryVibe. Because it's adjustable, you can bend it in any number of positions — penetrative or not.
Best air-suction toy