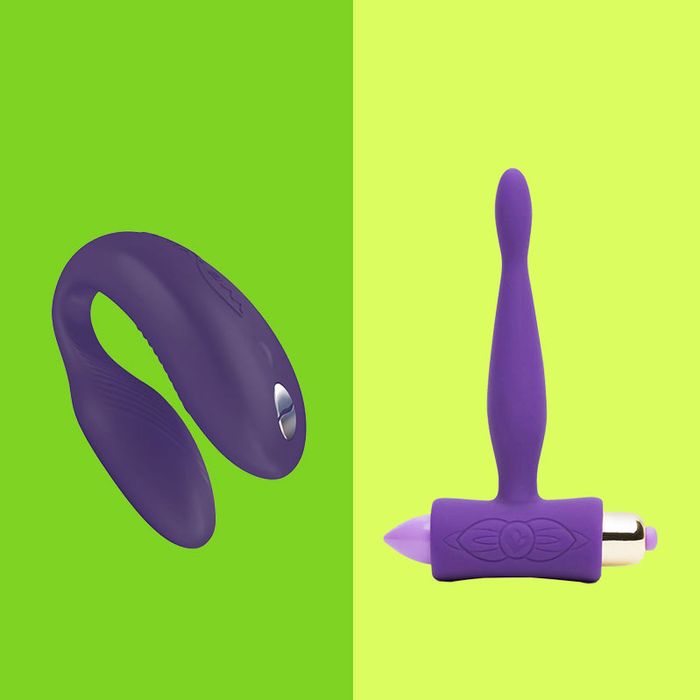 Photo-Illustration: Courtesy Showtime
Sex toys are the kind of thing you may not think you need until you have them. And once you do, you don't know how you ever lived without one (or two or three). So if you find yourself in the market, we're here to guide you toward the best of the best — including not-so-obvious vibrators, more-obvious dildos, and toys for couples to use together even when they're miles apart. We've organized this list of Strategist-approved sex toys into three price tiers to help you find something great, whether you're buying your very first vibrator or looking to invest in something worthy of adding to your extensive collection. And if you're searching for the best lube to go with your new toy, we have a list for that too.
Best sex toys under $50
Photo: Courtesy of Maude
Though initially thrown by the cone-shaped design of this vibrator that doesn't look like a vibrator at all, Strategist testers loved the Vibe for its surprising efficiency and ease of use with a partner. It's a no-frills, high-powered (a.k.a. very buzzy) device that's fairly unisex in color and form, and it comes in pretty packaging. It's also subtle enough that you could leave it on your nightstand.
For something with lower, rumbling vibrations, try this affordable wand vibrator from the San Diego–based company Sweet Vibes. (The company offers all of its toys for $50 or less, and they come with a lifetime warranty.) According to Tyomi Morgan, a certified sexologist and pleasure coach who recommended this toy, the round head makes it "easy to use on larger parts of the body, while the curved tip on the front allows the user to precisely place the vibration" wherever they may want it. "Everyone needs a pleasure device that can double as a body massager," Morgan adds.
Another simple yet powerful option is this Sportsheets mini vibrator, which happens to be one of the things musician Phoebe Bridgers can't live without. "It's a non-intimidating choice, whether you're a beginner or not — I'm not," she says. "I've tried others that are bigger and more exciting-looking, but then I try to shove one into my bag and it turns on at weird times."
If you're looking for a sneaky (and cute) little bullet vibrator that doesn't look like a vibrator at all, this lipstick-shaped toy from Tenga is your best bet. We heard about it from Davia Frost, a sex expert and intimacy coach, who is a big fan of all Tenga toys, especially this one. The tip is made of body-safe silicone with a small divot to cup your clitoris or nipple. To increase the intensity of the vibration simply turn the dial at the bottom.
When we spoke to experts about the best vibrators, this was deemed the "gold standard" of bullet vibrators, according to sex-toy reviewer Betty Butch. "Unlike a lot of bullets, the Tango's vibrations aren't buzzy — they're strong and thump-y," she says.
Suction toys use pulses of air and pressure waves rather than traditional vibrations on the clitoris. There are many of them on the market, but the prices are usually around a hundred dollars or more. Since the sensation isn't for everyone (some women find it too intense), it makes sense to start out with an affordable option in case you don't love how it feels. This one is cheaper than most but still has a reputation of being very enticing. Jacq Jones, sex educator and owner of Baltimore's Sugar shop says "One of my co-workers had to make rules for herself on how often she could use the Satisfyer."
Photo: Retailer
You might not guess from its appearance but this cute little egg is actually a wildly popular beginner-level penis stroker. Bard recommends it to customers because it's "incredibly discreet, super-cute, and a really good gift." Each Egg is ribbed inside, and although they're designed to be single-use, Bard says that if you regularly wash an Egg with soap and water, you can extend its lifespan.
Recommended in our roundup of best butt plugs, the Teazer is one of the top picks for beginners. According to Archie Bongiovanni, a sexual-health educator and events coordinator at the Minneapolis store Smitten Kitten, the slim silicone plug, which features seven optional vibration speeds, is ideal for those who are "brand new to anal play and want to play in insertion but not girth," they say.
In our search for the best sex toys for men, we spoke with experts who suggested this stroker, created in collaboration with adult-film star, producer, and trans advocate Buck Angel, that was specifically tailored for trans men. The strategic design gives an effect more similar to stroking as opposed to a more clitoral-focused toy.
Vibrating rings are like two toys in one, benefiting both the wearer and the partner. The experts we surveyed about sex toys for men say this option is great for beginners because it's affordable and enjoyable whether it's used solo or during intercourse.