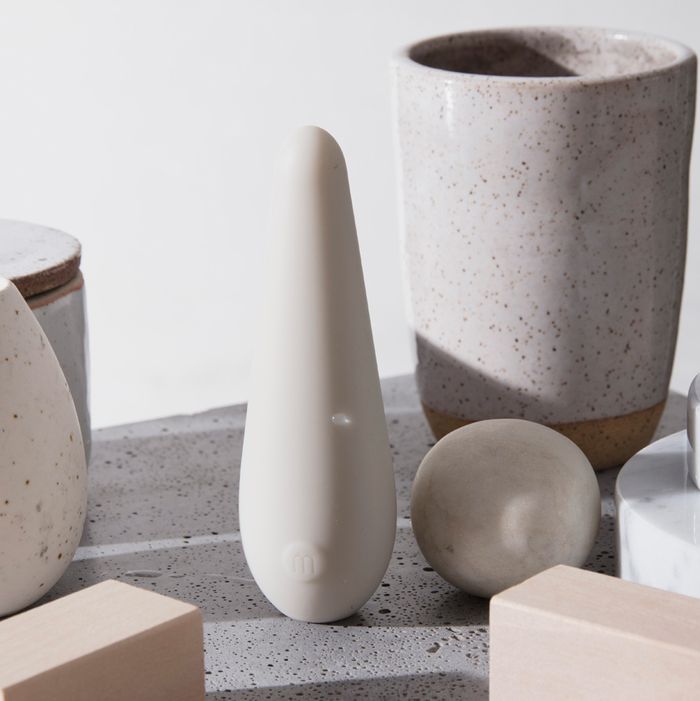 Ceramic vase or vibrator?
Photo: Courtesy of Maude
The Strategist's best-selling vibrator, the Vibe from Maude, launched two years ago with three understated direct-to-consumer products (a vibrator, lube, condoms) and a highly SFW gray-and-forest-green website that looks more like a place to buy linen goods or silk button-downs than supplies for sex. Today the cool, placid branding still makes a deliberate point: Carnal pleasure doesn't need to be raunchy, gendered, or silly. It can just be nice. Or vigorous, or lustful, or relaxing — or really just however you want it to be.
Maude isn't the only company selling this idea: A string of businesses — such as Tenga, Dame, and Crave — make vibrators that look less like penises (or rabbits), and more like abstract paperweights. Most of these devices can be left out on a nightstand without catching a second glance. And in a change for the industry, a lot of them are designed and marketed by women. A Times feature points out that when women get into sex tech, "many are adopting less pornographic sales approaches than older brands used." Indeed, these vibrators could not look more different from what's been available in the past, which Lisa Finn, brand manager at Babeland, calls "a lot of large, pink, sparkly, phallic machines. And that was because you had these folks 'innovating' — I'm using air quotes there — on what they thought bodies wanted, instead of doing the research."
We asked Finn and sex blogger Amy Boyajian for advice on picking the best high-design vibes. Check the materials, they said, and know that medical-grade or body-safe silicone is more hygienic and feels more sensual against your skin. As best as you can, have a sense of whether your anatomy responds to strong motor power or prefers a softer buzzing sensation, as this is what will most determine how much pleasure you get out of whatever you buy. And pay attention to how a device charges — people have surprisingly strong opinions about USB cords versus magnetic ports.
To find the best minimalist, design-y vibrators, the ones that also do a good job of making you orgasm, we asked five women (who preferred to remain anonymous) to test drive options from Maude, Dame, Crave, We-Vibe, Lelo, and Je Joue. We also asked three sex-toy experts to recommend a handful of vibrators that they think look nice enough to leave around the house — and that feel so good they use them on a regular basis. At least two of the testers used each vibrator over a period of multiple weeks. With one very highly recommended exception, we didn't include any rabbit-style vibrators, Ben Wa balls, or straight-up dildos. The vibe-sphere is simply too vast and varied to compare those to these pebble-shaped, Noguchi-esque toys.
Best overall vibrator
Photo: Copyright 2018. All rights reserved.
The Vibe is made with 100 percent platinum-grade silicone (RoHs passed/FDA grade), has three speeds controlled via one button, comes in a small canvas zip pouch, and charges with a USB.
Two women started Maude: Éva Goicochea, who was one of Everlane's first hires in 2012, and Dina Epstein, a former industrial designer at sex-toy behemoth Doc Johnson. Maude is the obvious love child of their past jobs: The Vibe is so streamlined and modern, it's practically the Day Heel of vibrators. Also, it's gender-neutral in color and form, and can be bought with condoms and a lubricant that come in packaging as pretty as Aesop's. We tested the Vibe, a slim teardrop that tapers into a round point.
We think: "This one was amazing — it worked so fast that I was like, Whoa, not even ready for it," said Tester A, who's owned several vibrators and prefers higher-powered ones. "And I didn't think it would work because it looks like a Muji mister." Tester B — who's had little success with vibrators in the past and likes a buzz that's medium in intensity — had the same reaction. "I got it out without expecting much, purely because the company is so new and we live in a world where the Hitachi Magic Wand from the 1970s is still a huge hit. The best way to describe this was that an orgasm just zipped out of me. I was caught totally by surprise." Tester B adds that her boyfriend liked this one best, of all the vibrators she (and he) tried. "It's easy to hold one end, and use the other end on myself, and he can feel the vibrations even without any direct contact. He's now asked more than once during sex for 'that cone thing.'" The Maude Vibe also comes recommended by two of the three experts we consulted. Joanne Encarnacion, a sexual health and wellness coach, calls the Vibe her go-to vibrator because it doesn't stick out in her home (she often charges it right alongside her cell phone and laptop) and has the kind of vibrations she likes best.
Buy if: You want an almost guaranteed orgasm in under two minutes. Or if you want a no-frills, high-powered device that is, at least aesthetically, a blank slate. The pale-gray, non-shape shape means the Maude Vibe doesn't come with many preset notions. It works equally great for solo use or with another person. And according to Encarnacion, its small size makes it a great beginner toy for anyone who is curious about anal play.
Best starter vibrators
The Midori is made of body safe silicone, can be used in the shower, has three speeds, and charges by simply placing it in its case.
The Kushi is also made of soft body safe silicone and charges in its case. It has five speeds and two vibration patterns.
The Iroha Stick's vibration gets stronger by turning the dial at the bottom. Like the above the tip is made of body safe silicone and it's also the most affordable vibrator on this list.
According to Davia Frost, a sex expert and intimacy coach, people really know Tenga for their strokers and penis-based toys. But the Japanese brand actually makes some of the most beautifully designed vibrators that don't look like vibrators on the market.
We think: "They're really soft and squishy and they're cute," says Frost whose favorites from Tenga are the Iroha Midori, which kind of looks like a piece of mochi ice cream, and the Iroha + Kushi, which looks like a seashell. That velvety squishy silicone is great for people new to sex toys, and the cute appearance (and small size) isn't intimidating in the way something like the Hitachi Magic Wand might be. They even make a very affordable lipstick vibe called the Iroha Stick. All three of these are external toys that are waterproof and charge magnetically.
Buy if: You want a 101-level toy that could easily be mistaken for an art object.
Best vibrators for sensitive bodies
Has two sensations that can be set at three speeds, comes with a satin pouch, and charges via a USB cable.
The Eva II is 10 percent smaller than the original, with shorter wings for an improved fit. It has three speeds and a charging dock that plugs in with a USB. It's also waterproof, so you can test it out during shower sex.
Dame makes the two most unusual-looking vibrators on this list. The Fin is shaped like a smooth gemstone with grooves on both sides, so you can hold it between your fingers (imagine holding a cigarette), plus a removable tether. The egg-shaped Eva has two thin "wings" that fit underneath the labia for hands-free clitoral stimulation. These were designed by two women: one studied clinical psychology, the other is a mechanical engineer who went to MIT. (They've done the research, as Finn would say.) Their philosophy: Vibrators should blend in with human sex in a way that feels natural. "With these, we're always aiming to not be the second or third person in the room," says Janet Lieberman, one of the founders. "It's not like people want to have sex with robots. They want to have sex with people, but they're using the robots to feel like they have more of an authentic connection."
We think: Dame's vibrators are by far the softest our group tried. The silicone feels like expensive silk. The colors — like navy, seafoam green, and "quartz" pink — are also genuinely beautiful. Of the two, our reviewers had more success with the Fin — neither had luck with getting the Eva to stay put during sex. The Fin is also more versatile: Tester D, who admittedly likes a rumbly, stronger motor, didn't get off with it herself but said, "If you did long strokes with a little pressure, I think I could get close."
Buy if: You're physically sensitive. The velvety finish and a relatively low-powered motor mean that neither product would overwhelm delicate clitoral nerve endings. We'd also recommend buying either the Fin or the Eva if you want vibrations while you have sex with another person, but can't or don't like the idea of gripping a device while you're actually mid-coitus. Dame's products are incredibly thoughtful in this regard. As for the Eva: All vaginas are made differently, so the fact that our reviewers had trouble with it doesn't mean everyone will. Plus, Dame has since upgraded the Eva for better fit and offers easy returns within 60 days.
Best travel vibrator
The Vesper measures 3.75 inches, has four speeds, and conveniently charges via USB.
If you know Crave, it's likely because of the Vesper — a long, bullet-shaped vibrator that's worn on a chain and comes in silver, gold, and rose gold. The necklace was the idea of Ti Chang, the head industrial designer at Crave who designs vibrators for people on the go. Not only is the Vesper incredibly portable, it's also charges directly in any USB port. "We hear from people going on business trips saying, 'Oh, I grabbed the wrong charger for my vibrator.' But all of that goes away when you have USB rechargeability," Chang says.
We think: Both Encarnacion and Alexandra Roxo, an intimacy coach and author of the new book F*ck Like a Goddess, own the Vesper and recommend it for solo or partner use on the go. "Because it's super stealthy you can use it pretty much anywhere — like in a car or on a plane or wherever the spirit hits you," says Roxo. The Vesper was also mentioned by Jacq Jones, sex educator and owner of Baltimore's Sugar Shop, in our guide to bullet vibrators. Jones says that for such a slim vibrator it has way more power than you'd expect, and notes that Crave is an ethical company using all body-safe materials. "It's a sexy object," says Tester D who also owns the Vesper. "I love wearing it. Sometimes my partner will pull it out of the bedside table by the chain, and it's just sexy," she says. The Vesper doesn't just look like fine jewelry, it's made with stainless steel finished in one of three precious metals: 24-karat gold, rose gold, or silver. Because it's made of body safe metal, it warms to your body temperature as you use it.
Buy if: You like the idea of discreetly wearing your vibrator out of the house, you want something that's easy to bring on weekend road trips, or you are looking for a sexy gift for your partner. There's nothing else out there like it.
Most inconspicuous vibrator
The unassuming Mimi has five speeds and seven patterns, all operated via three buttons: a plus button, a minus button, and one for mixing up the rhythm.
Je Joue has been around longer than most companies in this list, but it does make luxury vibrators that could get lost among some ceramics. Specifically, Je Joue's pebble-shaped Mimi, which often appears on best-of lists. Along with the Maude Vibe, this is by far the most discreet vibrator we tried — especially if you buy the black one.
We think: Tester D, who prefers deeper motor power (and who's primary vibrator is a literal back massager), loved the Mimi. "I used the Mimi after I was using another one that I didn't like, and it was like 'clunk!'" (That "clunk" was an orgasm, if you couldn't tell.) "Also, so soft," Tester D added. Tester B said the Mimi was similar to the Maude Vibe — noncontroversial looks, fits in easily with sex with another person — but because of the oval shape