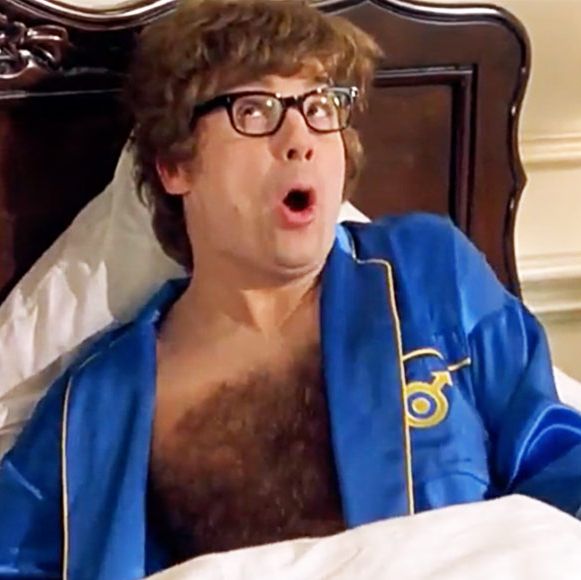 It's time to get familiar with the "P-spot"
Photo: Courtesy of New Line Cinema
The first thing to know about sex toys for men is that, yes, they exist. "A lot of people are surprised that there can be products for men," says Andy Duran, educational outreach coordinator at sex-toy retailer Good Vibrations. People often think vibrators, for instance, are "very gendered and designed for women, but the reality is that our bodies are all pretty similar. We all have nerve endings that respond to vibration, or touch, or stimulation." Although sexuality is highly personal, we set out to find a variety of sex toys for a variety of preferences with the guidance of experts who would know best. To find the best sex toys for men, we talked to 16 different people, including sex-shop owners and employees, sex educators, sex therapists, sex coaches, and sex podcasters. Since the experts say you'll want a different type of toy depending on the type of pleasure and play you seek, we've broken them into categories — from rings to strokers to prostate toys to anal toys to other toys — with the most recommended toy leading each category. (If you know what category you want, you can click any of the linked ones in the previous sentence to jump right to it.) At the bottom of our list are some lubes to use with those toys; those who want to dive deeper into lubes should check out our full guide here.
Best rings
Best overall ring
If you're thinking you want to try out a toy but don't know exactly where to start, most of the experts we spoke with said a "ring" toy would be a great choice, and Zachary Zane, a sex writer for Men's Health, says, "My advice would be to definitely start with a vibrating cock ring." In his opinion, the vibrations can add a lot to the overall experience, especially when you're with a partner. As he puts it, "No matter how good you are at sex with your partner, you can't vibrate." Duran also likes vibrating rings because they're "like two toys in one." While the wearer gets the benefits of blood-flow restriction, "your partner will feel that vibration on their body during intercourse," adding that "even if it doesn't work out as a vibrating ring, you still have this great vibrator or this great ring you can use separately."
Three experts we spoke to say this cock ring from Je Joue is the best in its class for both comfort and power. "The Mio is top of my list when it comes to vibrating cock rings," says Lisa Finn, a brand manager and sex educator at Babeland. "The motor is powerful despite the ring not being bulky, and it has a rumbly sensation that delivers deep, penetrating vibration for both partners to enjoy." Sid Azmi, a sexual therapist and the owner of Please in Brooklyn, agrees, noting that the type of vibration is critical when it comes to higher-tech rings like this one. "Some products have a loud rumble, and some have a tight rumble, with shorter frequencies and more of a 'buzzing' sensation." For a cock ring, Azmi says that a tight rumble is crucial. "Due to its location near the ballsack, loud vibrations can create pain in a lot of males who aren't careful." Finn adds that this ring is "made of a super stretchy yet durable silicone, which gives a comfortable fit on a variety of sizes," another point echoed by Azmi. "Some cock rings are so tiny and tight, it's like wrapping a thin piece of rubber around your finger. The Mio is superior to the competition from that perspective." Billy Procida, the host of The Manwhore Podcast, adds that while it isn't cheap, the Mio is a quality ring that will last for years. In fact, he says that buying cheaper sex toys will cost you more in the long run, because you'll "back where you started in three months. Respect your genitals."
More expert-recommended rings
For a simpler, more affordable vibrating ring, Duran recommends this option from Screaming O. Simply stretch it around the base of your erect penis, and switch it on. While it's only designed for onetime use, he says it's an effective, discreet, and travel-friendly option for first-timers.
Samantha Bard, co-owner of the Williamsburg sex shop and event space Shag, particularly likes the We-Vibe Pivot, which she calls "the Cadillac of cock rings." You can control the vibration on the actual toy if you want, but the best part of the Pivot, according to her, is the included smartphone app. "You can share it with up to ten people, and they can control it from anywhere in the world and fully customize the vibration patterns." The ability to control the Pivot from across the dinner table is part of what makes it "really popular," she says. Plus, because it just looks like you're on your phone, it's even more discreet.
Sometimes you just want something simple. For those times, Finn says you can't go wrong with this minimalist silicone ring. She suggests using it "to enhance masturbation or partner play, or to prolong playtime before orgasm." You can also use it "as a bumper to prevent too-deep thrusting during intercourse," she adds.
Dr. Steven Snyder, a New York City–based sex therapist and author, says the "really hot thing" among his patients is this stretchy ring, which he describes as less of a toy and more of a practical solution when you or your partner's size is causing pain. "It's a series of very soft flexible rings that nest on top of each other, which means you can use between one and four of them depending on your size. They give a different sensation for penetration and are excellent if a man is going in too deeply."
For sexually adventurous guys looking for a more advanced ring, Azmi recommends this stretchy "sling," which combines a cock ring with an additional "ball-stretching" ring. The constricting sensation it delivers around the top of the testicles, according to Azmi, is "a pleasurable feeling for men who are open to it" because it heightens one of the body's natural responses to being aroused. "If you watch a man's anatomy when he's getting turned on, you can see the balls tense up. This relatively inexpensive product heightens that tension."
Best strokers
Best overall stroker
Photo: Retailer
Strokers, which are generally designed for masturbation, were another popular recommendation for those buying starter sex toys. Three of our experts say that if you're looking for one, the Tenga Flip Zero is worth the investment. Steve V. Rodriguez, the creator and host of the Talk About Gay Sex podcast, calls it his favorite toy and says that as long as you "clean it out with soap and water" after climaxing, it's designed to last for years. He adds that the toy's inside has "all these grooves and bubbles and cutouts that are going to make you feel really good and let you explore different sensations your genitalia has never felt before." It has another fan in Duran, who says that "the great thing about the Flip Zero is that, unlike some of the other strokers" with rigid plastic exteriors, this has a flexible one that responds to touch. "It gives people the opportunity to adjust and feel their own hand strength, or their partner's hand strength, instead of just relying on the product," he explains. Zane likes the Flip Zero, too, for the same reasons as Rodriguez. "It has so many different grooves and ridges," he says, that it "feels different everywhere." Zane adds that Tenga sells a few different models of the Flip — the Zero is the simplest — and if you want to experiment, you might consider one of its pricer vibrating models that he describes as "completely insane."
Best less-expensive stroker
Photo: Retailer
Three experts also told us that Tenga's low-priced, simple, and straightforward Egg is a great stroker for those on a budget or looking to dip their toes into such toys. "Incredibly discreet, super-cute, a really good gift, and it's less than $10," says Bard. Each Egg is ribbed inside, and although they're designed to be single use, she says that if you regularly wash an Egg with soap and water, you can extend its lifespan. While it's known as a masturbation toy, Bard says "it doesn't have to be just a solo thing" and that an Egg can also be a lot of fun to use with a partner. "In fact, probably half our customers who buy it are females buying it for their boyfriends or partners," she adds. Procida agrees that the Egg is "always great to have in a drawer" and Duran is a fan, too. "I often say, 'Hey, throw this in your backpack while you're going away for the weekend, and just throw it out before you come back.' It's just a little treat." (If you want to stock up or get a few to give as gifts, the Eggs also come in a variety pack of six inside a cute, tiny carton).