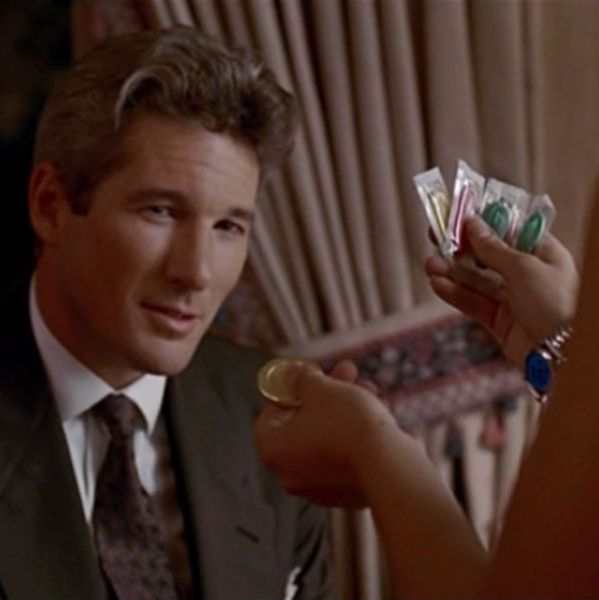 "A buffet of safety."
Photo: Buena Vista Pictures
While we all might be curious about the best plunger or probiotic tampon or cold-sore remedy, it can be difficult to discuss these more personal items. That's why we're tackling Things We Don't Talk About, a series in which we track down the best hygiene-, sex-, and bodily function–related things we all need but might be too embarrassed to ask about. Today, recommendations on the best condoms (just in time for Valentine's Day).
For many, condom shopping has long meant a surreptitious visit to the "family planning" aisle of the drug store, where you choose between standard-issue Trojans and standard-issue LifeStyles, and hope you don't bump into a co-worker. Now, there's not only online shopping but also a burgeoning market of new condom brands meant to accommodate a wider range of bodies, preferences, and allergies. But with new options can come confusion, so we talked to sex therapists, sex educators, sex workers, sex writers, and even the hosts of a sex podcast. Each product here can be bought (discreetly — perhaps not on the shared family Amazon Prime account?) online.
Best overall condoms
Photo: Courtesy of the Vendor
Several of our experts brought up Skyn non-latex condoms. Adult film actor Brett Rossi is, like many, allergic to latex, and says Skyn (made by LifeStyles) is best for managing reactions. It's estimated (by the American Latex Allergy Association) that only around one percent of the general population has a real allergy, but many still report some kind of reaction. Beyond that, non-latex condoms also get better marks for pairing with lubricant and for allowing more sensation. Emily Morse, who hosts a sex-and-relationships podcast, attributes that to their heat transference. "The best part is that the polyisoprene material transfers heat really well, so they feel very natural," she says. Nicole Tammelleo, a sex therapist, says that while polyisoprene was previously thought of as just a latex alternative, it's actually stretchier than latex and many actually find it to provide more sensation. The $12 price tag here is for a 24-pack.
Best eco-friendly condoms


Sustain Naturals are ultrathin latex condoms that are lubricated on both sides. Emily Nagoski, author of Come As You Are: The Surprising New Science That Will Transform Your Sex Life, says, "They're conscious of environmental impact, fair trade, and work great." They are also vegan, gluten-free, paraben-free, and Goop-approved (if you prefer to get it on like Gwyneth). Sex and relationship coach Dominique D'Vita adds that the brand is "vagina-friendly and Earth-friendly. They donate 10 percent of your purchase to women's health organizations", making Sustain Naturals the most sustainable, conscientious condom at an affordable price point.
Best vegan condoms
For folks who prefer a thinner feel, but still want a vegan, organic option, Good Clean Love's Barely There Condoms are a great choice, says sex educator and coach Domina Franco, who has a master's in human sexuality. "Their big benefit is that they don't contain any parabens or synthetic fragrances," she says, adding that they are also made with sustainably harvested natural rubber that happens to be certified vegan and fair trade.
Best pre-lubricated condoms
According to sex educator and coach Raquel Savage, "Unbound's Party Hats are pre-lubricated with silicone lube, meaning you won't have to reapply as often, meaning you can focus on the task at hand." She also likes that Unbound is a sexual-wellness organization focused on "celebrating pleasure for femmes and nonbinary folks." Ash Spivak, co-founder of Allbodies, a digital platform for modern health education and support, agrees and adds that it also has a "great line of lubes to accompany the condoms centering on vagina-owners' pleasure like G-spot stimulating gels and clitoral-stimulating gels."
Best designed condoms
Direct-to-consumer brand Maude was famously decreed "the Everlane of sex toys" not too long ago. Reviewing their vibrator, writer Margaret Rhodes wrote that the "cool, placid design makes a deliberate point: Carnal pleasure doesn't need to be raunchy, gendered, or silly." The Rise condoms are no exception and have the same understated, well thought-out design we've come to expect. They feature an easy-to-open buttercup packaging in a minimalist cream palette, so the days of fumbling for and ripping open condom wrappers are over. These are inconspicuous enough to leave out on your nightstand. And these condoms aren't just easy on the eyes. D'Vita says the ultrathin latex has an incredibly natural feel allowing for more sensation and heat transference.