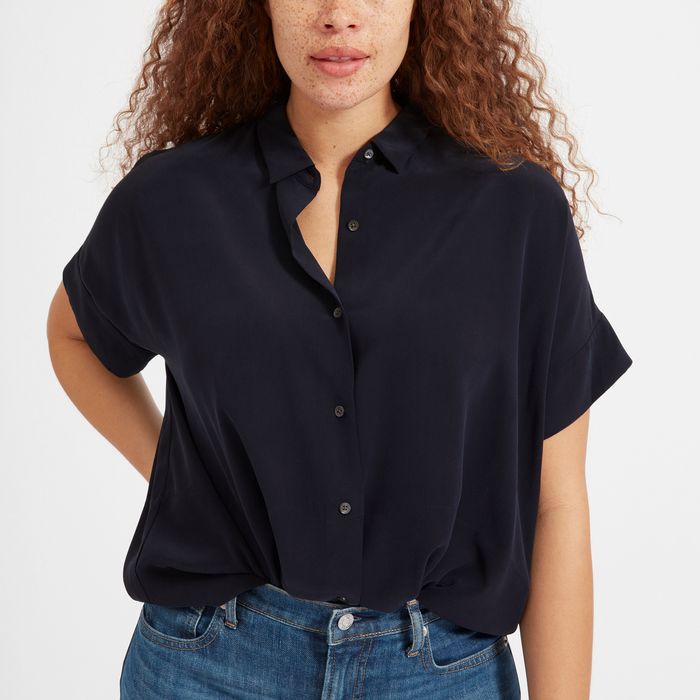 You could tuck the front into jeans.
When I wear the Perfect Shirt, I get compliments. Almost always. Or a "Where did you get that shirt?", which is even better than a compliment. I don't just like that shirt, I like the way you look in that shirt so much that I want to own that shirt. Unsurprisingly, the first time I saw the shirt it was being worn by a friend, and I (like many others, I bet) asked her where she bought it: "Oh, it's the silk square shirt from Everlane," she said. I wrote it down somewhere. It took me about three years to own the shirt and I can't believe that I waited so long.
Full disclosure: The only reason I eventually even started wearing the shirt was because I was blessed with having Everlane purchase an ad for my podcast, Who? Weekly. (A plug on so many levels, it's dizzying.) Up until that moment, I just wasn't ready to take the plunge with a $88 silk shirt. What if it got stained? How do you even wash silk? That's like … so much money for a shirt, I thought at the time, my mouse arrow hovering over "Add to Cart." Turns out, people buy $88 shirts (and upward!) all the time. Because, if you're lucky, that $88 is actually worth $88. After I got a (full disclosure, again) free shirt, I wore it for a week and then went back to buy another one with my own money. I can now say, confidently, that the Everlane Women's Square Silk Shirt is worth $88. I currently own it in navy, black, burgundy, and even stripes.
For one, it's silk. If you've ever worn silk, you know how good it is. If you've never worn silk, dude, you gotta get yourself some silk. This from a woman who only recently got silk, I promise you there's nothing to be afraid of. (There's always your local dry cleaner.)
You might think the shirt's silky texture and boxy structure would just kind of hang, like much of the shapeless pieces that are in fashion right now. If you're a person with a certain type of body (like I am) you know that shapeless doesn't quite work for you. But the shirt somehow doesn't just hang. So far, the shirt flatters all bodies I've seen it on — all sizes and all shapes — perhaps because of its uniform shape. (I don't really get it, either.) The hem is perfect — slightly shorter in front and longer in back — for wearing without a tuck, though you could certainly do that, too.
I will continue to wear this shirt until it falls apart and bat away the compliments. I'll tell people where I got it, I might even tell them that I love the shirt so much that I wrote about it online. They can look it up and stop asking me about it. I'll also be happily Googling, "How do get spaghetti-sauce stain out of silk," because it's worth it. It's worth it to wear the shirt.
Photo: Courtesy of the vendor
Writer Jen Doll loves the Equipment Slim Signature shirt so much, she bought it in four colors, too: "They're sexy but slightly androgynous. The Slim Signature is a crisp yet silky button-down, its buttons situated in exactly the right spots, which is important for the full-busted among us. It means the buttons don't pull awkwardly across the chest. The shirt's good for virtually any occasion: meeting your book editor at CraftBar, date night, lying across several barstools at a dive bar so your friend can Instagram you (again, those buttons are a godsend). There are pockets on each breast, but unlike other brands I've worn (J.Crew, Uniqlo, Banana Republic), they don't look bulky or do strange things to the cleavage. The shirt doesn't wrinkle — or, rather, it wrinkles perfectly in a devil-may-care kind of way; is sheer but not too; and looks good in virtually any form: tucked, untucked, part-tucked, under a sweater, with skirts or jeans, even sans pants. It slims while enhancing. And it looks expensive."