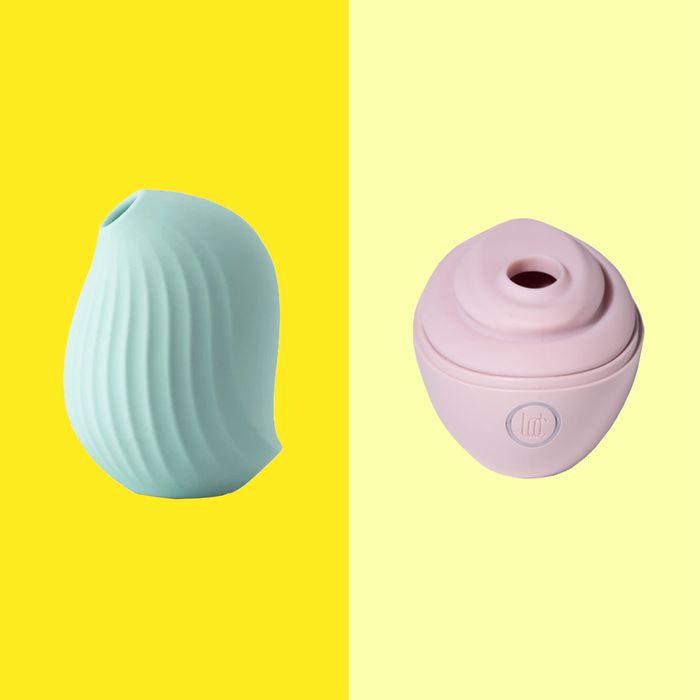 If you already have a favorite vibrator or dildo and are looking for something new to bring into the bedroom, you may want to consider exploring the world of air-suction toys, which are designed to mimic the sensation of oral sex. "Air-pulse toys result in intense orgasms that are different from a clitoral orgasm that you would get with a regular vibrator," explains Samantha Bard, a co-owner of Williamsburg's Shag. She explains that the toys, which are used externally, and designed to surround the clitoris and use pulses of air or sound waves to stimulate it and surrounding nerves, "resulting in a much fuller — and possibly quicker — orgasm" than the ones you may get from internal stimulation using a vibrator. This indirect clitoral stimulation, she adds, can be "a much subtler and deeper sensation" than that of direct stimulation with a vibrator. Because no two clitorises are sized alike, though, Bard notes "you want to make sure the mouth of the toy you purchase is a good fit." To find the best air-suction sex toys, we asked Bard and 11 more experts about their favorites. Below, their 10 recommendations, which include air-suction toys with various-sized mouths, ones made for partner play, and even a toy that doubles as a night light.
Best overall air-suction toy


According to erotic educator Taylor Sparks, the founder of Black-owned online intimacy shop Organic Loven, Womanizer has "perfected the air-pleasure technology" in the years since it introduced its first air-suction toy in 2014. "Womanizer has led the way by offering several intensities, vibrations, sizes, and prices" in its range of air-suction toys, she adds. Shan Boodram, the author of The Game of Desire, agrees. "The incredibly orgasmic Womanizer introduced what I like to call the beam-me-up-Scotty effect on the clit," she explains. But of all its products, we heard about the Womanizer Premium the most. Sex expert and intimacy coach Davia Frost calls the deep, internal sensations it provides "an experience," adding: "If I close my eyes, it's almost like I'm feeling this sucking sensation throughout the whole mechanism of the clitoris." Sexologist Marla Renee Stewart, the co-author of The Ultimate Guide to Seduction & Foreplay, adds that the Womanizer Premium works for lots of different people because it comes with two easy-to-swap stimulator heads of different sizes. It also has 12 intensity levels that you can manually switch between, as well as an autopilot mode that cycles through the various levels. The toy only starts working when it touches skin and is whisper-quiet once on, making it a great choice for those with thin walls or roommates. Plus, it's completely waterproof, for those who like the option of taking their toys into the bath or shower.
If you're using this or any air-suction toy for the first time, our experts have a few general tips. First: "Add some lube," according to sex educator Kenneth Play, the creator of the Sex Hacker Pro Series and co-founder of Hacienda Villa, an intentional sex-positive community. (A reminder that if your toy is made of silicone, you'll want a water-based lube.) Play adds that the toys "work best when they form a complete seal," instructing users to "try different angles to find the right amount of pressure and suction." And Sparks notes you should "start with a light suction, as the clitoris has 8,000 nerve endings and it's important to know how much you can and want to handle." Bard agrees: "My tip would be to take it slow — people often want to go to the quickest speed right away, but if you start low you can build on the intensity to achieve a profoundly rich feeling."
Best (less-expensive) air-suction toy


This air-suction toy from the maker of one of our favorite vibrators came recommended by three of our experts and has a retail price that's a little less than half of the Womanizer Premium, making it a more budget-friendly option, especially for first-timers. "It's one of our best-selling toys and the only air-suction toy that has earned a place in my bedside drawer," says Zoë Ligon, the founder of Spectrum Boutique. Bard explains that "the Sona was Lelo's first suction toy and is still a good option with different speeds." Like the Womanizer Premium, it offers different vibration levels and patterns. When the Strategist tested a crop of sex toys, we found that the Sona's ergonomic shape makes it easy to switch between the various levels as you explore — and that the toy consistently led to intense orgasms.
Best air-suction toy for partner play


The We-Vibe Melt "creates a smooth and seamless pulse," says Bard, who adds that one of its most attractive features is that the toy is compatible with a smartphone app you can use "to customize patterns and share it with a partner who can control it from across the bedroom — or anywhere in the world." That's one reason sex blogger and toy critic Cy Smash calls it her "favorite air pulse toy for partner play." Another? The fact that it is "compact with a narrow rim" that doesn't take up too much real estate on the vulva, which Smash explains leaves "plenty of room for penetration." But because the Melt's mouth is on the smaller side, Smash cautions that "you may want to consider something else if your clitoris is bigger than, say, a chickpea."
Best air-suction toy with a large mouth
Sila, Lelo's latest air-suction offering, came recommended by two experts for anyone who may need a larger mouthpiece. "They have increased the size of the mouth to fit more people," Bard says, "and perfected the technology in terms of creating a deeper, more intense sensation." Play also recommends this toy for its mouth that he calls "bigger and broader," describing the stimulation its larger size provides as "a slower, more sensual build up to orgasm."
Best (less-expensive) air-suction toy with a large mouth
Dame, another brand we love for its well-designed sex toys, makes this more affordable air-suction device with a larger mouth that two experts told us about. "It's compact, easy to hold, and has a more inclusive mouthpiece in terms of size," explains Play. Sex and confidence coach Jennifer Doan agrees: "It has a much wider opening, meaning that a large variety of clitoris sizes and body types are able to use it." Doan adds that the Aer is powerful: When she took it for a spin, she could only handle the lowest of its five vibrational patterns and settings. "Each is more intense than the last," she explains. "So if you're someone who enjoys a toy that packs a punch, this one's for you."
Best (even-less-expensive) air-suction toy with a large mouth
For an even more affordable air-suction toy with a size-inclusive mouthpiece, Smash suggests the Satisfyer Curvy 2+. As she explains, it "has a roomier air pulse tunnel and, for under $40, it's hard to beat the quality-to-cost ratio." Smash adds that this toy's inclusivity goes beyond size, calling it her "top pick for transmasculine people with some bottom growth."
Best discreet air-suction toy


"Aesthetics are important to me because I tend to leave shit around just wherever," says sexual health and wellness coach Joanne Encarnacion. That's a big reason she likes the Baci, because the toy's design doesn't scream sex toy. That design, Sparks adds, allows the toy to rest within the outer labia and provide vibrations "down the 'legs' of the clitoris," letting you feel more sensations as your orgasm slowly builds. Encarnacion agrees, telling us that Baci-assisted orgasms "feel like more of an intentional climax rather than a fast and jarring vibration to just get you off as quickly as possible."
Gentlest air-suction toy


If your clitoris is very sensitive or you enjoy less intense stimulation, Doan suggests the Obii, a suction toy–slash–night light made by Netherlands-based company Biird. "Most air-pulse toys are too intense for me because of how concentrated the stimulation on the clitoris is," she explains. "With the Obii, I can actually use it all the way through my orgasm." Like the Baci, the Obii's (downright adorable) design doesn't scream sex toy, nor do the pleasantly muted green, yellow, or pink colors it comes in. Speaking of its design, the toy won a prestigious Red Dot Design Award for incorporating such thoughtful touches as a light-up wireless charging base and plastic birdcage-esque cover that protects it from dust.
Best air-suction toy that also stimulates the G-spot


Those familiar with air-suction toys or just generally more adventurous when it comes to trying sex toys might prefer one that can provide double the pleasure, which is exactly what this device from Womanizer promises. It not only delivers the external air-pulse stimulation the brand has perfected, but also has a vibrator you can use internally to stimulate the G-spot. Bard recommends it for those who crave "earth-shattering, blended orgasms" because "there are multiple speeds and modes for both air-pulse and vibration and it just hits all of the right spots simultaneously."
Best (less-expensive) air-suction toy that also stimulates the G-spot