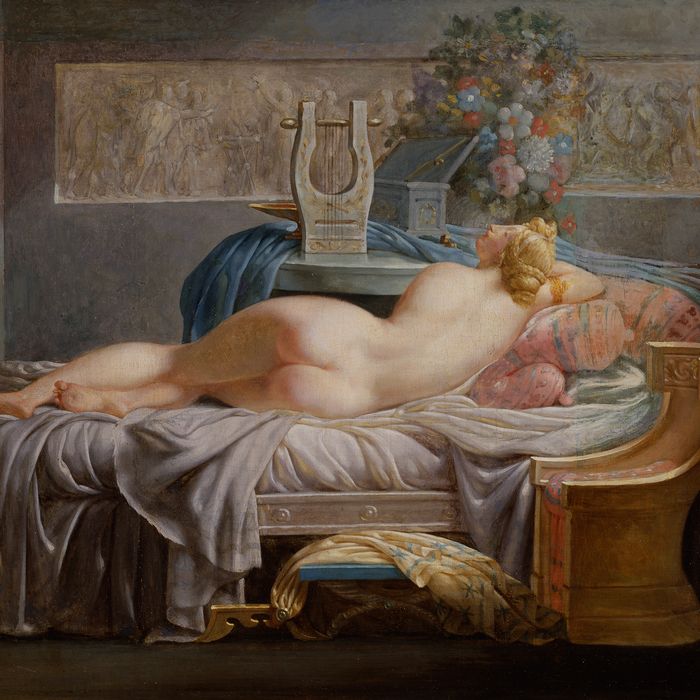 Photo: Heritage Images/Getty Images
While butt plugs might seem intimidating if you've never used one before, sex experts stress that with proper preparation, a little bit of patience, and a lot of lubrication, these toys can be a pleasurable addition to your sex life. "Start slow and small, and use plenty of lube," says Liz Goldwyn, founder of the sexual health education website and podcast The Sex Ed. "The anal area has a high concentration of nerve endings that are stimulated by even the smallest butt plug."
When you're new to using a butt plug, either with a partner or on your own, it's important to remember that it should never be painful. "If it hurts, that's your body telling you to stop and slow down," says Archie Bongiovanni, a sexual-health educator and events coordinator at the Minneapolis store Smitten Kitten. "Anal penetration is about relaxation," says Jacq Jones, a sex educator and owner of Baltimore's Sugar shop. She recommends experimenting with butt plugs only when you're totally calm, as people often hold tension in their lower back and butt muscles, which can make penetration uncomfortable.
Emily Morse, doctor of human sexuality and host of the SiriusXM Radio show and podcast Sex With Emily, says that butt plugs can also be useful in working up to having anal sex with a partner. "Don't go from zero to penis," she says. "You want to work your way up by starting with fingers and butt plugs." To find the best butt plugs out there, we asked our four experts to recommend their favorites — for beginners, experienced users, couples, and solo play.
Note: Since lubrication is important for any anal play, you can check out our list of expert-recommended lubes here. Jones specifically recommends glycerin-free lubes, like Astroglide Natural or  Good Clean Love that won't pull moisture away from your body.
Best butt plugs for beginners
If you're looking to explore butt plugs, Morse recommends this comprehensive kit with everything you need to get started. "Not only does it come with three different plugs so you can move up in size more comfortably, it also has a lube shooter to easily get it up there," she says. The two larger plugs vibrate when you're ready for a little more stimulation, and the set also includes a water enema bulb for cleaning up a bit inside your butt before using a plug (which isn't necessary but helps some people feel more comfortable), and an extensive guidebook with tips on anal play safety and best practices. The toys are made from silicone — one of the three materials, along with equally sanitary glass and metal, our experts recommend looking for in any sex toy. "Silicone is soft, flexible, and hypoallergenic, and it's non-porous, which lessens the likelihood of bacteria," Goldwyn says.
Bongiovanni calls this slim silicone plug, with seven optional vibration speeds, "a fun, non-intimidating way to start any anal journey." It's ideal for those who are "brand new to anal play and want to play in insertion but not girth," they say. The Teazer, like all of the butt plugs our experts recommend, has a flared base, an essential features that ensures anal toys can be safely removed. When butt muscles are stimulated, Jones says, they can "create what's essentially a vacuum and suck things in." As you can imagine, anything stuck in your butt is considered a medical emergency, so make sure you always use plugs with flared bases to avoid a trip to the ER.
As Jones says, finding the right size butt plug, "might be a little bit of a Goldilocks situation, where you try different things to find what works for you, and also figure out that something that works really great on one day might not work as well on another day." That's why she likes toys that come in multiple sizes, like the inexpensive Platinum Minis. It's a good choice if you're trying out a plug for the first time and don't want to make a big investment in something you might not love.
Available in four different sizes, the Mood Naughty has a "nice taper that makes this toy glide in easily," Bongiovanni says. They recommend the smallest size for beginners.
Best butt plugs for prostate stimulation
For people with prostates, Jones says the gland "is essentially the G-Spot for those kinds of bodies and can create multiple orgasms." Plugs designed for prostate stimulation have a curve to best reach it. Jones suggests this one from Njoy. "It's made out of surgical steel, so the weight of it provides a great deal of pressure on the prostate which can be a really lovely thing," she says.
Bongiovanni says the Aneros MGX, also recommended by Jones, is "great at finding and rocking against the prostate, even hands-free," and has been the brand's best-selling toy for nearly two decades.
Best butt plugs for couples
While you can certainly enjoy this vibrating plug (with ten vibration modes) on your own, one of the Ditto's main draws, according to Jones, Goldwyn, and Bongiovanni, is that it can be activated by your partner — either locally with the remote control or from anywhere using WeVibe's app. Bongiovanni says the app functionality is "perfect for long-distance relationships," and the remote control "makes changing speeds and patterns during sex a breeze." Jones adds, "it works really well for people with vaginas and clitorises, and is also going to do really nice perineum stimulation for people with penises." Plus, Bongiovanni says, it's "petite enough for beginners and offers deep rumbly vibration."
One of Goldwyn's picks for a beginner plug, she likes that this tapered toy is "adaptable to harnesses for people who want to try pegging."
Best butt plugs for advanced users
"As you get more comfortable with the feeling of the plug, you can increase the size bit by bit," says Goldwyn. For these more experienced users, she recommends larger toys from Doc Johnson's American Bombshell line, like this one that's both long and thick.