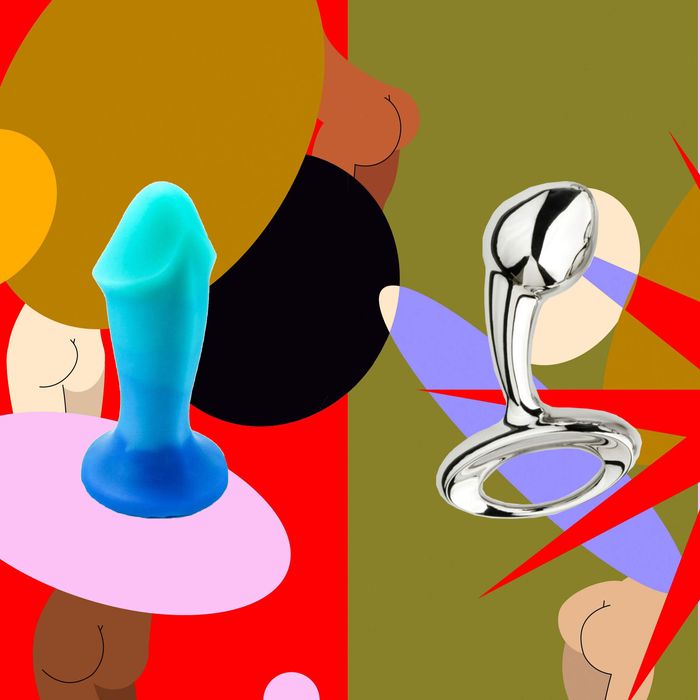 Illustration: Chaimae Khouldi; Photos: Retailers
While butt plugs might seem intimidating if you've never used one before, sex experts stress that with proper preparation, a little bit of patience, and a lot of lubrication, these toys can be a pleasurable addition to your sex life. "Start slow and small and use plenty of lube," says Liz Goldwyn, founder of the sexual health education website and podcast The Sex Ed. "The anal area has a high concentration of nerve endings that are stimulated by even the smallest butt plug."
Prepping mentally for anal exploration is highly encouraged by Ev'Yan Whitney, a sexuality doula and author of Sensual Self. They recommend taking time to connect with yourself with acts of self-care, like a self-massage, breathwork, and setting the mood with candles and music. "Sex can happen so fast sometimes, and I love reminding folks to slow the pace a bit and begin foreplay outside of a sexual context," they say. Prepping physically is more of a nonnegotiable. If you're concerned about cleanliness, "I recommend taking a shower and washing your ass really well before you start," Whitney says. "You could also explore butt play in the shower, where you and/or your partner are already in a space that makes for easy cleanup. If you're exploring outside of the shower, keep a damp cloth nearby in case you need to clean anything up."
When you're ready to start actually using a butt plug, either with a partner or on your own, it's important to remember that it should never be painful. "If it hurts, that's your body telling you to stop and slow down," says Archie Bongiovanni, a sexual-health educator and events coordinator at the Minneapolis store Smitten Kitten. "Anal penetration is about relaxation," says Jacq Jones, a sex educator and owner of Baltimore's Sugar shop. She recommends experimenting with butt plugs only when you're totally calm, as people often hold tension in their lower back and butt muscles, which can make penetration uncomfortable.
Emily Morse, doctor of human sexuality and host of the SiriusXM Radio show and podcast Sex With Emily, says that butt plugs can also be useful in working up to having anal sex with a partner. "Don't go from zero to penis," she says. "You want to work your way up by starting with fingers and butt plugs." To find the best butt plugs out there, we asked seven experts to recommend their favorites — for beginners, experienced users, couples, and solo play.
Note: Since lubrication is important for any anal play, you can check out our list of expert-recommended lubes here. Jones specifically recommends glycerin-free lubes, like Astroglide Natural or  Good Clean Love that won't pull moisture away from your body.
Best butt plugs for beginners
If you're new to anal play, Whitney recommends exploring the outside of the anus with a finger, vibrator, or tongue. When you're ready for penetration, they recommend starting with a finger, too, and then this comprehensive kit. "It's perfect for butt-pug newbies and has everything you need to get started, including a lube applicator, an anal enema, and a guide with tips and tricks to help you as you explore," they say. Morse recommends this one, too, noting it comes with "three different plugs, so you can move up in size more comfortably." The medium one vibrates, and the largest one is weighted for a feeling of fullness. The toys are made from silicone — one of the three materials, along with equally sanitary glass and metal, our experts recommend looking for in any sex toy. "Silicone is soft, flexible, and hypoallergenic, and it's non-porous, which lessens the likelihood of bacteria," Goldwyn says.
A vibrating but plug might seem like a more advanced option, but sex educator Lola Jean, who teaches and online pegging and butt stuff course, actually loves this one for beginners. "When it comes to butt stuff, one of the biggest keys is relaxing the area before entry," she says. "Vibration is a fabulous method of doing so." This toy allows you to explore anal play without penetration if you prefer. You can use it to "tease the outside of your hole before you take that lubed up plunge into your great unknown," Jean says. When you are ready to insert it, it's meant to mimic the sensation of rimming thanks to rotating beads at the base of the plug. The vibration is controlled with a remote that can be used up to 30 feet away, so this is also a good option for couples.
Bongiovanni calls this slim silicone plug, with seven optional vibration speeds, "a fun, non-intimidating way to start any anal journey." It's ideal for those who are "brand new to anal play and want to play in insertion but not girth," they say. The Teazer, like all of the butt plugs our experts recommend, has a flared base, an essential features that ensures anal toys can be safely removed. When butt muscles are stimulated, Jones says, they can "create what's essentially a vacuum and suck things in." As you can imagine, anything stuck in your butt is considered a medical emergency, so make sure you always use plugs with flared bases to avoid a trip to the ER.
This is one of those "if it ain't broke, don't fix it" toys, according to Jean. She explains that Njoy rarely updates this model because they got it right on the first try. It comes in three different sizes and is made of steel, "which makes them very easy to clean. Plus, they're heat-conductive," she says. It can be used in a variety of ways, which is something Jean thinks you should consider before settling on a toy. "Is this for everyday wear under your clothes, during sex, or only for special anal activities?" she asks. "This may influence how many bells and whistles you can accommodate." One of this plug's bells is that it "can simulate the feeling of fullness or put the right amount of pressure in your fun spots — either your G-spot or P-spot," she says, because of the weight of the product. It's whistle? "It kind of makes you feel like a life-size windup toy where it perches out of your butt," says Jean.