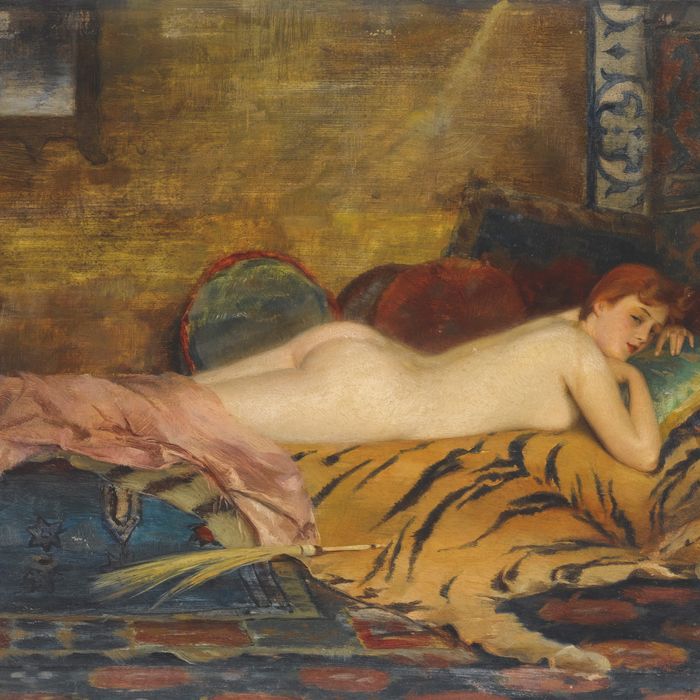 Photo: Heritage Images/Getty Images
Among those who like sex with accessories, vibrators tend to get a lot of love. The reasons aren't mysterious: Electronic devices can deliver sensations that other objects (or body parts) can't. But some require extra parts in the form of batteries, while others may need even more (USB cords, or even remote controls). No matter how they're powered, electronic playthings often overshadow a realm of analog sex toys that require no extra parts (or replacing) and deliver plenty of stimulation outside of buzzing. To find the best lo-fi erotic accessories — most of which can be used alone or with a partner, and safely paired with lube — we talked to 13 experts, including sex therapists, educators, a dominatrix, and sex shop owners.
Because different folks might seek different strokes, we've organized this slightly differently than our other expert-recommended lists — instead of naming a best overall toy, we've separated the toys into categories, and for the most part put the most recommended toy in every category at the top of each. Trigger warning: There are some very lifelike models on this list. But we hear they're the best.
Best dildos
Dildos (and other insertable toys) are, of course, popular among anyone who "enjoys penetration or penetrating something" and also because they can be used solo and during partnered sex, according to Searah Deysach, the owner of Chicago sex-toy shop Early to Bed. She and two more of our experts love the dildos made by Vixen Creations. "Vixen Creations makes luscious, dual-density, very realistic-feeling dildos that people pay the extra money for because the feel that they have is so much better," Deysach says. Professional dominatrix Valerie August agrees: "Vixen dildos are the best on the market, hands down. They have the most realistic texture: soft and squeezable, but with a harder, heavy core. I have about six Vixens in my collection, mainly for anal use on male submissives." Matthew Nolan, the co-author of the Oh Joy Sex Toy book series who runs a website of the same name, also loves Vixen's toys, adding, "They are a small setup, so care a lot about their work and seem to be very conscious of doing things right." As far as which model to try, Deysach recommends the Leo, which she calls "an oldie-but-goodie silicone dildo." "The size and shape of this classically-styled toy makes it a consistent best-seller, and the quality cannot be beat (Vixen toys actually come with a lifetime warranty)," she says.
Kim Marks, the owner of As You Like It, a nontoxic and environmentally conscious sex shop in Eugene, Oregon, recommends dildos from New York Toy Collective, a company she loves "because they make a lot of gender-affirming products." The Shilo is one of her store's top-selling silicone dildos, saying that "many different people buy them, but they are very nice for the trans community in particular because they're realistic." She says that the Shilo is bendable and comes in many different skin tones, "so you can try to match your partner's skin tone."
For those looking for something a little less realistic, Marks recommends Tantus. "It's a made-in-U.S. dildo company that has realistic to very, very, very not-realistic dildos," she says. "They're all pure silicone and come in beautiful color options." The Tantus Mr. Universe is an extra-large one recommended by Buck Angel, an adult-film producer. "I love dildos! You can buy all kinds of sizes of dildos, and with fatter dildos, you experience a different kind of penetration," says Angel, who cautions that "this is not for the beginner," addding, "go slow, and take your time; it's short and wide, and will stretch you and give you a completely different sensation."
Jenelle Marie Pierce, a spokesperson for matchmaking service PositiveSingles and the executive director of the STI Project (a website that promotes sexual health with a focus on breaking the stigma of sexually transmitted infections), is another Tantus fan — in part because the company, she notes, is owned and run by a woman. Her favorite Tantus dildo is a more lifelike option. "The Tantus Curve is my favorite non-vibrating sex toy, because it's realistically shaped but also marketed toward all bodies and configurations," she explains. Pierce adds that it's made from non-porous premium grade silicone, "so it won't harbor pathogens."
Epiphora, a sex-toy reviewer and blogger at Hey Epiphora, also likes Tantus and directed us to the Magma, which she likes for its feel. "If you're curious about textured dildos, the Tantus Magma is a great entry-level option," she explains. "It's cast in a soft, squishy silicone, for a more gentle experience. As you thrust, the unique 'drips' adorning the shaft provide gentle stimulation."
Sex-toy reviewer and designer Venus O'Hara told us that she's tested a lot of dildos, and there are few that she would use again. "To remember a specific toy in detail after I've tried so many is a compliment to the toy," she says. One of those few is the Bouncer from Fun Factory, a brand that Marks also recommends. "It has three weighted beads inside that feel really nice, and you can kind of tap the base, and those balls kind of jiggle inside you," says O'Hara. "You have a heavy curved phallic object inside that's very nice.
If you want to try a dildo made from something other than silicone, Marks recommends going with a glass model. "Glass is phenomenal for a number of reasons," she says. "It holds temperature nicely, and if you're a person who struggles having orgasms or finding your G-spot or pleasure spot internally, [using a toy] that's slightly cooler than your body temperature [can help you] actually feel where your pleasure zones are much better." Another advantage of glass is its smoothness. "There's no friction, so if you're somebody who deals with pain during sex, it can be like an ice pack or warming pack for your vagina," explains Marks, who notes that with glass, you also don't have to worry about ripping or tears. Glass dildos are also a bit heftier in weight, "which can be very arousing for people," she says. Her favorite glass dildo is made by Standard Glass. "Everything you buy from them is unique because they're all hand-blown products," Marks told us. And because you can choose each toy based on shape, size, pattern, and color, they make great Valentine's Day gifts. "It's nice to think that everyone has a unique sex toy. You can pick your partner's favorite color scheme, for instance. I think it's really personalized and great."
Best dildos for G-spot stimulation
Njoy's stainless-steel sex toys got several mentions from our experts, and the Pure Wand dildo is one they like a lot. "This is, hands down, one of my personal favorites," says sex educator Ericka Hart. "If you are interested in G-spot stimulation, this is great, as the G-spot loves weight and a curve. This wand gives perfect access." She adds that you can also use this toy for anal stimulation "because it has a flared base," and that "the wand can be heated up or cooled down if you are interested in temperature play." Deysach is another fan. "The Pure Wand outsells many of our vibrators and I think it's because it's made of a material that can create a very unique sensation," she says. Like glass, stainless steel has a heftiness to it and can also hold temperature well, Deysach explains. Nolan also loves Njoy's products, mentioning its Fun Wand (which features graduated balls for anal play) and the brand's series of butt plugs (more on those below) as favorites.