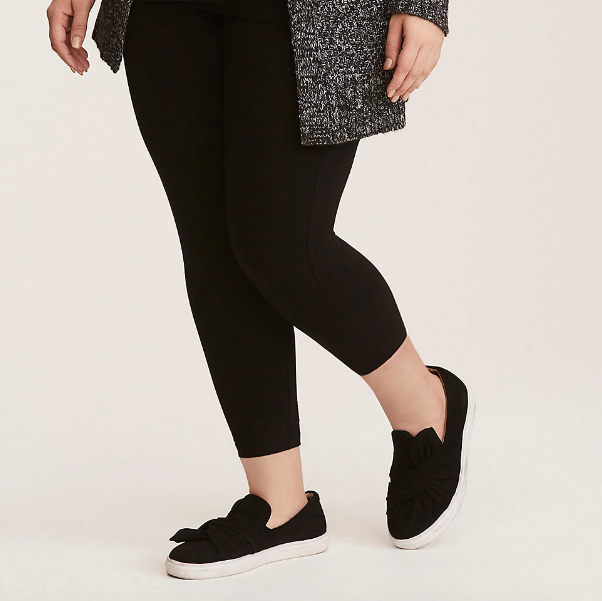 They're super soft and don't give me muffin top.
Photo: Courtesy of Torrid
Finding the perfect plus-size leggings was a long and winding journey. I am five-foot-one, usually wear a size 18, and have incredibly short legs. Like 23-inch-inseam short. For a while, I was wearing cheap Xhilaration cropped leggings from Target, but the waistband was thin and they tended to fall down. I didn't even know there was something better until I found Torrid cropped premium leggings at, of all places, the Mall of America.
On a person of normal height, cropped leggings can still be too long for me. I've bought "Capri-length" pants that for me were just regular pants. But when I first tried on the Torrid leggings, they were basically flush against my actual ankle while sitting at my natural waistline. The waistband was thick — about two inches — and supportive, meaning I never got that dreaded muffin top when standing or sitting. I wear a size two, and they run from 00 (a women's medium, so not plus!) to 6 (size 30), making them truly accessible for women of all sizes, unlike brands that consider a 16 the upper end of plus-size. They also come in non-cropped versions and different colors and styles, like embroidered florals, faux leather, and ones with lace inserts.
The best part is just how comfortable they are. They are really soft — softer than most blankets I own — and the seam along the sides is not too noticeable, so they look like opaque tights from afar. Even with a pair of ankle boots and socks, I'm as comfortable as I'd be in sweatpants. If I wear a flowy cotton dress up top, it's practically like wearing pajamas to work. I could even wear it in first class (I don't foresee that happening soon, but I could). They don't ever fall down or give me a wedgie, and if I wanted to wear them as straight-on pants, I could — they're made of a thick cotton spandex that I promise you can't see through. Here's how to care for them: Wash on cold and dry on low, and they'll never fade. Even though my thighs rub together every day of my life, it takes at least ten months of constant wear for a hole to appear in the groin area. That's longer than my last relationship.
More Strat-approved leggings and tights
For warmer days, Whitney prefers these Flexee short leggings for going under her skirts: "Even though they're labeled as shapewear, they don't have the same intense pressure as, say, Spanx. Wearing them is like a gentle hug, not the strangling, sausage-casing feeling that I associate with shapewear. The completely seamless shorts feel like a light compression sock on a plane, or what I imagine it's like when my puppy, Marshall, wears a ThunderShirt to calm his anxiety. They make sure everything stays in place in my torso area and that my thighs don't rub together. Good-bye forever, chub rub."
[Editor's note: While Maidenform's Flexee shorts are no longer available, their newer Girlshorts with Cool Comfort have a similar length and lightweight feel, and cost about the same at $18 for a two-pack.]
Whitney also likes the tights by Torrid: "I buy them in bulk. They're stretchy, rarely rip, and are super high-waisted without control top, so they never fall down."