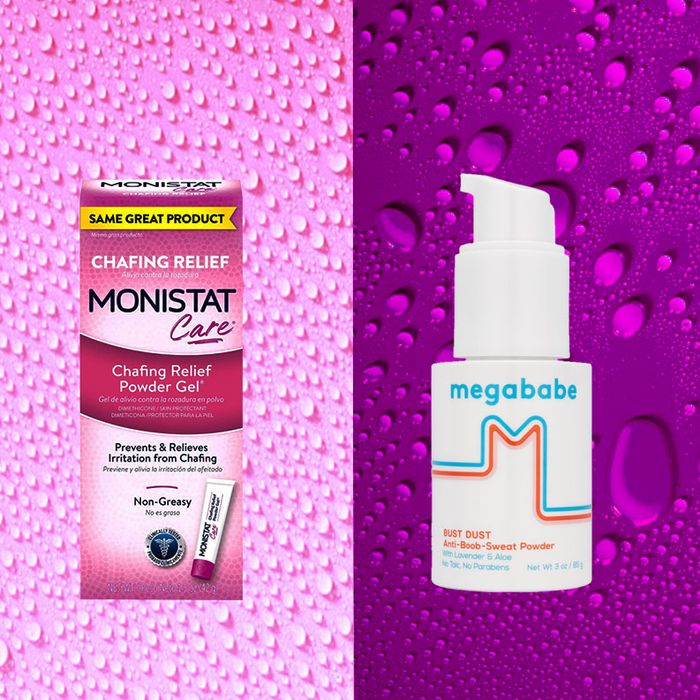 Tips for thighs of all kinds.
Photo-Illustration: retailers
Thigh chafe, often known as "chub rub," can cause scorching pain that shouldn't be underestimated. For some, it may be an uncomfortable friction, but for others it can sting or even turn into a wound. "Thigh chafing is one of those things that everyone's embarrassed to talk about, which I get — humans are generally embarrassing," says writer Amelia Diamond. "But I'd bet the majority of us have experienced fire thighs at least once."
Perhaps the one and only upside to such a common issue is there are now a variety of ways to deal with it — and plenty of people who actually aren't ashamed to talk about it. "It's just sweat and friction on your body," says Katie Sturino, the founder of Megababe, a product line dedicated to "addressing and destigmatizing women's comfort issues," including thigh chafe. To find the best ways to prevent and treat thigh chafe, we spoke to Diamond, Sturino, and 11 more experts, including dermatologists, stylists, fashion bloggers, and Strategist writers, all of whom told us about some tried-and-true tricks. Below, their favorite stuff —from anti-chafe body products to clothing and accessories — for preventing and soothing thigh chafe.
Best
body
products
for
preventing
and
soothing
thigh
chafe
Best overall anti-chafe body product


Among those who suffer from thigh chafe, one clear crowd favorite emerged: Megababe's Thigh Rescue, a moisturizing stick that looks like an especially pretty stick of deodorant and contains aloe, pomegranate oil, and grape-seed oil. "Before Thigh Rescue, I used Dove deodorant on my thighs because I saw Michael Cera do that in Juno," Diamond says. "And because his character was a runner, I figured that was a thing runners did, and if it was good enough for Michael Cera as a cinematic athlete, it had to be good enough for me." One of the writers of this story (Dominique Pariso) is also a big fan: "I broke down and bought it after I had a case of thigh chafe so gnarly it left scabs on my legs. Aside from its chafe-fighting properties, I appreciate the fresh scent." Other things our experts like about Thigh Rescue: It packs easily in a bag, according to Colu Henry, the author of the Back Pocket Pasta cookbook; the glide goes on smooth and lasts for hours, according to Curvily clothing-line founder Sarah Chiwaya; and the packaging is so good-looking, it deters women from feeling like they have to hide it, according to Lindsay Schallon, a senior beauty editor at Glamour. Emily Zirimis, an art director at Teen Vogue, says Megababe has stopped her from feeling embarrassed and ashamed about her thigh chafing, and made her feel more comfortable wearing skirts, dresses, and shorts. "Products like Megababe have really normalized thigh chafe — finally!"
Best less-expensive anti-chafe stick


According to Dr. Noelani Gonzalez, the director of cosmetic dermatology at Mount Sinai West, "chafing is a form of skin irritation and dermatitis caused by friction and skin rubbing on skin." Once chafing occurs, "your skin's barrier gets compromised and inflamed, which can lead to other things, such as infections, or even hyperpigmentation or darkening of that area," she explains. Gonzalez says petroleum jelly–based products are great for "creating a barrier on your skin and also aid in repairing your own skin barrier." But many of them tend to be greasy, she notes, which is obviously a major downside. That's why she loves this Vaseline balm stick, which she says is less sticky and easier to apply than a standard tub of Vaseline ointment (which will work in a pinch.) While it's less expensive than the Megababe anti-chafe stick, it's slightly smaller in size — but that may be all you need if you only experience mild chafe. Unlike the Megababe, it's also scentless, making it a good choice for anyone who is sensitive to smells.
Best anti-chafe lotion


It's a less specialized, not as portable way to tackle the problem, but Dr. Joshua Zeichner, a dermatologist at Mount Sinai, recommends something as simple as a lotion with skin-protecting ingredients like triple-purified petrolatum. He says this basic one from Vaseline will do the trick. "Enriched with cocoa butter, it can help hydrate and repair dry, cracked skin," Zeichner explains. "The protective seal it forms over the skin can help minimize your risk of chafing."
Best anti-chafe powder
Gonzalez told us that a simple baby powder "does a great job at absorbing moisture and can help with sweating to minimize and prevent chafing," but acknowledges that many powders can be messy. That's one reason why Strategist writer Nikita Richardson prefers to use this powder from Megababe to prevent chafe, because its packaging has a pump that allows for more precise application. "Though Megababe's Thigh Rescue is the prescribed treatment for thigh chafing, I much prefer using the Bust Dust (which is technically made for preventing underboob sweat) on my thighs," says Richardson, who adds that she personally prefers "the drying quality of the powder," which contains soothing aloe and chamomile, over the balm.
Best less-expensive anti-chafe powder
In case you do want to use baby powder, beauty writer Alexis Gaskin likes this talc-free baby powder from Burt's Bees, which she uses when the chafing is "really bad." She typically finds gels and ointments irritating, but has found relief pairing this powder with a sunscreen. "It's an instant relief," she says.
Best anti-chafe powder-gel
Stylist Ansley Morgan says that this gel from Monistat "saved her thighs." She's been using it since high school, after it was recommended to her by, of all people, her father. "I know there's cuter stuff, but I swear by it and it lasts for a while." It's stood up to long walks at Disney World (where she frequents with her family) and rushing a sorority in college. "I use it as a barrier between my thighs to prevent chafing," she explains. It's also good for when you're already chafed and need to relieve the irritation.
Best lotion for soothing chafe


For soothing raw skin that's already chafed, Zeichner recommends slathering something heavy on the wounded, raw area. "Thick ointment provides a barrier between the skin and the environment," he says. "Ointments seal in raw skin, hydrate, prevent infection, and enhance the skin's ability to heal itself." He recommends CeraVe's healing ointment for inner thighs that feel like they're on fire.
Best
clothing
and
accessories
for
preventing
thigh
chafe
Aside from body products, there are plenty of accessories you can wear under your clothes to create a physical barrier to protect against chafing. When wearing short dresses or skirts, Liz Black, a writer and the creator of the P.S. It's Fashion blog, swears by Bandelettes, a garter-belt-like device made expressly to prevent thigh chafing. "They're little bands that look like the top of a thigh-high stocking," Black says. "Measure your thighs where they touch to get the right size, slip on the silicone-backed bands, and you're all set." While Chiwaya likes using Megababe's Thigh Rescue on a daily basis, she says that, on more rigorous, active days, she also relies on Bandelettes. "I took a few pairs with me on a trip to Europe and had them under every dress: Despite walking even more than I do at home, I didn't chafe once," she says. The women who recommended Bandelettes also mentioned that they feel so light and airy that they'll often forget they're even wearing them. The bands are available in a lingerie-esque lace and lace-free microfiber.
If you're considering using a pair of shorts instead of a body product to help prevent chafe, Diamond offers a couple useful parameters: "They can't be too tight, because then you're just giving yourself a whole new set of problems; they can't be too hot, for obvious reasons; and they can't be too long, or else you'll see them under the hem of your skirt." She wears and recommends Thigh Society's anti-chafing slip shorts, and stylist Meaghan O'Connor is another fan of this brand. "They may look like a shapewear short, but they don't act as shapewear, and definitely don't fit snug like shapewear," says O'Connor, who notes that the shorts come in multiple nude colors. They are also available in two lengths (seven and nine inches) and in sizes S through 6XL.
[Editor's note: Since this story was updated in July 2021, Thigh Society has changed its available styles. The Cotton short we initially wrote about is no longer sold in multiple nude options — just light beige, black, and gray. If you want a pair that comes in more shades, try either the Cooling short or the Staple short.]