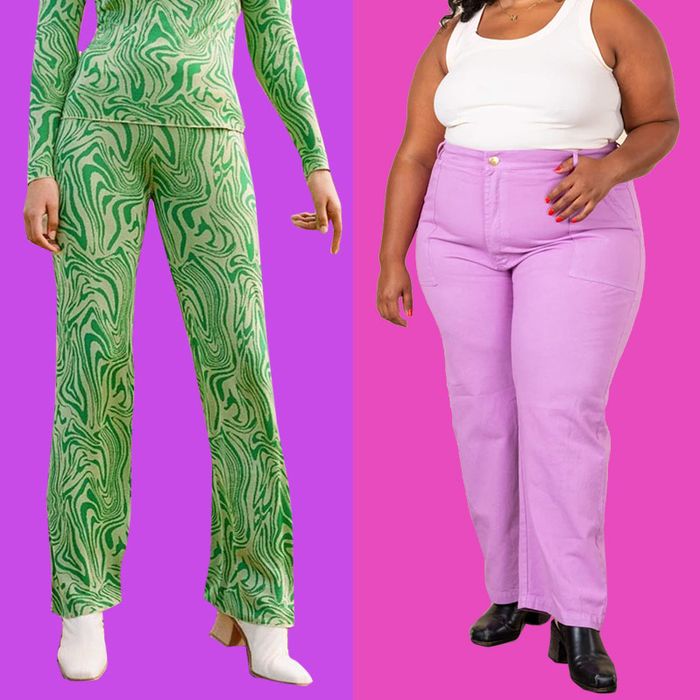 Photo-Illustration: retailers
During the winter of 2020, it seemed like women's-pant trends were slowly veering away from the high-waisted crop to the early-aughts low-rider. But then, of course, came spring 2020 to summer 2021 — 18 months of pretty much only sweatpants. While in lockdown, for the first time in our adult lives, we had the chance to dress solely for ourselves. For more than a year, standing in front of our closets no longer involved calculating who we would see that day, how far we might be walking, and whether or not we planned on eating pasta.
Now, with (some) schools and offices reopening, we're in the midst of something of a pants paralysis. What style to buy? And which pairs are actually worth it? To that end, we asked 60 well-dressed women which pants they're wearing right now and what they've seen (and especially liked) out in the world that they plan on wearing soon. Their answers confirmed our suspicions: The landscape has changed right along with our priorities. Of course, not everyone we talked to agreed on every point. Illustrator Annie Reeds never stopped wearing jeans in quarantine. "I like a proper waistband. That tactile structure has always been a big part of helping me feel internally upright, like I can participate in the day," she says. But there were a few themes that kept coming up in conversation.
From everything we heard, we pieced together a pants-picking guide focusing on what is actually popular right now — namely, jeans that feel good to sit in, loud-patterned pants, and sexy pants with cutouts — or, you know, a built-in faux thong.
Loud pants
These flared color-block pants from STAUD are on makeup artist Risa Miyamoto's want-list now that she is back to working on set. They're a dressier, and more playful, version of what she's been wearing throughout the pandemic. "I can wear these to work on a shoot where I have to bend my knees a lot and then out to dinner with friends," she says.
"I've spent so long dressing for a top-up view, I want to let my legs have a little fun," says Strategist UK senior editor Ailbhe Malone. To satisfy that urge, she's been eyeing this bold pair of pants from Polka Pants, a brand that designs specifically for female chefs.
Photo: retailer
House of Sunny is extremely popular on Tiktok, mostly for its knit dresses, but Reilly also mentioned seeing its bold-print pants on women all over social media. The marble print on these place them trendwise alongside the Paloma Wool pants below, and they also have ankle slits, a highly desirable detail we heard about several times over.
Writer Emma Orlow says her post-pandemic first-date style is to wear her loudest pants. Though she doesn't own them personally, she says she has seen these bright, squiggly pants from Paloma Wool all over Instagram. Laura Reilly, InStyle e-commerce editor and creator of the shopping newsletter Magasin, has been spotting them too and predicts this marbley pattern is poised to take the place of the omnipresent checkerboard print.