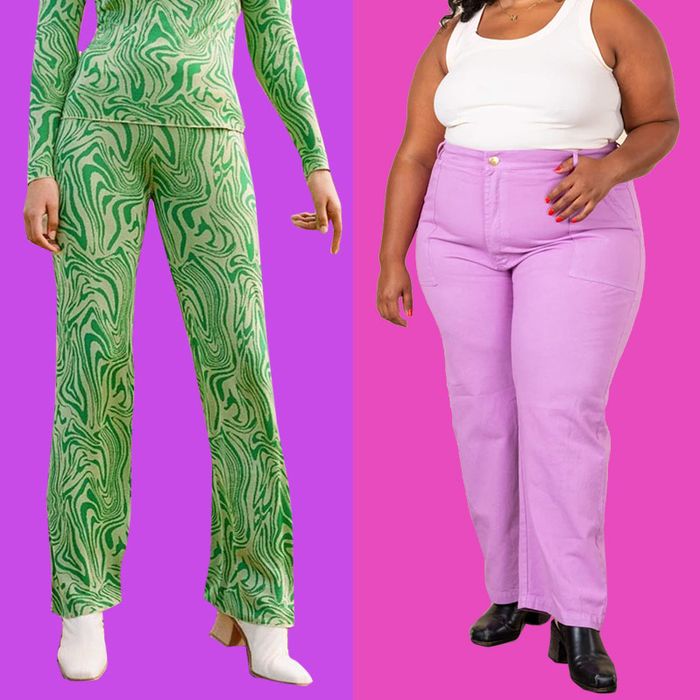 Photo-Illustration: retailers
During the winter of 2020, it seemed like women's-pant trends were slowly veering away from the high-waisted crop to the early-aughts low-rider. But then, of course, came spring 2020 to summer 2021 — 18 months of pretty much only sweatpants. While in lockdown, for the first time in our adult lives, we had the chance to dress solely for ourselves. For more than a year, standing in front of our closets no longer involved calculating who we would see that day, how far we might be walking, and whether or not we planned on eating pasta.
Now, with (some) schools and offices reopening, we're in the midst of something of a pants paralysis. What style to buy? And which pairs are actually worth it? To that end, we asked 60 well-dressed women which pants they're wearing right now and what they've seen (and especially liked) out in the world that they plan on wearing soon. Their answers confirmed our suspicions: The landscape has changed right along with our priorities. Of course, not everyone we talked to agreed on every point. Illustrator Annie Reeds never stopped wearing jeans in quarantine. "I like a proper waistband. That tactile structure has always been a big part of helping me feel internally upright, like I can participate in the day," she says. But there were a few themes that kept coming up in conversation.
From everything we heard, we pieced together a pants-picking guide focusing on what is actually popular right now — namely, jeans that feel good to sit in, loud-patterned pants, and sexy pants with cutouts — or, you know, a built-in faux thong.
Loud pants
These flared color-block pants from STAUD are on makeup artist Risa Miyamoto's want-list now that she is back to working on set. They're a dressier, and more playful, version of what she's been wearing throughout the pandemic. "I can wear these to work on a shoot where I have to bend my knees a lot and then out to dinner with friends," she says.
"I've spent so long dressing for a top-up view, I want to let my legs have a little fun," says Strategist UK senior editor Ailbhe Malone. To satisfy that urge, she's been eyeing this bold pair of pants from Polka Pants, a brand that designs specifically for female chefs.
Photo: retailer
House of Sunny is extremely popular on Tiktok, mostly for its knit dresses, but Reilly also mentioned seeing its bold-print pants on women all over social media. The marble print on these place them trendwise alongside the Paloma Wool pants below, and they also have ankle slits, a highly desirable detail we heard about several times over.
Writer Emma Orlow says her post-pandemic first-date style is to wear her loudest pants. Though she doesn't own them personally, she says she has seen these bright, squiggly pants from Paloma Wool all over Instagram. Laura Reilly, InStyle e-commerce editor and creator of the shopping newsletter Magasin, has been spotting them too and predicts this marbley pattern is poised to take the place of the omnipresent checkerboard print.
Photo: retailer
Sophia Cosmadopoulos, co-founder of Summertime Gallery, spent the pandemic committed to her routine of "dressing to impress," even if no one on Zoom saw her bottom half. "Days would go by without me leaving my apartment, but I would still put on a lip and a pair of real pants. It honestly helped me maintain a sense of normalcy and levity," she says. These high-waisted gingham pants from Billabong are her current favorites because they're affordable but look like they could be high fashion.
"Post lockdown, I didn't have a clue what to wear. Which is why I've been drawn to statement pants," says model Christel Langué. "People think I've worked so hard to put a look together, but it's just the pants." Her favorites are a pair of lime-green sequined pants from Cinq a Sept — but since they're no longer available, she recommends this similar style in burgundy.
Photo: retailer
Former Curbed editor Mercedes Kraus says more is more these days. "I'd like to start dressing like I never have before. What I'm seeing and what I'm drawn to here in L.A. is psychedelic and unexpected, something with a lot of pattern and color and volume. I am so ready to get weird," she says. Which is why she likes these trousers — which are black spot-dyed with orange, green, and white.
Artist and model Jo Rosenthal loves wearing clothes from Collina Strada because she never sees anyone else wearing the same thing. She has a version of these illustrated pants that has different houses on it. "It's like little-kid drawings of houses," she says.
Reilly recommends the brand Gimaguas for anyone looking to buy a pair of loud and flattering pants. This psychedelic pair will satisfy the urge to make a statement without spending too much money.
Sexy pants
"Barely pants are going to be big, especially through the end of summer, when people want to be as exposed as possible, on both a comfort and a hotness level," says Reilly. She's been coveting these silk Tigra x Tigra side-tie pants that, according to her, probably won't ever go on sale. "But if they do, I'll grab them in a heartbeat," she says.
As with all things Y2K, pants that make it look like you're wearing a highly visible thong have popped up as a major trend this year. These Subsurface pants get the job done — but if a full-on whale tail is too much for you, Reilly says there are a bunch of slightly more subtle iterations of the trend with a single side strap or crossover front straps from Aya Muse, Musier, and Miaou.
Audrey Woodward, graphic designer for shoe brand ILYSM, says these I Am Gia lace-up pants (and other designers' riffs on them) are super-comfy and sexy. "I think things that look eye-catching on TikTok will be popular, like cut-outs and unexpected details," she says.
"V-cut waist pants are a trend right now," says Jourdan Ash, founder of True To Us. "I like Miaou's version in leather — because even as my body has changed throughout quarantine, it looks amazing in leather. They're flattering whether you're plus-size or not."
"My go-to disco pants are essentially the black pants Sandy wears in the end scene of Grease. I like them because they are a subtle showstopper," says Lily Carothers, owner of a vintage clothing store in Louisville, Kentucky, of these alluring but not-too-revealing pants from American Apparel.
BIG pants