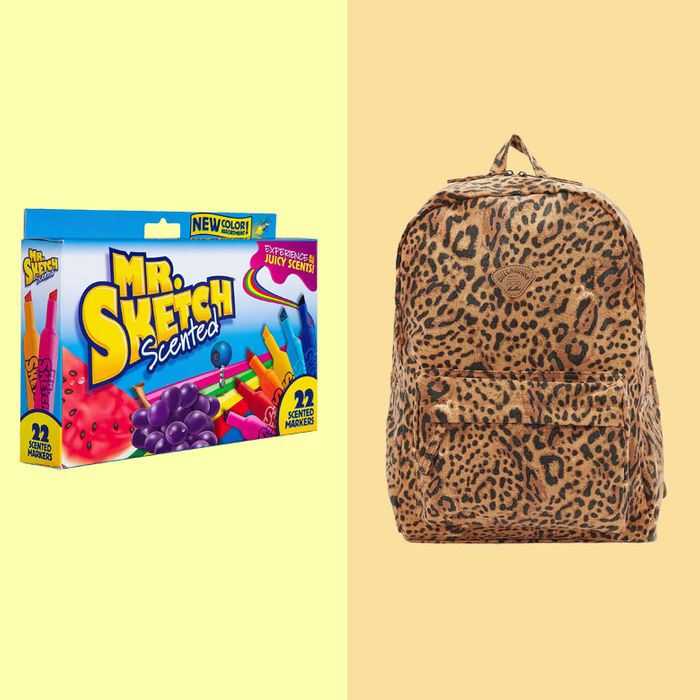 Photo-Illustration: The Strategist. Photos: Courtesy of the Retailer
After the last year and a half of hybrid and remote learning, it looks like the upcoming school year will be back to normal — mostly: Many kids will typically be in masks and properly distanced from one another, and they'll also need more of their own personal supplies than ever before because communal school supplies can spread germs. "This year's school supplies will definitely look different because of the pandemic. Now, basic things like pencils, markers, crayons, and glue may have to be kept separate and personal while kids are in school," says Andy Yung, father and pre-K teacher in Flushing, Queens. "I recommend investing in a sturdy supply bag and labeling everything."
We talked to ten parents and teachers, including Yung, and a few cool kids about the best and most sought-after stuff for students from pre-K through eighth grade. They told us about the most popular backpacks, fidget toys, headphones, markers, and cute hand-sanitizer holders for the upcoming year, which we've included below. This is already a record-breaking year for back-to-school shopping, with lots of families getting a jump on the items on their lists. Coupled with the supply-chain issues we saw affecting outdoor furniture and other household goods, that could mean shortages of certain high-demand back-to-school items, so if you see something your kids will like on this list, you might want to act quickly. And if you want to know about all the coolest stuff according to high-school kids, check out our 100-teen poll here.
Backpacks
Mom of three Ellen Pandey says that among her 9-year-old daughter's friends, animal prints are super-popular, especially on backpacks like this one, which comes recommended by her daughter Lily.
According to Pandey and Karen Aronian, education consultant and mom to an 11-year-old and a 14-year-old, middle-schoolers love rolling backpacks. "My kids switched over to rolling backpacks during COVID, when all of their school essentials had to go everywhere with them throughout the day, and lockers were verboten," says Aronian, noting that many of their classmates have also made the switch. Pandey warns that some teachers hate rolling backpacks (because students tend to drag them on stairs instead of picking them up, and they mess up the lines when the class walks together), but that kids LOVE them.
When it comes to really little kids, Strategist writer and mom Lauren Ro says that John Deere toddler backpacks have become a micro-trend, poised to edge out the ubiquitous Skip Hop animal backpack. In fact, the yellow version of this backpack that both her son and one of his classmates have is currently sold-out.
A cute hand-sanitizer holder
Photo: retailer
If you don't want your child to lose their hand sanitizer, consider getting them a cute and trendy holder that clips onto their backpack. Pandey says this one from Bath & Body Works is a good example of the trend.
A fidget toy
Mom of two and freelancer Tia Harris tells us that fidget poppers are really hot right now, which we also heard from lots of other parents. "It seems like almost every kid I see has one. We keep some in the car and in my bag for when we go out to eat," Harris says. They come in tons of shapes and sizes, but this keychain one is what she recommends for school.
Water bottles
Nearly everyone we spoke to stressed the importance of having your own water bottle at school to help prevent spreading germs. Pandey's son Brahm, who is going into fifth grade, says that despite their high price tag, Hydro Flasks are king among middle-school students. He also mentioned that it's still cool to put stickers on your water bottle. His favorites are anything having to do with basketball.