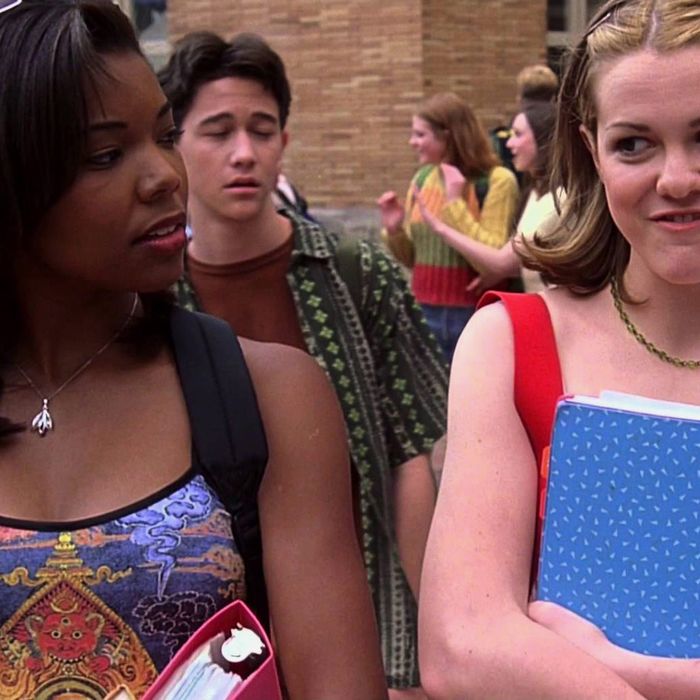 Photo: Courtesy Touchstone Pictures
Here at the Strategist, we like to think of ourselves as crazy (in the good way) about the stuff we buy, but as much as we'd like to, we can't try everything. Which is why we have People's Choice, in which we find the best-reviewed products and single out the most convincing ones. (You can learn more about our rating system and how we pick each item here.)
And while we've written about lots of back to school essentials — including the best pencils, the best pens, and the our favorite notebooks — here, we've rounded up the best backpacks for girls, as praised by the most enthusiastic reviewers on Amazon.
Best-rated backpack for girls
More than 1,700 reviewers give this backpack a five-star rating, many noting how well these backpacks hold up. "Both of my kids own these backpacks, stuff them completely full of books and schoolwork, and they've lasted for years," one reviewer writes. A student writes, "This backpack has lasted me from my senior year of high school through my sophomore year of college, and being an engineer, my backpack has had to be stuffed as much as possible with textbooks, my laptop, etc." Lots of reviewers, from parents of middle-schoolers to backpack-toting adults, also call out all of this bag's pockets as a selling point. "They have great little pockets for pencils, phones, keys, and items like that, as well as plenty of room for books and school folders," one writes. Another says, "My teen uses this daily and it seems really sturdy and roomy … She carries boatloads of stuff everyday so I was pleased to see some back support that is still simple structurally."
Best-rated (less expensive) backpack for girls
"My daughter wanted a Frozen backpack for pre-school," one reviewer writes. "I didn't want to get her a cheap backpack that would tear easily or that was made of tacky plastic. This has a cute look and it's durable." And many agree that this backpack is sturdy. One customer says that this backpack is "Going into the second school year and it's held up very well" and "It's been used all summer to ferry toys and what not without issue." One says it's the "perfect size for a pre-schooler through elementary school," adding that it "would be great for any child up to 5th grade." Another satisfied parent writes, "My 4-year-old loves it and so do I as it's very sturdy, spacious and easy to clean," while another writes it fits her daughter's "homework folder, change of clothes, pencil box and tablet with lots more room for other things."
And now for some micro-picks for every backpack for a girl you might be looking for.
Best backpack for girls of all ages
"This was for my 6th grader, but it is so beautiful any age would like it," one reviewer admits, and the reviews back up that claim, with dozens of comments saying this backpack is good for students from elementary school to college. "I ordered this backpack for my third grader and she absolutely loved it," one customer writes. "This backpack is really worth the price, very good quality and is a cute backpack." An older student says, "It is just as functional as it is cute and looks professional enough to bring into the office and cute enough for my college classes." The simple design is another selling point for many reviewers, like one who writes, "I like the simple pocket design, so that I'm not hunting in 14 different pockets for a pen." But that simple design doesn't mean it's small. "It fits all of my books, binders, toiletry bag, and even a sweater for those ice-cold classrooms," one reviewer explains.
Best backpack for young girls
One reviewer was happy to find that this backpack "looks WAY better in person than on website." Dozens of others describe it as "cute" and "adorable" and "darling." In addition to the design, reviewers find this is the ideal size for their girls in pre-K all the way up to third grade. "She loved all the pockets since she is in Kindergarten and requires a change of clothes, room for snacks and also room for her folders," one writes. "It fits her perfectly and the fabric seems to be very sturdy and will hold up to the daily wear and tear of being a 5 year old in school." Another calls this backpack "a great buy for my third grader," adding, "I purchased the purple and treated it with stain and water repellent spray and it still looks new after 4 months of regular use." Many also note that this bag is comfortable for their kids as well, with one saying, "The padded straps make any load more comfortable."
Best backpack for toddler girls
Nearly 90 percent of reviewers give this backpack a five-star review, and many give it top marks for being the perfect size to fit a toddler. "This is the CUTEST backpack and I love that it fits my toddler appropriately," one writes. Another parent says, "It is the perfect size for her (3 years old) and will continue to fit her needs for at least two more years." Many were also pleasantly surprised by how much it can hold. One reviewer attests, "There's a good amount of space in it, far more than I expected … We have been able to pack it full of snacks, Barbies, books, spiral notebooks, coloring books, art supplies, clothing, and so much more." And other reviewers describe this backpack as durable. "My oldest daughter took it to two years of preschool and it still looks new," one writes, while another says, "I throw it in the washing machine about once or twice a month and it comes out good as new."
Best classic backpack
Reviewers of this backpack stand by the JanSport name. "Perfect classic JanSport backpack," one reviewer writes, adding it's a "Timeless classic." Another says, "You can't go wrong with JanSport," adding, "This is big on the inside, is durable and it looks even prettier in person." While many agree that this backpack is plenty big for school supplies, it isn't too bulky, so it works for kids of all sizes. One reviewer who has a "very tiny girl for 16" notes that "finding backpacks that are comfortable for her can be hard unless I resort to our all-time favorite JanSport." Others say they've bought for kids as young as a second-grader. According to dozens of reviewers, no matter what age the person you buy a JanSport for, you'll have it for years. "Our son and daughter got JanSport back packs in junior high and carry them still," one reviewer writes. "Our son is 45 and our daughter is 42."
Best solid color backpack for girls


This is a "sturdy, well made and inexpensive backpack," writes one reviewer, and many praise this bag for being a great value and the "perfect" size. "I shopped and shopped and shopped (mostly online as that's how I prefer to shop) with my 6th grade girl for the perfect middle school backpack," another reviewer writes. "Big enough to hold her huge binder, lunch and various notebooks. We ended up with this backpack as my daughter loved the color and I loved the price so she wouldn't have to keep it through high school as her tastes change. When we received the backpack it seemed a little small, but has actually been the perfect size." A college student says that she "can fit a few textbooks, my MacBook and a couple one-subject notebooks tucked into a binder in the main compartment" and still have the "side pockets, internal pockets, and a front pocket for all my small items." And while the solid color might not seem too exciting, reviewers love getting to decorate this and make it their own. "My 8-year-old daughter just wanted a plain black backpack for school this year that she could design herself," one parent explains. "She could not be happier."
Best waterproof backpack for girls
Reviewers mention a few standout features on this backpack including its size, its waterproof construction, and warranty, like one who raves, "Darling color choices — my 7-year-old is really happy with her new backpack!" Another reviewer writes, "I needed to purchase a backpack for my 3rd grader that could fit everything they need to take to and from school and home, and this one works very well." The reviewer continues, "This one is spacious, the straps are comfortable, and after the broken zipper of the second backpack we tried, the smoothness of the zippers on this one is refreshing." Dozens of reviewers also note that this is waterproof, or, at the very least, water resistant. "We did the waterproof test," one parent explains. "When I put the water on it, the color turns darker while the inside is dry. So it is waterproof." One says, "It lasted me a year but eventually wore down (as has every backpack I've ever used, so I don't necessarily count that as a terrible thing)," but really appreciates the warranty. "They saw my damage and immediately replaced it for free."
Best playdate backpack for girls
Many reviewers mention that this backpack might be too small for school, but have found it useful for other things. "I like the designs on this backpack for my 14-year-old daughter," one writes. "It's light and is smaller, which is nice. It carries art supplies and books but would not be big enough for school items and binders, which is not the reason we purchased it." Another says, "It is a little smaller than I was hoping it would be for my granddaughter to use for school, but we are keeping it for other uses, such as overnight stays," while another writes, "he wanted a backpack to take to friends, grandparents, etc. it's nice because it's lightweight, and not too large." Reviewers with younger kids, however, think it's a good size for elementary-school kids to take to class. "Well made and lightweight, my pre-K kid likes it so much," one writes. Another adds, "She is in 2nd grade and this backpack is a good size for her smaller build."
Best patterned backpack for girls
Reviewers use words like "durable" and "sturdy" to describe this backpack. "Very sturdy (for our daughter who is rough with her backpacks)" one reviewer writes. Another says, "As a junior in high school, I can say that this backpack is durable and it's large enough to hold all of my supplies," while another writes, "After the backpack we bought my daughter (from our favorite big box store) ripped a couple of months into the year, we got her this one," adding, "It's holding up well to a kindergartner swinging it, kicking it as she walks, throwing it around … all of those things kindergartners do." Reviewers are also impressed that this backpack looks exactly like the photos online. "All the colors look as vibrant as the pictures and haven't faded at all since I've had it," one user writes, but most of all it gets the kids' seal of approval. "When I brought it home she wore it around the house for the rest of the day," one reviewer writes. "Happy girl!"
Best easy-to-clean backpack for girls
"My daughter used and abused it at school for a year," one reviewer writes of this backpack, but adds, "It is still in great condition and looks brand new." Another attests to this backpack being long-lasting: "Daughter had this bag for school for two school years," adding that it is still "Sturdy and strong. Still has life in it. Only thing missing is some of the pattern print on the front pocket." Another "impressed" reviewer says, "Honestly it's the best backpack anyone in our family has ever had." After "Going through the second full school year," a reviewer reports, "there are no holes or thinning fabric, no fraying on the straps or the pack itself outside or inside," adding, "It washes so well, and even now it still looks brand new after a cold water wash, never stains." Many agree that this backpack is easy to clean and keep clean. One writes, "Well, it got used, abused, rained on, puked on on my vacation and all summer long and no stitching got unstitched and no zipper got broken and no mold," while another writes, "Liquids wipe right off."
Best backpack for girls with multiple compartments
According to reviewers, users are excited about all the pockets this backpack comes with. "My daughter really loves her new backpack," one parent writes. "It is very solid, with multiple compartments — one for the books, one for her lunch bag, one for her snack." Many say that the water-bottle containers are a hit as well. One says a niece is "excited that she has room for 2 water bottles plus a separate inside pocket that she can put her kindle," and another notes, "She had an L.L. Bean bag before and it didn't have the side drink pocket so she's excited about this feature as well." While reviewers report getting this for their kids up to middle school, many report buying it in the hopes that their younger kids will grow into it. "She's a little on the petite side," one reviewer says, "and the bag comes below her bottom when she's wearing it but that makes me happy because I am thinking it will last through 4th grade maybe." Another writes, "I hope she'll be able to use it for at least a couple of years."
The Strategist is designed to surface the most useful, expert recommendations for things to buy across the vast e-commerce landscape. Some of our latest conquests include the best acne treatments, rolling luggage, pillows for side sleepers, natural anxiety remedies, and bath towels. We update links when possible, but note that deals can expire and all prices are subject to change.
Every editorial product is independently selected. If you buy something through our links, New York may earn an affiliate commission.