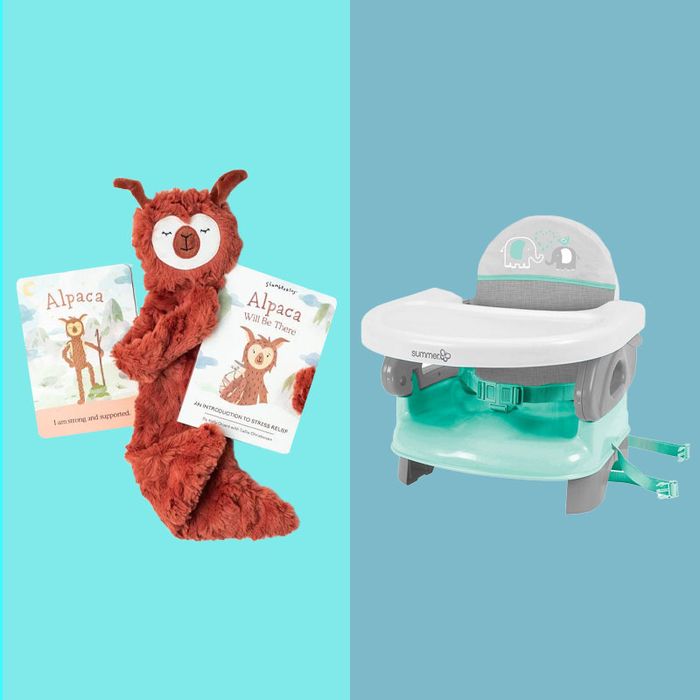 Photo-Illustration: The Strategist; Photos: Retailers
My husband and I recently completed a two-nation, eight-state, 3,000-mile road trip from Minneapolis to the East Coast and back via Canada. Because we're masochists, we brought our 11-month-old son along for the ride.
Not that it was an entirely masochistic endeavor. Despite Julian's first flight being a total disaster, we felt confident planning a cross-country journey because he'd joined us for shorter, several-day road trips since he was 6 weeks old. We kinda knew what worked: syncing long driving stretches to his morning and afternoon naps. And what didn't: riding in the back seat with him, which just gave our budding Oscar nominee a captive audience. We mapped the route accordingly, building in enough overnight stays that we wouldn't need to drive more than four to six hours per day and planning breaks every 90 minutes or so to eat, pee, and stretch our legs at curious roadside attractions like Bronner's Christmas Wonderland, the world's biggest and creepiest Christmas store.
Casual adherents to baby-led weaning, we fed Julian whenever he was hungry and kept the mood in our Mazda CX-5 upbeat with El Reino Infantil and Daddy Yankee's "Rompe" on repeat. (Don't knock it till you try it.) It's absolutely worth noting that I don't breastfeed or pump, which makes traveling with a small tyrant about 2,000 times easier. Furthermore, Julian doesn't get carsick — I know from friends of puke-prone kids just how paralyzing that is for would-be road trippers. (FWIW, two out of two parents recommended Dramamine for Kids, which is safe for ages 2 and up; a third with an up-chucker under 1 vouched for the long-sleeved smocks from Bumkins, noting gravely, "I can't stop her from projectile vomiting on the backseat, but at least I can keep her shirt clean.")
Although we still made rookie mistakes in those 2.5 weeks — did you know babies hate idling in traffic? Never again will we drive through Chicago instead of around it — we also carried a few products that saved us serious grief. In addition to a trustworthy car seat (the Graco Extend2Fit Convertible is aces when paired with a piddle-proof liner) and a good travel crib (we're Camp Guava Lotus, despite having to YouTube instructions every time we fold it up), what follows are some of our less expected essentials for hitting the road with a BOB (that's "baby on board" for those of you who still have lives).
Eating on the road
Before I discovered this stackable snack organizer, I was jamming random crumb-filled Ziplocs in Julian's diaper bag. The snacks would get crushed beyond recognition, and I was wasting a ton of plastic. The modular design of this twist-off container keeps me in check: I replenish the snacks regularly, they hold their shape, and food — especially fruit — stays fresher longer. Each compartment holds up to eight ounces, and the hooked lid can be hung off strollers and totes. Julian hasn't figured out how to open it himself yet, but he lights up whenever he glimpses his neon tower of treats — its mere existence makes it an antidote for backseat meltdowns.
Julian has been teething since he was 4 months old but didn't pop his first tooth until two weeks ago. At home, he enjoys gumming these vaguely fruity styrofoam teething biscuits from Happy Baby, but we learned the hard way that they make an icky-sticky mess when ground into the fabric of a car seat. So somewhere between Philadelphia and Cleveland, we gave these tomato-flavored puffy sticks a whirl and haven't looked back. They're baked, not fried, and made with certified-organic corn meal, rice, quinoa, tomato, carrot, and rosemary, meaning they check all the feel-good boxes while still tasting awesome. (Not gonna lie, I eat a third of every bag I open for Julian.) More importantly: no gunk! The sticks are easy for Julian to hold, so he feeds himself, and they magically melt the second they touch his tongue.
It doesn't matter how divey a roadside diner is, my husband and I would never leave a mess for a server to clean up. Julian, on the other hand, is at that unreasonable age when the only way he knows how to eat is Jackson Pollock style. We travel with a thousand million baby wipes for this reason, but this placemat came in handy when dining at restaurants on our road trip. Made of supple, food-safe silicone, it's available in an array of cute prints (ramen, sushi, anthropomorphic avocados) and takes up minimal room in his baby bag. We park Julian in a high chair, spread out the placemat like a picnic blanket, and wait for the chaos to rain down. When he's satisfied with his edible work of art, we roll it up like a taquito and take it to the bathroom for a quick rinse under the faucet. The mat doesn't catch everything, but it's that much less food we have to wipe up while apologizing profusely to the waitstaff.
Sometimes dining in a restaurant with a baby isn't worth the hassle/public humiliation. When we needed to eat in a hotel room or Airbnb, we used this two-in-one, infant-feeding seat we found at the resale chain Kid to Kid. For babies 6 months and up, it works like a compact high chair with an attached tray. For toddlers up to 33 pounds, you remove the tray and it acts as a booster seat at a table. On our road trip, we used the safety straps to secure the seat to an array of chairs, making feeding time so much easier. At first, I worried that the hard plastic design would suck up too much space in the car, but it's surprisingly compact when folded down, fitting on the floor behind the passenger seat. It's also easier to clean than the fabric versions.
Changing on the road
When Julian was around 8 months old, I fell for some Instagram momfluencer clucking about her beloved Caraa baby tote. The bag is useful from an organizational standpoint, but it's the size of a clown car and throws my back out of whack when fully loaded. And I certainly didn't want to lug it around when I was bolting into a rest stop for a quick diaper change. That's where this roll-up changing pad came in. It slips over my wrist like a clutch and fits everything we need and nothing we don't to get our son cleaned up: baby wipes, disposable bags (see below), Aquaphor, and fresh diapers (truth: overnight swaddlers are the MVPs of long car trips). It also has a built-in memory-foam pillow, providing a clean, padded surface for nasty restroom counters and floors (or, in a pinch, the trunk of our car).
At home, we rely on an Ubbi steel diaper pail to keep our baby's stank under control. On the road, there's no such option. Considering many hotels did away with daily housekeeping services during the pandemic, it was even more important that we find an interim solution to soiled nappies. Enter this pocket-size, disposable diaper-bag dispenser from Munchkin. It comes with 72 baking-soda-infused bags from Arm & Hammer, and let me tell you: These bags are big enough to hold the heaviest pee-soaked diaper and deodorized enough to block noxious smells the minute they're tied off. They even have a faint lavender scent, which is about as pleasant as a bag designed to hold baby poop gets. We now keep a roll tucked in our changing pad, another in the diaper bag, and a third in our glove compartment — just in case.
Bathing on the road
Bathing a baby in a hotel, motel, or Airbnb is always a dicey prospect. If the bathtub or shower isn't immaculate enough to sit in while shaving my legs, I don't want my kiddo splashing around in there — and no way am I schlepping a free-standing baby tub on a 3,000-mile road trip. By 11 months, however, Julian was too big-boned and squirmy for sink baths. Our road trip solution: micellar water, the same quick fix I use at home when I'm too lazy to wash my face. Mustela's hypoallergenic avocado- and aloe vera–infused cleansing water is specifically formulated for babies. I put a few squirts on a cotton pad or washcloth and go to town, wiping down Baby Boy's face, neck, body, and diaper area. It's a fine stand-in for a bath because it requires no water and smells soapy-fresh with a hint of spring flowers. I use it on Julian's hair, too, as it's very good at taming a cowlick without matting down his baby-fine locks.
Sleeping on the road
For me, the most anxiety-inducing part of this road trip wasn't the driving bit; it was the prospect of our melodramatic offspring having a nuclear meltdown in a hotel with whisper-thin walls. (At least when he screams bloody murder in a car, nobody suffers but us.) I know a lot of parents use SlumberPods to create blackout sleeping conditions for their babies, but those seem awfully bulky when packing space is at a premium. To emulate Julian's nighttime routine on the road, we aimed to check in for the night by 7 p.m. Airbnb rentals were ideal because we could set up his Pack 'n' Play in a separate room, but when we had to make do with a studio-style hotel room, we'd stick his travel crib in a dark closet or bathroom, switch on a white-noise app, and plug in his rotating night-light projector — the same kind we use in his nursery back home. The Moredig is small and portable and, depending on the filter you select, turns any ceiling into a galaxy of slow-churning moons and stars or a colorful aquarium teeming with fish. We still had to sneak around all mouselike behind closed doors, but the light show provided a familiar enough distraction that Julian usually drifted off to sleep after ten or 15 minutes.
Julian is a pretty good road tripper, all things considered. On the rare occasion that he acted a fool in a restaurant, hotel, or bumper-to-bumper traffic, and no amount of tomato sticks or Daddy Yankee jams could snap him out of a tantrum, we called into play our final line of defense: Infant+, a.k.a. hypnotherapy for babies. Despite the tsk-tsking of the anti-smartphone crowd, we've used this app since Julian was able to turn over. Its pleasant piano music and high-contrast black, white, and red animations of simple shapes like stars and circles grab a baby's attention like André Leon Talley at an Amish barn raising. It's repetitive but incredibly soothing — a Sandman for the 21st century.
Playing on the road
This stupid-simple rolling car meets all the demands of helicopter parents: no electronics, sustainably made with rubberwood and nontoxic paints, yada yada yada. But here's what I really love about this toy: It's quiet. No blinking, buzzing, drive-you-bananas, jibber-jabbering tomfoolery to disturb other hotel guests or make you contemplate a forever walk into the ocean. It rolls like Mario Andretti on hardwood floors, tile, and low-pile carpeting, and when Julian inevitably mic drops it, it doesn't clatter quite as loudly as its plastic and metal brethren. Its diminutive size also makes it easy for Julian's clumsy baby paws to grasp. Although his ability to play with this toy when strapped into a car seat is limited, he takes pleasure in simply holding it, bending its articulated body this way and that and spinning its wheels with his chubby little fingers. We've even brought the quiet car on plane rides, grateful for the brief diversion it provides during takeoff and landing.
Car trips are tough on a baby. They're long and boring, and I'm sure it's very lonely in the backseat when all your people are riding shotgun. One thing that alleviated some of Julian's restlessness was this alpaca that we mistakenly named Llama. The important thing here is not what type of camelid Llama is, but that he's a floppy, raglike creature that wears a placid expression on his face. Like every animal in the Slumberkins' lineup, he's designed to teach children how to cope with big feelings. Llama the Alpaca's particular superpower is absorbing stress and anxiety, which seems apropos for a baby on a 3,000-mile road trip. Julian loves to chatter at his friend, squeeze and strangle him, gnaw his ears, chuck him across the backseat, and then cry until I undo my seatbelt and fish him back. Their relationship is a one-sided emotional rollercoaster, but every dumping session ends the same way — with Julian passed out in the car seat, his Llama slumped in his lap and us enjoying the silence.
The Strategist is designed to surface the most useful, expert recommendations for things to buy across the vast e-commerce landscape. Some of our latest conquests include the best acne treatments, rolling luggage, pillows for side sleepers, natural anxiety remedies, and bath towels. We update links when possible, but note that deals can expire and all prices are subject to change.