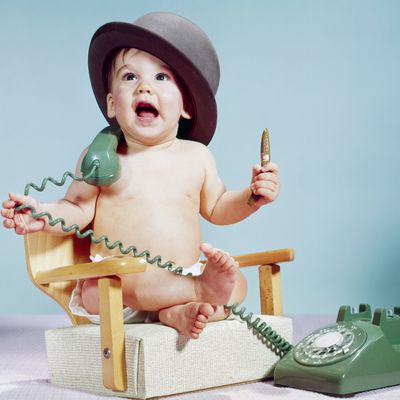 Photo: H. Armstrong Roberts/ClassicStoc/Getty Images
Here at the Strategist, we like to think of ourselves as crazy (in the good way) about the stuff we buy, but as much as we'd like to, we can't try everything. Which is why we have People's Choice, in which we find the best-reviewed products and single out the most convincing ones. (You can learn more about our rating system and how we pick each item here.)
And while we've written about lots of seats for your baby — including the best high chairs, the best infant car seats, and the best booster seats for your car — here, we've rounded up the best booster seats, as praised by the most enthusiastic reviewers on Amazon.
Best-rated (and least expensive) booster seat
"Got grandbabies? You NEED this," one reviewer writes. "It folds for easy storage and travels really well," another grandparent raves, adding, "My daughter has one and she keeps it in her car for restaurants." Another reviewer says, "It is small and compact, so I am able to take it with me if I am spending the day at my mom's house." In fact, one reviewer says it folds down so compactly, "we flew with it packed in our suitcase." No matter the destination, reviewers say this booster seat is long-lasting and versatile. "It gives just the right amount of lift and she loves sitting in her booster both for dinner or to do arts and crafts," one user says, continuing, "As she gets a little bigger the feet can be folded under to fit that stage where a kid just needs a little bit of lift." Several reviewers report getting years of use out of this booster seat. "I purchased one for a trip a few years ago and loved it so much that my son sits in it every day two years later," one writes, while another says, "We're going on year three with this seat, and it's a dream."
And now for some micro-picks for every booster seat you might be looking for.
Best booster seat with removable trays
Hundreds of satisfied reviewers sing the praises of the three removable trays that come with this booster seat. "The trays snap on and off very easily and having multiple ways to use the tray has been a benefit," one writes. Another explains, "The white tray insert fits snuggly and can be removed and placed right into the dishwasher so I use it with the insert most of the time. The blue tray is harder to fit in the dishwasher but is great for Cheerios or playing with toys especially when I am trying to cook and the baby really wants to be able to see me … The green tray cover is great for keeping trays sterile while transporting the chair to a restaurant when eating out and for keeping the mess contained on the way home so you don't end up with sweet potatoes all over your car." Another says, "The smaller tray is actually a plus for motor skills — our baby can, unlike with her big Graco high chair, reach every point on the tray with her hands, so she isn't constantly frustrated by pushing food just out of reach."
Best all-plastic booster seat
This booster seat's all-plastic design means that it's easy to clean. "The seat is also very easy to clean because it's not padded and the tray actually fits into my dishwasher," one writes, while another explains, "It is all plastic which is fabulous for wiping up spills and for potty training (no mess — just wipe)." Many also note that are no crevices for sneaky hidden crumbs to hide with this seat, because of the solid design. "We had a full high chair before and crumbs and food nastiness would go in every single crevice that even a Q-tip couldn't clean out the junk," one parent explains. "So we decided to buy this for my daughter (almost one year old at the time) and two years later we are still using it." They conclude that this booster seat is "so functional — we don't need unicorn fairies design or cotton ball padding — it's colorful and comfy enough and my daughter can climb into it easily. I definitely recommend this."
Best reclining booster seat
Dozens of reviewers like that this booster seat reclines. "It reclines back and has a five point strap system so you can use it when they are tiny and not sitting up/holding their head up," one reviewer writes. "And then you can continue using it as a booster scooted up to the table without the tray, so it really is perfect from birth until they can sit in a big chair on their own." Another reviewer who bought it when their kid was 4 months old, says, "You can lay it back enough for new sitters and it sits up straighter as they get more confident." This seat also gets top marks from reviewers for being easy to assemble. "It was so easy to install that I was able to unbox it, fasten six screws and strap it to the chair in less time than it took to bake a frozen pizza," one writes, while another says, "The cover comes right off to throw in the wash and it's super easy to assemble, six small screws and one thing to snap into place and you're done."
Best feeding booster seat
Dozens of reviewers say they trust this seat for their babies who haven't quite yet figured out how to sit up on their own, especially during mealtimes. "It fits safely and securely and we use it for sitting practice as well as feeding — just started feeding our son rice cereal," one parent explains, adding, "There are a lot of products out there and I think new parents can sometimes go overboard and buy too much — Anybody relate? But this one is really one that you will want to have for at home and out at restaurants." Another writes, "I also used it as an awesome bath seat before my daughter could sit in the bath on her own." And a third reviewer says, "I believe that by using this seat every day, our son (who always disliked tummy time) has been able to strengthen his core and back muscles, which has helped him to learn to sit up on his own and to crawl." Others note that they also feel this is safe because of the grip on the bottom of the seat. "It can be placed on a table, counter top, chair, or coffee table and has grippy plastic on the bottom so it WILL NOT slide," one writes, while another says, "I feel like I can set my baby in it and not worry about it tipping over."
Best multi-purpose booster seat
"This is definitely a multi-seat highchair and booster that comes with a detachable tray that clips to the back of the chair for easy storage purposes," one reviewer attests. They add, "The softly padded part of the seat can be removed once child gets big enough and inserted inside the chair to boost the height of the seat and be of convenience for your growing little ones." The consensus among reviewers is that this seat is excellent for feeding times, but it also comes in handy in dozens of other situations. "It buckles securely to a chair for feeding times and before they started eating, we used them as floor seats when they were still learning how to sit up," one reviewer writes. "Sometimes I place it in the ground close to me while gardening," another reviewer admits, adding, "I place her in the floor next to me while cleaning the kitchen." And one reviewer adds that her kid enjoys it, too: "After a day of research, I finally bought this for my 3-month-old son, who is wanting to sit rather than be laid down. As soon as I received it, I got my son to try it and he loves it."
Best restaurant booster seat
"Aside from the germ factor, restaurant high chairs are just awkward and my kids have never fit in them properly," one user writes, calling this booster seat, "AMAZING. Folds nice and flat and my 7-month-old can belly right up to the table or use the tray." Several reviewers rave about the adjustable height, a feature that one reviewer says "has made a world of difference in my little one eating at the table and feeding herself. I use this every day as our permanent booster chair, but have also taken it to restaurants and other homes and it's super easy to transport and set up." The adjustability factor is another selling point for reviewers feeding multiple children, like one who runs a daycare facility. "The fact that it's adjustable height makes it even more appealing for the variety of children that I feed," they explain. "My older ones just need a little boost and the majority of seats are too tall for them. I was able to take the high chairs out of the kitchen because even my smallest are able to use these chairs."
Best toddler booster seat
"My toddler was clearly done with this high chair business so I got him this seat," one satisfied customer writes, adding, "He adores it. Since it has zero resemblance to a high chair and sits on one of our chairs he considers it a big boy chair." Another describes this as "perfect for what it is designed to do — boost a kid up to the table." They continue, "It was the perfect choice for my 4-year-old, who was too small to sit up in a regular chair by himself but too big to keep strapping him into our old one for mealtime." Even without the straps, reviewers say this booster seat doesn't budge. "The padded seat makes both of my grandkids very comfortable and so they don't slip out nor are they pushed under the edge of the table as they were in the highchair or booster highchair seat," one writes. Another describes it as "Sturdy, doesn't slip or move when he fidgets."
Best toddler booster seat with straps
For parents of active toddlers, this toddler-size booster seat with straps is an ideal transitional piece. "My son really wanted to sit at the table like the adults but he wasn't quite tall enough — or coordinated enough — for it to work," one parent explains. "This booster has been a lifesaver. My son feels all grown up and I don't have to worry about him falling." Another says their son is "at that age where he loves to do stuff himself and if I make it seem like it's his idea to buckle in and let him assist me, he will do it and sit there without complaint (well for like 15 min. anyway, but I will take it)." The straps are removable, which this mom of two finds helpful for her older kid: "They are super simple and easy to secure, and I got one for my 15-month-old that I use the buckles for and one for my 3-year-old and it's so awesome to have a little compartment to hide the buckles she doesn't need but to also know where they are for the future."
Best travel booster seat
The consensus among reviewers is that this works for all types of travel. "I bought these 2.5 years ago, when my twins were about 10 months old," one user writes, continuing, "The chairs went everywhere with us, visiting family, out to eat, camping, to the park, mall, extra high chairs for family visiting — limitless options!" While many have this at the ready in case they end up somewhere without a high chair, dozens bring this with them even if there is one available. One says, "We even bring it places that do have highchairs because my daughter likes to feed herself, and the tray is great for that." Like this user alludes to, the tray is a hit among reviewers. "The little tray is also a great feature for on the go snacks and meals," one writes, while another says, "I take it to restaurants since my son likes to feed himself. I put the food on his tray and I clean it and know it is clean, unlike the restaurant tables."
Best travel booster seat with extra storage
For many users, the additional storage in this seat eliminates the need for them to carry around a separate diaper bag when they are on the go. One, who says the storage is one of "my favorites things," adds, "I didn't even bring a diaper bag on this trip and I fit my wallet, a change of clothes, six diapers, a pack of wipes and two snack cracker bags (that was for a whole day walking around Savannah)." Another says, "It's nice to have the storage of a couple #5 diapers, wipes, bib, change of clothes, and I've stuffed a silicone sippy top in there and a fruit pouch. Yes, all at once." Despite the additional storage, users still say this is easy to tote around. As one concludes, it is "Lightweight, easy to use, compact, take anywhere."
The Strategist is designed to surface the most useful, expert recommendations for things to buy across the vast e-commerce landscape. Some of our latest conquests include the best acne treatments, rolling luggage, pillows for side sleepers, natural anxiety remedies, and bath towels. We update links when possible, but note that deals can expire and all prices are subject to change.
Every editorial product is independently selected. If you buy something through our links, New York may earn an affiliate commission.