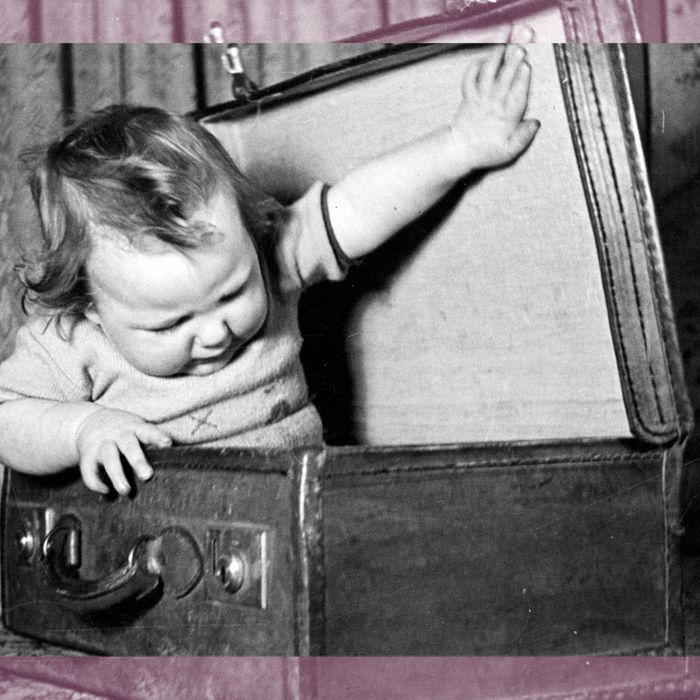 These tiny creatures require so much gear.
After spending a lifetime breezily tossing a swimsuit and sunscreen in a tote and calling it a weekend bag, packing for a trip with a baby has proven to be a rude awakening. Even the most Spartan packer will find that these tiny creatures demand insane amounts of gear, from bulky travel cribs and car seats to an endless supply of alternate outfits and extra burp cloths. A few harried getaways later, I've discovered a few lifesavers that ease the transition to a new environment and make baby travel halfway livable.
The benefits of a good old-fashioned white-noise machine are well-documented on the Strategist, but the best one is a little heavy (and fragile) to lug around. Sturdy and compact, Skip Hop's night-light-slash-sound-machine plays enough essential roles to warrant the carry-on space it commands. The lullaby and white-noise functions not only muffle raucous dinner parties in the next room, but also give babies who normally rely on auditory lulling some much-needed continuity. The adjustable night-light element is a bonus for stumbling into an unfamiliar room late at night and finding your contact case.
Okay, so you're not supposed to put sunscreen on babies younger than six months. But even my pediatrician admitted that treating your baby like a vampire is not realistic in the summer. This teensy mineral sunscreen is perfect for swiping tops of feet and other body parts that might stick out from under the umbrella at the beach.
After mastering the traditional art of the swaddle in the hospital, we immediately abandoned the old-school blankets in favor of newfangled Velcro-based alternatives. The Ergobaby "transition" swaddle is basically a sleep sack with a separate baby straitjacket that just burritos the baby's arms. The two elements are designed to be layered, but I found that for a slightly older baby, the "arms" work just as well alone. Since it's basically just a strip of fabric, it's not as hot as a full swaddle and you can throw it into a beach bag. The wrapping also serves as a sleep cue when you have to put babies down for a non-crib nap (under an umbrella, in a play yard, or wherever they start melting down).
My first weekend away, I packed approximately 500 outfits to account for the inevitable parade of spit-up and drool episodes. The next time, I got wise and brought a human number of onesies and a whole stack of these baby hipster bandannas. They not only give babies a very jaunty summer lewk, but also multiply how long you can eke out each outfit.
Chic is not the word you would choose to describe most baby equipment. But the BabyBjörn Bouncer Balance really is a spare, modern piece of design. It's a perfect place to pop babies when you're in a crowd — the upright seat gives family and friends a good vantage point for admiring, and the more reclined level lets you joggle the seat with your foot while you're eating dinner. Even my very alert baby has been known to drift off with the bouncing motion. It's a little hefty for public transportation, but the sleek profile makes it easy to toss in a packed car — especially if you spring for the handy carrying case.