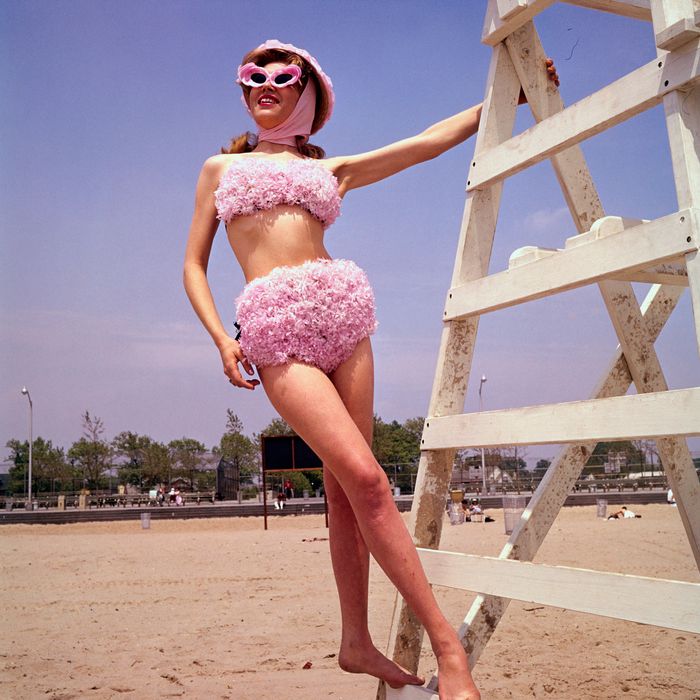 Photo: Bettmann/Bettmann Archive/Getty
Here at the Strategist, we like to think of ourselves as crazy (in the good way) about the stuff we buy, but as much as we'd like to, we can't try everything. Which is why we have People's Choice, in which we find the best-reviewed products and single out the most convincing ones. (You can learn more about our rating system and how we pick each item here.)
While we've written about the best women's razors, the best electric beard trimmers, an at-home laser hair-removal system, and even found a men's beard shaver that does double duty as a bikini shaver (along with plenty of other things we don't talk about), here we're unpacking even more of the best bikini trimmers and shavers that you can find on on Amazon, according to its hyperenthusiastic reviewers.
Best-rated bikini trimmer
With over 4,000 mostly glowing reviews, this Schick two-in-one bikini trimmer and razor is the most reliable option on Amazon for cleaning up the bikini area (in a landscape of trimmers with mostly terrible reviews). Reviewers praise it for its safety features that "do a very detailed job without injuries" and the close shave that the razor and trimmer combo offers. Some call the razor end "one of the better ones" that doesn't need replacing often and doesn't cause nicks to sensitive areas. Others say "there is no comparison to the trimmer if what you are working with equates to a beard between two to four days." Whatever your preference, shoppers tend to agree that "the versatility of this thing is indispensable."
Some note that you're more likely to get a buzz-cut trim with this than a smooth, hairless finish, but they do say the trimming time with the Schick is at least shorter. "I'm not worried about cutting myself and I can trim really quickly. What would usually take me 15 minutes took me less than five," says one reviewer.
Best-rated, less-expensive bikini trimmer
For a few dollars less, there's this Gillette disposable bikini trimmer that shoppers call "amazing," "great," and "the perfect trimmer." Generally, they describe it as the ideal tool for cleaning up unwanted hair without razor bumps or burns – and many consider it the best razor they've ever tried. One reviewer who noticed that this model has been discontinued loved it so much that she's been campaigning to get Gillette to bring it back. "I've tried several different bikini trimmers, disposable and electric alike, and I have yet to find anything that I love as much as this," she says. "In my opinion it's an absolutely perfect product. It trims to a short manageable length and I've never had any issues with cuts."
And now some micro-picks for every type of bikini trimmer you might be looking for.
Best disposable razor for the bikini line
More than one reviewer has called these Noxema bikini shavers, which come in three-packs, "life changing," and credit the small size of these for getting into "those tricky, hard to reach areas" with ease. "I had no problem gripping it. This little bugger took almost everything off!" exclaimed one shopper. The most die-hard fans talk about stockpiling these, and even call them confidence boosters. "Love it for bikini area and beyond! These make me feel sexy, sexy, sexy!" said one enthusiastic reviewer.
Best electric razor
The main draw of using this Cenove electric razor, according to the reviews, is just how gentle and easy to use it is, especially when compared to disposable razors. "This nice-looking hair shaver is so easy to use that you don't need to plan for a shaving session anymore," says one. "The heads flex in multiple directions making it a breeze to cut hair anywhere on your body. Most of all, Cenove has made it extremely easy to clean." People with sensitive skin were quick to recommend it to others, too, as a "painless and efficient razor — the most comfortable hair removal device I have used!"
Best electric trimmer
This shaver is technically marketed to men, but many women in the reviews section say that they've been using this Phillips Norelco shaver on their bikini area, too. One shopper says, "I know it's marketed towards men, but it has worked nicely for me as a woman in sensitive areas. I love the size! It gets into tighter places and is very easy to use." Others noted that as a male trimmer it holds up well against wimpier female-marketed ones, and that the attachments offer great variety. Just don't expect it to do much more than trim. "Have used it once so far for bikini area and my goodness!" says one shopper. "I'm not 100 percent smooth down there but it provides a nice close trim."
Best epilator
If you prefer hair-tweezing epilators, the Braun models are generally the best reviewed on Amazon, and this one has the best reputation of them all with over 2,000 reviews. The difference, according to reviewers who have owned multiple Braun epilators over the years, is that "the tweezers have been redesigned and are the least painful of all" and are "the perfect balance of speed and minimizing the pain." Many compare the pain of using this epilator, still, to getting a tattoo, though reviewers like to chime in to say that this epilator is actually far gentler than others they've tried if you know how to do it right, due to the "gentle" setting on it, and removes hair better than even waxing can. One first-time epilator user said, "The first time I used it, I could see what all the fuss was about! I had practically NO pain at all. It was thorough and I only needed to do one or two passes to get all of the hair — little hair and long hair."