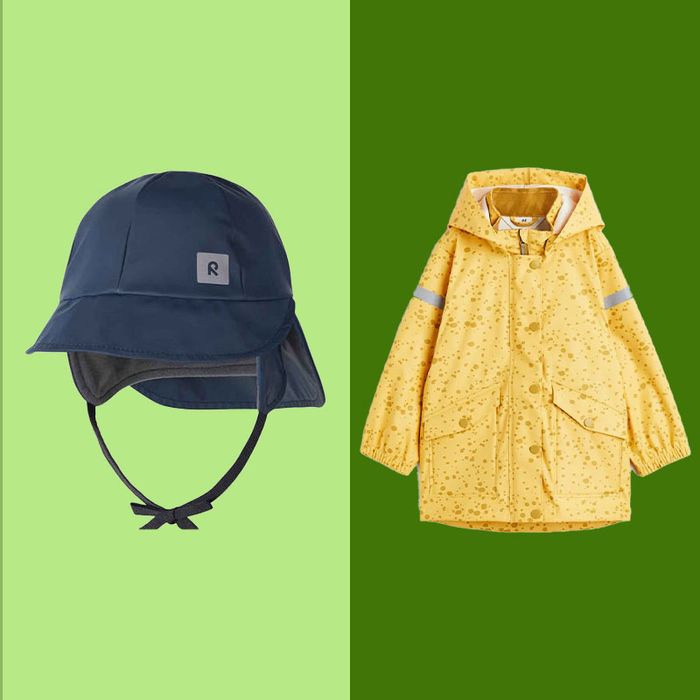 Photo-Illustration: The Strategist; Photos: Retailers
While a rainy day can make grown-ups grumpy, it's also an invitation for kids to play, explore, and get gloriously muddy. "Puddle jumping for ages 2 to 5 is an extreme sport," says Gilliam Buckley, a Waldorf preschool teacher and mom of three based in Irvine, California (where they've had an unusually wet year). "Give them the right tools to enjoy those puddles without getting soaked, and you've got yourself a lovely afternoon in the rain." As with all outdoor adventuring, the right attire goes a long way toward keeping kids warm and dry, especially for little ones who have difficulty regulating their own body temperatures.
There's also a big difference between a cold, windy 40-degree rain and a warm summer shower, so finding gear that's versatile and doesn't restrict kids' movement is key. To select the best wet-weather gear for kids, we talked to nature educators, designers, a farmer, all-weather urban commuters, parents who spend many days in wet weather, and those who've sent their kids to outdoor-based schools.
On the whole, they agreed on two things: Scandinavians make great rain gear, with brands Polarn O. Pyret, Kuling, and Reima getting mentioned again and again. And when you have high-quality rain apparel, umbrellas are unnecessary. "Why give a small child anything resembling a weapon with a dozen sharp points that could poke an eye out?" asks Kendel Shore, a marketing executive and mom of two in Brooklyn.
The added value of investing in quality rain gear, depending on where you live, is that it can be used year-round. Rain gear "works in a pinch on cold-weather days when you need an extra layer or something to break up the wind," says Evan Hutchinson, a toddler mom based in Brooklyn who works in business development. "To me it makes more sense to spend money on rain gear, whereas with snow gear you're lucky if you get a few days of use out of it each year."
Below, our experts-driven picks for the best rain apparel for kids, including jacket-and-pants sets (which can also be purchased as separates), one-piece coveralls, and accessories.
Polarn O. Pyret's waterproof rain set — suspender-style pants with adjustable straps and a hooded rain jacket — is the most recommended by all our experts because of the brand's durability, neutral color options, and flexible sizing.
"Their clothes are often pricier, but hard-wearing," says Melina Gac Levin, founder of Nido Forest School, the first Spanish-immersion forest school in New York, and a mom of two in Brooklyn. "They last us for more than one year and can still be passed down to a younger sibling."
The Polarn O. Pyret bib and jacket is also one of the options recommended by the forest school offered to kindergarteners at Community Roots in Fort Greene, Brooklyn. Kids in the program spend half their week outdoors, regardless of the weather, so they need to be dressed for the elements year-round. Shore, whose daughter is in the program, explained the unlined Polarn set is great for layering. "You can add a fleece or base layer underneath on colder days," she says. "Having the ability to shed or add a layer or two keeps everyone comfortable."
By design, the sizing is flexible, which also extends the wear. "They start off baggy for a toddler but have adjustable straps, and the kids can grow into them without switching sizes," says Rachel Tervenski, co-founder of Crayonette, whose two daughters attend Livingston Street School in the Hudson Valley, where students spend the full day outdoors.
Another splurge-worthy rain set is the rain pants and coat from Fairechild, a Canadian brand whose minimalist garments are made of 100 percent recycled plastic and are sturdy enough to pass down from child to child. "The fabric has a light, comfortable, matte feel despite being really tough and holding up to rough-and-tumble play," says preschool teacher Buckley. Though the set is made from recycled plastic, Buckley notes that it "feels breathable, not like stiff hot plastic armor."
As an educator who spends many of her days outdoors with young kids, Buckley noted that Fairechild's quality was outstanding compared to other brands she's seen in use. "It reminds me of legit fishing gear for a weathered old fisherman, designed to be used in extreme conditions with maximum comfort and maneuverability," she says. "This is how we want kids to feel in the rain, unencumbered by their gear!"
Hutchinson and Shore both recommended rain gear from Swedish brand Kuling for the neutral colors, patterns, and price that's cheaper than many of the other rain-gear options. "Kuling's color selection is more muted with a lot of earth tones like greens, blues, yellows, and oranges, and they carry some really fun prints, like jackets with clouds, apples, and acorns," says Hutchinson, who likes the Leaf Green Going Shell Pants that "are thick and sturdy without a rubbery/plastic-y sweat-inducing feel, and are easy to get in and out of because of the side zipper."
Note that the pants — as with most rain pants — have an elastic stirrup strap, which is essential to pull over a child's rain boots for maximum protection (instead of tucking it inside the boots).
Grundéns bib pants and hooded parka are also fisherman-level quality, according to Lena Jones, a farmer who runs Still Light Farm on Lopez Island in the San Juan Islands. "It's the same gear that folks fish in out here," she says of the Grundéns outfits she buys for all three of her kids. "The weather is often drizzly but not too cold, so the bibs are great to throw on over a sweater and keep their lower halves dry while they stomp around in puddles, slide down slides, or sit in the grass." Jones notes that the outfits are so indestructible they've been passed down to all her kids — and that she also wears a Grundéns rain bib while she tends to her crops.
For those who prefer a set with a bit more flair (and recycled-fleece lining), Danish brand Konges makes sets and separates in both solids and delicate floral patterns. "The flower print brings my daughter and me joy, and the cut is super cute with a bit of ruffle," says Tervenski. Their children also have the Polarn O. Pyret unlined option, but prefer the "more cozy" Konges set for chillier days.
H&M's jersey-lined jacket and pants are recommended by Rachel Poccia, an NYC high-school teacher who brings her almost-3-year-old from Bushwick to her outdoor-focused preschool in the Lower East Side in all-weather conditions. The clips on the bibs allow her daughter to dress herself, and "she loves the pockets on the jacket," Poccia says. The jacket also has reflective stripes on the legs and upper arms, which are "great for a kid riding on the back of a bike during the evening commute."
[Editor's note: The rain pants are currently out of stock, but you can sign up for restock notifications on the product page.]
Dar Fieberg, a parent based in Minneapolis with 7-year-old twins who attend an outdoor-based forest school, praised the Waterman Set from Didriksons, a brand with a strong reputation for its all-weather gear. "My kids are outside a couple hours every day, so durability is key for us," says Feinberg. "There are relatively few seams to let moisture in, and the fabric is comfortable and flexible." She also noted the ease of adjusting the suspenders on the rain pants and the pulls on the jacket.
Poccia also recommends the Tuffo Muddy Buddy, a roomy one-piece rain suit she notes is "great for warm weather over clothes and amazing for winter over puffy coats and snow gear." The Tuffo protects clothes from the elements and "has saved our winter gear from the paint and mud that my daughter gets into at school," says Poccia. The ease of rolling up and cleaning the Muddy Buddy at the end of the day is another standout aspect of it, and a big part of why Gac Levin recommended it as well. "Once we're ready to head back home, I take it off and roll it inside out," she says. "It comes with a pouch to store it in and the whole thing rinses off in the sink."
The Tuffo suit comes in an array of bright colors, including yellow, turquoise, and red, and Buckley also calls it "awesome for the preschool set" because it's easier to deal with a single-piece suit than separates.
To keep heads and hands dry, Sarah Getchell, a teacher, poet, and mom in Portland, Maine, whose child attends a nature school, likes Finnish-brand Reima's rain mittens and rain hat. "The Reima gear is unmatched," she says. "It really held up all day outside in Maine," she adds, noting that other brands were "stiffer and harder to move in."
Jones's kids also wear the Reima mittens, which have long cuffs and snap around the wrists, on their farm in the San Juan Islands. "They're lightly lined on the inside, so they're not too hot in the fall and spring," she says. "In the winter, we layer them over fleece mittens." For lower temperatures, another option is Polarn O. Pyret's fleece-lined rain mittens, "which are useful in cold rain," says Gac Levin.
The Strategist is designed to surface the most useful, expert recommendations for things to buy across the vast e-commerce landscape. Some of our latest conquests include the best acne treatments, rolling luggage, pillows for side sleepers, natural anxiety remedies, and bath towels. We update links when possible, but note that deals can expire and all prices are subject to change.