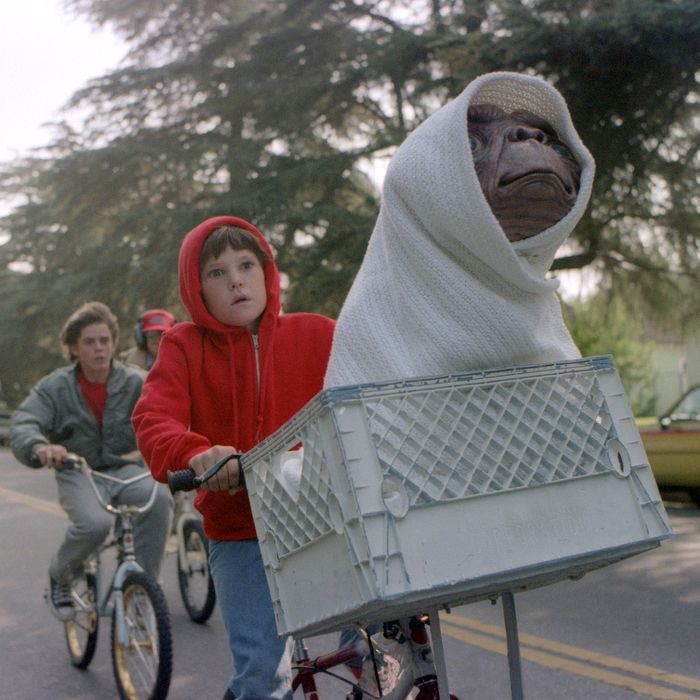 Photo: Universal Pictures
Like a teenager's first car, a kid's first bike unlocks a certain amount of freedom. It can be one of the most memorable, joyful experiences in a kid's life, so picking the right one is no small matter. (Don't forget to buy a helmet, too.) There are balance bikes, pedal bikes, and convertible bikes. There are bikes with gears and without. Bikes with chains and without. There are 12-inch bikes and 24-inch bikes. To help you through the decision, we consulted three bike sellers and the owner of an acclaimed kids' bike testing and review site. One thing they all warned us about: Good bikes will cost more than what you find at most big-box stores. But they'll also last much longer. Here are our experts' recommendations for the best bikes for kids of all ages and ability.
Best balance bikes for kids
A lot of kids skip tricycles completely and start on what's called a balance bike, which looks like a regular bike but has no pedals. For very young kids, "the concept of pedaling may not happen," says Ian Tsuji at Danny's Cycles. A balance bike allows them to push with their feet, Fred Flintstone–style, and then pick their feet up and glide. And although balance bikes tend to be more expensive than tricycles, they do eliminate the need for training wheels when your kid graduates to a pedal bike, explains Natalie Martins, owner of the kids' bike review site, Two Wheeling Tots. "What happens is, when they're tall enough, or when they want a pedal bike, you can actually skip training wheels completely. They literally get on the bike a pedal away."
This lightweight and relatively inexpensive (for a kids' balance bike) option from KaZAM comes in lots of colors, has an adjustable seat and handlebars, and puncture-proof tires that never need air. It also has a has a patented, step-in footrest that Martins says is best suited for bigger kids since it might be too wide for smaller ones.
Martins's favorite balance bike is the Woom 1 plus, which she says is "lightweight and perfectly proportioned for little bodies." She admits that Wooms can be a little pricey, but says they're worth it because they're so light and well made. (Just because your kid's not riding in the Tour de France doesn't mean she wants a heavy bike. Martins says you should aim to get a bike that's no more than 30 percent of your child's weight.)
Strider is the most recognized brand, Martins says. She describes it as a "well-known, quality bike" with adjustability options and an extra-long seat post that allow it to fit kids age 18 months to 4 years.
Dean Mullins, owner of Clever Cycles in Portland, Oregon, likes the Yuba Flip Flop's flippable frame, which allows you to "adjust the size more than any other available balance bike." Kids from 15 months to 6 years can ride it, which he says gives it "the longest range of use of any balance bike."
Another superlight balance bike that Martins likes for its "cute designs, upgraded air tires, and real handbrake." NB: When you see a number in the name of many bikes (12, 14, 16, etc.), it refers to the wheel size in inches. The best way to know the right size for your child is by measuring their inseam. Using that, our experts say, will result in a better fit than height, since body shapes vary.
Best convertible balance bikes for kids
A convertible balance bike is one that you can be converted into a pedal bike once your child has learned how to balance, Mullins says. She calls the 14X "a great balance bike for ages 4 to 6," and says the pedals can be added "quickly and easily when your child is ready for the big transition."
Best first pedal bikes for kids
If you want a more traditional bike, Mullins says kids will most likely be ready for their first pedal bike at about age 3. Martins calls the Raleigh Jazzi "the best girls' bike you're going to find for under $200."
Best suited for 2- to 4-year-old boys, the Raleigh MXR has a "quality build with great geometry and offers fun and functionality without breaking the bank," Martins says.
"In addition to being the lightest budget bike we know of," says Martins, "the REV is backed by REI's amazing return policy, making it a no-brainer."
Mullins loves bikes by Cleary because they are lightweight and designed with kids' comfort in mind. Plus, they're sturdy with easy-to-reach brake levers. The Gecko has a 12-inch wheel and usually fits children age 2 to 4, he says.
Best bike for young kids
Once kids are able to pedal, they'll graduate to larger bikes. "The basic form of kids' bikes stays the same," says Tsuji, and parents' priorities should still be quality bikes with parts that can be easily repaired or replaced. "Elementary-school-age kids will in most cases have a simple one-speed bicycle with a coaster brake — a foot brake when you pedal backwards for safety — and possibly a hand brake as well," says Bellitte. Mullins recommends this bike for 4 to 6 year olds. Its patented cranks allow for easier pedaling, and it comes equipped with reflectors, mudguard, bell, and a five-year warranty on the frame and forks.
Best bike for older kids
This 24-inch bike is great for kids 8 years old and up, Mullins says. It has a lightweight, sturdy frame, and the brake levers are sized just right for kids' smaller hands. It comes in lots of colors and has an 8-speed Shimano thumb shifter. And the same five-year warranty as the Frog 48.
Best chainless kids' bike
The Start Series is Priority's kids line of chain-free bikes. "Gone are the days of dealing with a messy, greasy chain," says Martins. "By replacing the chain with a grease-free belt drive, the Start's are easy to ride and even easier to maintain." They come in three sizes — 16 inch, 20 inch, and 24 inch — so there's a fit for most riders over 6 years old.
Editors' note: Due to increased demand, Priority bikes are currently on backorder and ship with two-month delays.
Safest kids' bike
Available in a variety of sizes and colors, Guardian bikes feature a unique and patented braking system that Martins says "makes breaking easier and safer for kids" by automatically distributing braking between the front and back wheels. That decreases stopping time and helps prevents flip-over accidents.
Editors' note: Due to increased demand, Guardian bikes are also currently backordered and shipping with two-month delays.
Best kids' mountain bike