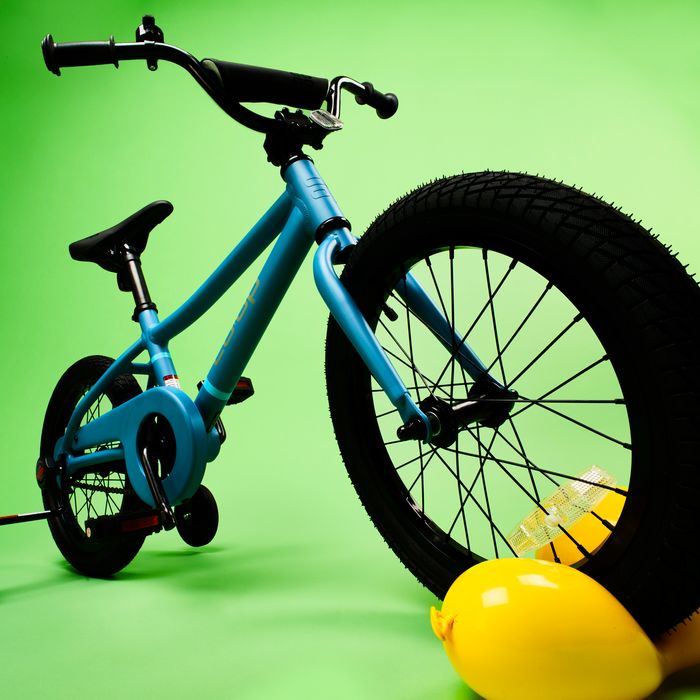 A little extra knowledge when selecting a child's bike can make all the difference to their riding experience, ideally setting them up for a lifetime of happy cycling. To find the best kids' bikes, I consulted bike sellers, cycling coaches, and the experts behind bike-testing and review sites. There's one big tip they all agree on: Don't waste your money on something cheap from a big-box store. "Cheap bikes are generally heavy, have poorly designed geometry, and have components that aren't serviceable or will fall apart quickly," says Kristen Bonkoski, the founder of the popular kids'-bike website Rascal Rides. "If you buy a good-quality bike, you can get a good portion of your investment back by selling it used later on," or even handing it down to a younger sibling.
While you don't have to buy a fancy road bike for your 9-year-old to pedal around on this fall, it's worth investing in a model that's durable and repairable. "It doesn't have to be crazy expensive, but you're looking for a quality frame, cranks, and gears," says Michael Sandler, a coach at Star Track Cycling. I found a range of expert picks for every age, below — whichever you choose, don't forget to buy a helmet.
Unlike adult bikes, which are categorized according to frame height, kids' bikes are measured by wheel size. These sizes range from 12-inch wheels (for toddlers) to 24-inch wheels (for taller kids on the precipice of their first adult bike). A 12-inch bike will typically be a balance bike or tricycle, whereas a 14- to 16-inch bike will be single gear with coaster brakes instead of hand brakes. Hand brakes and multiple gears are typically introduced around the 20-inch mark.
While wheel size will give you a good idea of the age range a bike is suitable for, it's important to get more specific than that when choosing your child's bike. Some manufacturers will offer guidance as to the minimum and maximum rider heights for each model, but your best bet is to go by your child's inseam measurement (the length of their inside leg), since even kids of the same overall height will have different proportions. Once you have that inseam measurement, check the bike's stand-over height to make sure they'll have some clearance. On a properly fitted bike, Bicycle World co-owner Ilene Marcos says a kid should be able to touch the ground on tiptoe when seated on the saddle (or on flat feet for beginners who are still building their confidence) and have a slight bend in their knee at the lowest point while pedaling. I've also taken note of the height or inseam recommendations for each bike listed.
Experts told me that kids should start developing adult-riding habits as soon as possible; this is why the industry has trended toward balance bikes for beginners (and not those with training wheels), as well as intermediate bikes that feature hand brakes and multiple gears, as opposed to coaster brakes and fixed speeds. The recommendations here will set kids up for adult-style road riding. And because there are plenty of adventurous young riders out there, I also looked at nine-speed road bikes and mountain bikes with fancy disc brakes.
I looked for bikes with bright colors and reflector panels that will help keep kids safe at night. For bikes aimed at toddlers, additional safety features including chain guards are essential. But the biggest safety-and-comfort feature I favored when compiling this list, as advised by kids'-cycling experts, was lightness of frame. The heavier the bike, the more difficult and potentially accident-prone the ride. "Weight is critical, especially for younger kids," says Bonkoski. Whatever your child's age, you'll want to get the lightest bike you can afford. You'll also want to avoid the temptation to buy too big a bike in the hope your kid will grow into it. "It is understandable to want to save money," says Sean Wilson, a physiologist, former cyclist, and the founder of the Youth Cycling Association. "However, a bike that does not fit properly will make it more difficult for the child to ride and ultimately can cause them to have negative experiences."
A final point: If you're getting it shipped, it's still a good idea to get your bike safety checked at a local bike shop. "I see a lot of people buying brands I love online, but they're not building them properly and following instructions," says Rachel Varn, a certified cycling instructor and the founder of PedalPower Kids, "and that is a safety issue."
Best overall kids' bike
Wheel size: 16-inch | Brakes and gears: Single speed, coaster brake | Safety and comfort: Lightweight aluminum frame
REI's affordable Co-op REV range, recommended by Bonkoski and Natalie Martins, the owner of the kids'-bike review site Two Wheeling Tots, is affordable without compromising on weight: Its aluminum frame clocks in at just over 16 pounds. "In addition to being the lightest budget bike we know of," Martins says, "the REV is backed by REI's amazing return policy, making it a no-brainer."
Like most 16-inch bikes, this one has a classic back-pedal coaster brake instead of a hand-operated one. It also comes with training wheels, which you may remove if your kid has been learning on a balance bike — more on that, below. It has a low stand-over height of 17.2 inches, meaning the rider must be at least that height and ideally just a bit taller.
Best first kids' bike
Wheel size: 12-inch | Brakes and gears: Mini-hand brake | Safety and comfort: Lightweight, upright seating position
When you purchase your child's first bike, you will have three options: tricycle, training wheels, or balance. Overwhelmingly, the industry is trending toward balance bikes, which are designed to inspire confidence in young riders from the outset: They'll always be on two wheels, and pedaling should come fairly easily once they've been gliding around on one of these for a while. Although balance bikes tend to be more expensive than tricycles, they eliminate the need for training wheels when your kid graduates to a pedal bike, explains Martins. "When they're tall enough, or when they want a pedal bike, you can actually skip training wheels completely. They literally get on the bike and pedal away." Cherie Moore, the owner of the Colorado bike store Ready, Set, Pedal, agrees that balance bikes "have literally changed the way kids learn to ride bikes." She says, "Kids can now learn to balance and maneuver a bike with the security of being able to put their feet down." German brand Woom is Martins's top choice for the smallest of riders, being recommended for kids 31 to 40 inches in height. (The company also happens to make some of our favorite kids' bike helmets.) In addition to being "ridiculously lightweight," Martins says that Woom's balance bike "comes with air tires to provide additional traction and cushioning, as well as an easy-to-use hand brake."
Best (more affordable) first kids' bike
Wheel size: 12-inch | Brakes and gears: None | Comfort and safety: Lightweight
For a reliable, cost-effective balance bike, Strider is the most recognized brand, Martins says. It's also a favorite among Strategist staffers, with both writer Lauren Ro and senior editor Jen Trolio starting out their kids with Strider balance bikes. Martins describes Strider's 12 Sport as a "well-known, quality bike" with adjustability options and an extra-long seat post that allows it to fit kids between about 18 months and 4 years old (the company says it will suit riders with a 12- to 20-inch inseam). At 6.7 pounds, it's light enough for toddlers to move around with.
Best first kids' bike (with pedals)
Wheel size: 12-inch | Brakes and gears: Hand brake, coaster brakes | Comfort and safety: Chain guard, fat tires
12-inch bikes with pedals and training wheels offer a more traditional alternative to balance bikes, and kids can get started on them at around 2 to 3 years of age. Retrospec makes some of the Strategist's favorite colorful beach cruisers for adults, and its new Koda 2 Plus kids' bikes are similarly delightful. They also come recommended by Martins, who calls their frame quality "great for the price" and adds that they're more reliably in stock than other brands. She particularly likes the Koda 2s for their high-quality hand brakes "that are typically not found on budget-friendly bikes." With a stand-over height of 13 inches, the brand recommends the 12-inch Koda 2 for riders between 28 and 38 inches tall.
Best starter bike for slightly older kids
Wheel size: 14-inch | Brakes and gears: Single-speed, hand brakes, coaster brake | Comfort and safety: Lightweight, chain guard
The kids'-cycling teachers I talked to were quick to praise Woom's well-made, high-component bikes, which are famous for having minimalist (yet sturdy) aluminum frames. "All of the Wooms I've worked with have been very well made and lightweight," says Bike Whisperer NYC instructor Andree Sanders. Varn and Sanders point out that while Woom bikes are expensive, they have a high resale value, which makes them worth the price if you can afford the initial outlay. "I'm an advocate for spending a little more," Sanders says. "You want biking to be as easy and fun as possible for the kid, and a high-component bike will help with that."
This 14-inch Woom 2 is particularly suited to non-toddlers who are learning to ride for the first time, says Richard Conroy, the education director of Bike NYC. That's because, per the design, it can be ridden pedal-free as a balance bike initially. Once your kid's confidence builds, feel free to install those pedals and let them coast.
Best adjustable kids' bike
Wheel size: 16-inch | Brakes and gears: Fixed gear, hand brakes | Comfort and safety: Super-lightweight, reflectors, safety bell
The British brand Frog was mentioned by several experts. For new pedalers of around 4 to 6 years, with its minimum inseam of 17 inches, Wilson and Moore recommend the Frog 44. It's a superlight (just 14 pounds), all-aluminum bike that can be adjusted as the rider grows. It would be a great second bike for kids who are ready to learn hand braking but have no urgent need for gears. Moore likes that it comes with easy-to-install mudguards for kids who like to ride in the rain. And it must be said that the colorways and patterns are supercute — the bike even comes with a small bottle of matching paint to touch up any scratches incurred while riding.
Best kids' bike for cautious riders
Wheel size: 16-inch | Brakes and gears: Fixed speed, hand brake | Comfort and safety: Lightweight, reflector panels
Several of our experts mentioned kids'-bike manufacturer Guardian, which has developed a Shark Tank–approved SureStop braking system that's designed to prevent over-the-handlebars accidents by stopping the rear wheel from spinning before the front one does. In addition to this safety feature, Varn says Guardian's bikes have "a very low center of gravity" that makes them a nice choice for new or cautious pedalers. The bike's steel frame weighs just 17.5 pounds, which makes it light and maneuverable. The single-lever hand brake is easy to operate, and there's no coaster brake to lean on, which will help kids develop adult riding habits.
This bike is recommended for riders between 40 and 46 inches tall within an approximate age range of 4 to 6. For no additional cost, you can add an optional short seat post, which gives this bike an impressive seat-height range between 18 and 25.2 inches. Guardian offers a handy online sizing tool to further determine which bike size will fit your kid and how long it will likely be until the bike needs an upgrade. Plus "it's easy to deal with the company if something's going wrong with the bike," Varn says.
Best first geared bike for kids
Wheel size: 20-inch | Brakes and gears: Eight-speed, hand brakes | Comfort and safety: Lightweight
The Woom 4, at 20-inches, will suit 6- to 8-year-olds, introducing them to the concept of gears. If you're going to spend your money on just one Woom over the course of your child's cycling journey, it makes sense to get them a Woom 4 once they reach the appropriate height range of 45 to 51 inches tall (the bike's stand-over height is 19.5 inches). As Sanders and our other instructors emphasized, it's best to transition kids into adult-style riding as soon as possible, and learning how to shift gears is key. With eight speeds and a twist mechanism that's designed for small hands, this bike will help them understand and deploy the concept.
Best kids' road bike
Wheel size: 20-inch | Brakes and gears: Nine-speed, hand brakes | Comfort and safety: Lightweight with road tires and short-drop handlebars
Sandler laments that too few brands manufacture small-frame road bikes for kids who might want to join their families on longer tours. So he's quick to recommend Frog's range of well-built children's road bikes, which are "an exception to the rule." Moore, another fan, explains that Frog road bikes, while on the pricey side, are designed with a unique crank that reduces the bike's "Q factor" (the distance between the pedals), allowing kids to put more power into each pedal stroke and making it easier for little legs to travel longer distances. The brand recommends the bike for kids 6 to 7 with a minimum inseam of 23 inches.
Best kids' mountain bike
Wheel size: 24-inch | Brakes and gears: Seven-speed, hand brakes | Comfort and safety: Lightweight, plus-size tires
For kids who are ready for the trail, REI's REV Plus line "looks as cool as it rides," Martins says. She loves the "plus-size tires and adult styling," which helps this bike serve as the perfect transition into adult mountain biking. While this starter mountain bike lacks a suspension system, those wide tires add stability and help smooth out any rocky trails. Mechanical Shimano disc brakes ensure plenty of power and control, as does the intuitive hand-twist gear system. The bike has a stand-over height of 23.4 inches, meaning it will best suit riders with an inseam measurement just above that.
Best (more-advanced) kids' mountain bike
Wheel size: 24-inch | Brakes and gears: Nine-speed, hand brakes | Comfort and safety: Very lightweight, plus-size tires
For advanced shredders, Woom's new "OFF" range of mountain bikes come highly recommended by Varn, who says they're "even more durable" than its original bikes "and great for families looking to explore unpaved trails." Ultralightweight, adjustable, and maneuverable, they can even be ridden tubeless if your kid spends a lot of time on gravel. Similar to the original Wooms above, the geometry, seats, and brakes are designed specifically for small hands and bodies, which makes them extremely comfortable and fun to ride every time. This 24-inch model is suitable for kids between the ages of 7 and 11, up to 57 inches tall.
Some Strategist-approved kids' bike helmets
• Kristen Bonkoski, founder of Rascal Rides
• Richard Conroy, education director, Bike NYC
• Ilene Marcos, co-owner, Bicycle World
• Natalie Martins, owner, Two Wheeling Tots
• Cherie Moore, owner, Ready, Set, Pedal
• Rachel Varn, certified cycling instructor and founder of PedalPower Kids
• Andree Sanders, instructor, Bike Whisperer NYC
• Michael Sandler, coach at Star Track Cycling
• Sean Wilson, founder of the Youth Cycling Association
The Strategist is designed to surface the most useful, expert recommendations for things to buy across the vast e-commerce landscape. Some of our latest conquests include the best acne treatments, rolling luggage, pillows for side sleepers, natural anxiety remedies, and bath towels. We update links when possible, but note that deals can expire and all prices are subject to change.
Every editorial product is independently selected. If you buy something through our links, New York may earn an affiliate commission.