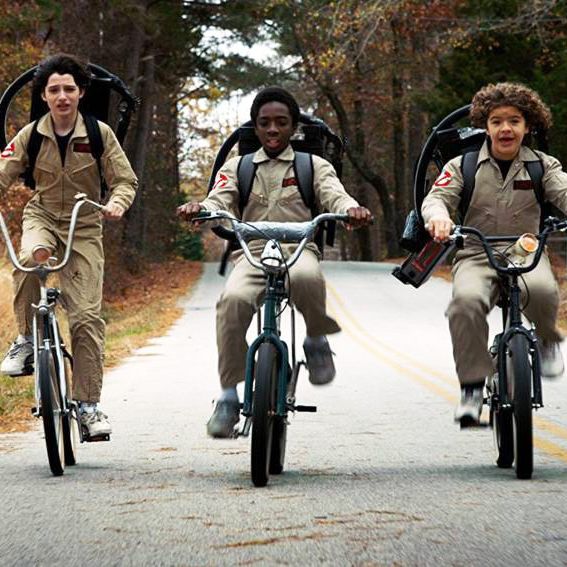 To a kid, a bike can be pretty much everything, and a little extra knowledge when selecting one can make all the difference in their riding experience. For example, whatever your child's age, you'll want to aim to get the lightest bike you can afford. "Weight is critical, especially for younger kids," says Kristen Bonkoski, founder of popular kids' bike website, Rascal Rides. For that reason, you'll also want to avoid the temptation to buy too big a bike in the hope your kid will grow into it. "It is understandable to want to save money," says Sean Wilson, physiologist, former cyclist, and founder of the Youth Cycling Association. "However, a bike that does not fit properly will make it more difficult for the child to ride, and ultimately can cause them to have negative experiences."
There are balance bikes, pedal bikes, and convertible bikes. There are bikes with gears and without. Bikes with chains and without. There are 12-inch bikes and 24-inch bikes. When deciding which one is best for your child, Jack Niewold, bike expert for the parenting-advice and product-review site Little One Mag, recommends considering the bike's geometry, or, "what fundamentally makes a mountain bike different from a cruiser or road bike." You'll also want to think about what kind of riding your child will be doing. "If they're going to be riding on the road," Wilson explains, "having a bicycle meant for the road would be preferred, while if they're riding on single track trails, a mountain bike would probably be better, and if they're on dirt or gravel roads, a hybrid bike would do well."
Overwhelmed? Don't be. We've consulted four bike sellers, a former pro cyclist and physiologist, and the owners and experts at three acclaimed kids' bike testing and review sites to help you on your quest. One thing they all agree on? Don't waste your money on a cheap bike: "Cheap bikes are generally heavy, have poorly designed geometry, and have components that aren't serviceable or will fall apart quickly," says Bonkoski. "If you buy a good-quality bike, you can get a good portion of your investment back by selling it used later on," she says, or even handing it down to a younger sibling. Whatever you do, don't forget the helmet.
Best balance bikes for kids
A lot of kids skip tricycles completely and start on what's called a balance bike, which looks like a regular bike but has no pedals. For very young kids, "the concept of pedaling may not happen," says Ian Tsuji at Danny's Cycles. A balance bike allows them to push with their feet, Fred Flintstone–style, and then pick their feet up and glide. And although balance bikes tend to be more expensive than tricycles, they do eliminate the need for training wheels when your kid graduates to a pedal bike, explains Natalie Martins, owner of the kids' bike review site, Two Wheeling Tots. "When they're tall enough, or when they want a pedal bike, you can actually skip training wheels completely. They literally get on the bike a pedal away." Cherie Moore, owner of Colorado bike store Ready, Set, Pedal, agrees that balance bikes "have literally changed the way kids learn to ride bikes." She says, "Kids can now learn to balance and maneuver a bike with the security of being able to put their feet down. This builds their confidence and develops bike skills that will make the transition to pedal bikes easy for most children."
This lightweight and relatively inexpensive (for a kids' balance bike) option from Kazam comes in lots of colors, has an adjustable seat and handlebars, and puncture-proof tires that never need air. It also has a patented, step-in footrest that Martins says is best suited for bigger kids since it might be too wide for smaller ones. Ilene Marcos, co-owner of Bicycle World in Mt. Kisco, New York, says that even though lots of bike brands have started making balance bikes, she only stocks Kazam in her store, because its bikes are high-quality for the price and come in lots of colors.
A 12-inch bike (as measured by wheel diameter) like the Kazam is one of the smallest bike sizes available. When it comes to choosing a bike size, there are some general rules you can follow. For example, Moore says a 14-inch bike will typically work for ages 3 through 5 and a 16-inch bike for ages 4 through 6. But your best bet is to go by your child's inseam, since even kids of the same overall height will have different proportions. On a properly fitted bike, Marcos says a kid should be able to touch the ground on tiptoe when seated on the saddle (or on flat feet for beginner riders who are still building their confidence) and have a slight bend in their knee at the lowest point while pedaling.
Martins's favorite balance bike is the Woom 1 Plus, which she says is "lightweight and perfectly proportioned for little bodies," even if it is a little pricey. (Moore says it's also one of her favorite brands.) Just because your kid's not riding in the Tour de France doesn't mean she wants a heavy bike. Martins and Moore both say you should aim to get a bike that's no more than 30 percent of your child's weight.
Note: Although the Woom 1 Plus is currently sold out, the smaller Woom 1 is available for preorder and is expected to ship in June.
Strider is the most recognized brand, Martins says. She describes it as a "well-known, quality bike" with adjustability options and an extra-long seat post that allow it to fit kids age 18 months to 4 years.
Best convertible balance bikes for kids