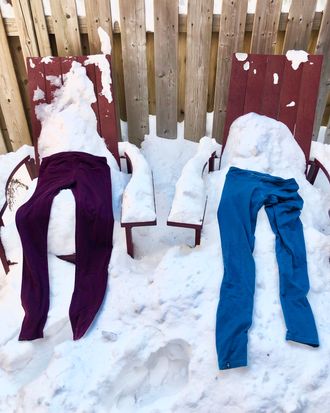 As I type this, it is –19 degrees Celsius (that's –5 degrees Fahrenheit) outside my home in Montreal. This isn't anything new for Quebec, where the highs between January and March rarely make it above freezing. But it certainly felt new for me, a native Californian, who used to borrow one of Fairway's communal jackets to make it through their refrigerated room. I quickly realized the first time I ventured out in sub-zero temps that intelligent layering would be key to surviving — and eventually thriving — in Canada's winters.
Figuring out how to effectively layer from the waist up is easy enough; with sweaters, fleeces, and down jackets, there are plenty of options to keep your torso nice and toasty. But the waist down is trickier, assuming you don't always want to walk around in insulated snow pants. I learned the hard way that a pair of jeans is not enough to keep my bottom half warm when the temps dive (I can feel the Midwesterners reading this shaking their heads), but I didn't want to put my favorite denim and dresses out of commission until spring rolled back around.
The answer was to find the right base layers to wear under those jeans and dresses. I needed — and have since collected — layers that don't change the fit of my pants, are snug but not squeezey, and look nice enough for me to wear around the house when I ditch my snow-splattered pants. Here, then, are the base layers I've come to depend on for superior posterior protection here in the True North.
The everyday layer
A friend of mine, whose office overlooks a stretch of downtown Montreal, tells me that the line for the city's first Uniqlo stretched around the block for several days when it opened in fall 2020. And I'd bet my loonies and toonies that those shoppers were stocking up on Heattech tops and leggings, which are my day-to-day layer for keeping my butt and legs warm. The most basic Heattech leggings (not the extra- or ultrawarm, though those are nice too) are my go-to for their versatility. They slip comfortably under my favorite jeans (Everlane's '90s cheeky jeans) and are super lightweight and breathable, so I stay warm without overheating. They're not the warmest layer on this list, but they're what I reach for on moderately frigid days to run errands, walk the dog, or put on under sweatpants for extra coziness.
The dressier layer
I more or less live in jeans, but for dinners out or gatherings with friends, I want to wear something a bit nicer. Denim-plus-leggings tends to feel too hot in heated indoor settings, and after years of wearing the same schlubby stuff around my home, it feels nice to change things up a bit. I started searching for merino tights — of the sheep wools, merino is among the softest and has some natural elasticity to it — and found Snag, an Italian-based company making affordable, colorful, and size-inclusive tights. They were kind enough to send me samples of their wool tights, which arrived in completely plastic-free packaging (each pair was individually wrapped in colorful tissue paper). Their merino wool tights, made with 52 percent organic merino wool, are perfect for pairing with sweater dresses on cold days. They're certainly thicker than the average opaque tights but still offer a bit of sheerness, and they're pleasingly soft, with a thick waistband that's stretchy and comfortable. I wouldn't wear them for extended periods out in the cold, but they keep my tush toasty when outside in short bursts (like walking from my apartment to the metro and from the metro to a restaurant). A note that basic shipping costs about $7 from Snag's warehouse in Scotland, but the brand offers discounts on bundles of three or six pairs of tights, so you can more or less offset the cost of shipping if you stock up (or coordinate an order with a friend).
The basic wool layer
When I go home to California, my schedule usually looks something like this: 1. Eat as many burritos as humanly possible, and 2. Swing by REI to see if I can snag any of their merino base layers at a discount. I find REI's store-brand items to be really reliable and excellent for their cost (I've sold more than one co-worker on their basic down jacket), and these base layers are no exception: they're 100 percent merino wool, and despite not having any polyester or nylon blended in, remarkably soft (the fabric feels like very sturdy cotton). The lack of nylon does mean that they tend to bag out a little, so I wear these when I don't need a second-skin fit. In fact, these — along with the two wool layers that follow — are my favorite to wear under high-waist, looser-legged denim (a.k.a. mom jeans). The jeans' close fit around the butt, hips, and waist keeps the wool snug around my bum, while the wider leg allows excess heat to easily escape (the lower-body equivalent of unzipping your coat when you start to feel too warm).
The sporty wool layer
When I'm ice skating or hiking up Mont Royal — my favorite outdoor activities — I wear these wool-and-nylon-blend leggings, which Ibex was kind enough to send to me. Made from 81 percent merino wool, they have just the right amount of stretch to keep them feeling like a second skin but not like sausage casings. For how warm they are, they're remarkably lightweight, to the point that I forget I have them on. If there's any drawback to my Ibex leggings (and all my wool leggings in general) it's that the wool fibers sometimes act like Velcro against fleece and flannel, so they can feel a little sticky when paired with certain lined pants. But that's easy enough to avoid, and they do such a good job keeping me warm that I don't need an additional warming layer unless it's seriously cold (and for that, I reach for the leggings below).
The how can it even be this cold layer
My husband and I have different ideas of fun — as a born-and-bred Canadian, he thinks it's fun to stroll around in –24 degrees Celsius "just to see what it feels like," and I prefer to stay inside, where it's warm and not –24 degrees Celsius. But because marriage is about supporting each other's interests, I pull on these incredibly warm pure merino Ibex leggings and I'm good to go. These things are thick — it almost feels like a misnomer to call them a base layer, since they can very easily be worn on their own as fully opaque, attractive leggings (the seaming on the legs and rear is Lululemon-esque). I like to wear them under the aforementioned mom jeans so my butt feels wrapped up and securely protected from the piercing cold. I should mention, too, that both of my pairs of Ibex leggings do a terrific job staying fresh (for lack of a better term). After wearing them for a round of ice skating or a wintery walk with friends, I'll hang them up next to the radiator and they're ready for the next wear, as the fabric holds its shape well and doesn't trap odors. That means they can go longer between washes, which is great news, because my lazy (but warm!) ass doesn't like doing laundry.
[Editor's note: The men's Woolies 2 bottoms are "gone for the season," according to Ibex's website, but you can shop the rest of their Woolies 2 line here.]
The Strategist is designed to surface the most useful, expert recommendations for things to buy across the vast e-commerce landscape. Some of our latest conquests include the best acne treatments, rolling luggage, pillows for side sleepers, natural anxiety remedies, and bath towels. We update links when possible, but note that deals can expire and all prices are subject to change.