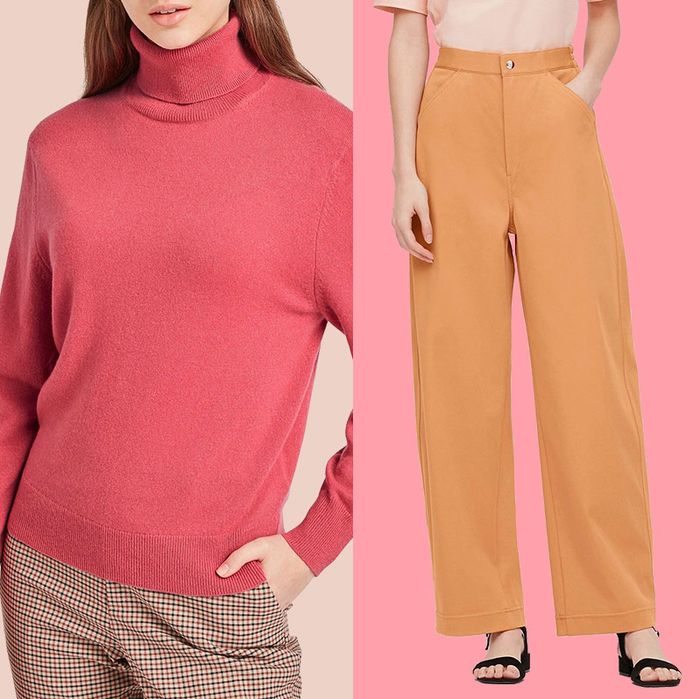 Photo-Illustration: retailer
Anyone who has shopped at a bigger-box store knows it can be hard to figure out where to begin. There are dozens upon dozens of options that all seem as worthy as the next, but the reality is that products from any given brand are not all created equal. When you shop as regularly as we do, you learn that many brands just do some things better than they do other things. Uniqlo, we've found, is one of those brands — its massive inventory needs to be carefully picked through to find gems like expert-recommended undergarments, affordable layers to buy in bulk, or celebrity-approved jackets. Here, we've corralled every single piece of clothing from Uniqlo for men and women that our writers and editors — as well as fashion editors, celebrity stylists, Alaskan cruisers, art directors, actresses, and other cool people like Chris Black — have recommended on the Strategist. One other thing we've learned from all our shopping at Uniqlo: Its website can be a bit wonky, so if you click on a product and it appears to be out of stock, be sure to check all colors and sizes before taking the website's word.
"Though it has three layers, including a built-in filter, the Airism mask is as breathable as we hoped," we wrote after testing Uniqlo's reusable cloth mask, which made our list of the best face masks you can buy online. Not only is the fabric lightweight (as its Airism name suggests), it's also self-deodorizing and even has a UV-blocking mesh.
According to Chris Black, two photographers, and one cool guy who works in coffee, Uniqlo's simple and affordable Supima cotton boxer briefs are superior even to Calvins. "I wore Calvin Klein for a minute, but at this price and comfort level, I can't pass up Uniqlo," photographer Sam Schmieg told us. "They're soft, breathable, and keep their shape well even after many washes." While there are various colors and sizes available, stock appears to be disappearing, so act fast if you like them.
Photo: retailer
"You'll forget you even have them on" is how Nicolás Lazaro, a community specialist at menswear resale platform Grailed, describes these Airism boxer briefs that he switched to after wearing the above Supima Cotton briefs. According to him, they're "ultra-lightweight, breathable, and moisture-wicking, with enough stretch for comfort while still providing the necessary support."
When we asked a bunch of cool guys about the best men's socks, Phillip Wong, the co-founder and creative director of Hawthorne, told us he always heads to Uniqlo to stock up on this affordable, stylish pair. "They're medium height and thickness, so they're versatile for many different outfits and activities," explains Wong, who adds that the socks "come in a wide range of amazing colors, so depending on your outfit, you can have a nice tonal moment."
Publicist Jon Salas also "lives and dies" by Uniqlo socks, telling us that this "no-show" pair is one of his favorites. "They're supercomfortable, durable, light, and breathable. And you just can't beat the price," Salas says.
When Salas isn't wearing his low-cut socks, he told us he wears Uniqlo's Supima cotton ones, which he says aren't "super-bunchy or thick but still manage to keep you warm."
SLT instructor Patrick McGrath likes to lounge at home in these tank tops. They're made from a thick cotton-poly blend that, crucially, isn't "totally see-through when you go outside, which would be a deal breaker," according to him. Right now, it's only available in this gray and a brown color, both of which have only a few sizes left, so act fast if you like it.
Photo: retailer
Whether in black or white, cool guys we talked to swear by Uniqlo's Supima cotton crew tee as a wardrobe staple. Matt Schonfeld, a creative marketing manager at Rowing Blazers, bought two of the "light and breathable" tees in black about seven years ago — and told us they're still in his weekly rotation. And Chris Black has recommended the white version for the man who works in a creative field and mostly wears jeans to work.
Photo-Illustration: retailer
This third — and less expensive — Uniqlo T-shirt is ideal for any guy hoping to save a few bucks without sacrificing quality. Brandon Stinchfield, the deputy director of foundations and grants for a nonprofit, wears it and told us that he can't tell the difference between the packaged dry T-shirt and the Supima cotton T-shirt. "They're light, durable, and no frills," he says of these tees. The T-shirt is available in a handful of colors and sizes, but stock is quickly disappearing, so don't dillydally if you want to stock up.
Another cool-person-approved Uniqlo tee is its short-sleeved U crew neck, which Mickey Pangilinan, an art director at Apple, is a fan of for its "weighty material and nice texture."