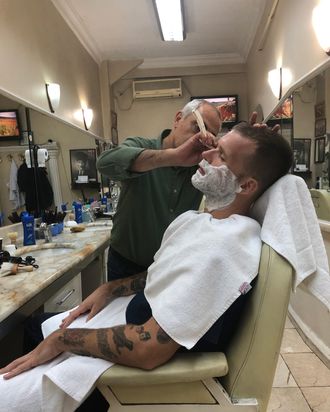 The author, who is currently in Istanbul, keeps it fresh with a "traditional Turkish shave."
Photo: Alix Rutsey
If you're looking for the most powerful hair dryer or the handiest chef's knife, those things can be easy enough to find. Other objects of desire are a little more taste-based. What's the next status water bottle or hand wash, for instance? Chris Black (he's a partner at brand consultancy Public Announcement) is here to help, in the form of a regular column. If you have a burning question about the next fanny pack or Noah rugby shirt, drop us an email with the subject line "Ask Chris" at strategist@nymag.com.
If you were forced to wear business-casual attire to the office, what would your work wardrobe look like? 
Absolutely, positively, could not be me, TBH. But for the sake of this column, we can pretend. This is an excellent opportunity to flirt with uniform dressing. Keep the palette simple and the cuts flattering, baby!
Photo: Courtesy of the vendor
Start with some navy pants from Acne. They're easy to wear with a button-down — straight-leg cotton twill is not hard to pull off — and surprisingly well-priced, considering that Acne stuff typically holds up for several years. On days that are more business than casual, these will also pair well with a blazer worn over your shirt.
Of course, you'll probably want — no need — a good button-down or two. I've already gone in on my favorites, but for your purposes, I will reiterate my praise for Brooks Brothers' Regent Fit Oxford Sport Shirt, which comes in light blue in addition to white. It is heavy-duty (meaning it will last) and cut slimmer, which is always a good look for a button-down.
If you need an extra layer, Uniqlo's fluffy cardigan made of so-called Sherpa fleece is perfect for staying warm when your boss refuses to turn down the air-conditioning. Keep it tonal.
The Dr. Martens Adrian tassel loafer in smooth black leather has a nice chunky sole, but can still pass for business casual. I think? The shoes are cool, regardless! Now go hang out by the water cooler in style.
What are your thoughts on leather jackets?
They seem to work well for basic girls that work in "marketing" and have unlocked black status on the Sweetgreen app. They also work for anyone who rides a motorcycle or has a personal shopper at John Varvatos. For me, I can't. I don't own a Harley or a Telecaster.
Still, when done right, a leather jacket can look very cool. The Schott Perfecto is really the blueprint for this stuff. It came out in 1928, introducing us to the signature asymmetrical zipper and large snap-down lapels. It has been worn by every male icon you can think of, from Lou Reed to Marlon Brando to Kanye West to Bruce Springsteen. If you can do it, justice and godspeed. Rock and Roll High School is now in session!
Photo: Courtesy of Vendor
I have always liked a leather version of the timeless, hard-wearing trucker silhouette, like this one from Helmut Lang. The simple cut makes it much more approachable in black leather.