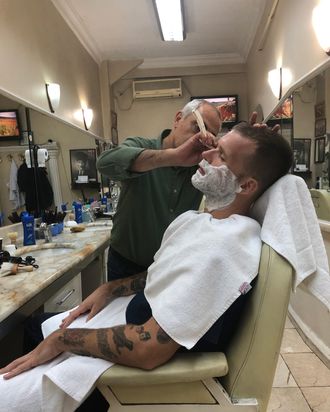 The author, who is currently in Istanbul, keeps it fresh with a "traditional Turkish shave."
Photo: Alix Rutsey
If you're looking for the most powerful hair dryer or the handiest chef's knife, those things can be easy enough to find. Other objects of desire are a little more taste-based. What's the next status water bottle or hand wash, for instance? Chris Black (he's a partner at brand consultancy Public Announcement) is here to help, in the form of a regular column. If you have a burning question about the next fanny pack or Noah rugby shirt, drop us an email with the subject line "Ask Chris" at strategist@nymag.com.
If you were forced to wear business-casual attire to the office, what would your work wardrobe look like? 
Absolutely, positively, could not be me, TBH. But for the sake of this column, we can pretend. This is an excellent opportunity to flirt with uniform dressing. Keep the palette simple and the cuts flattering, baby!
Photo: Courtesy of the vendor
Start with some navy pants from Acne. They're easy to wear with a button-down — straight-leg cotton twill is not hard to pull off — and surprisingly well-priced, considering that Acne stuff typically holds up for several years. On days that are more business than casual, these will also pair well with a blazer worn over your shirt.
Of course, you'll probably want — no need — a good button-down or two. I've already gone in on my favorites, but for your purposes, I will reiterate my praise for Brooks Brothers' Regent Fit Oxford Sport Shirt, which comes in light blue in addition to white. It is heavy-duty (meaning it will last) and cut slimmer, which is always a good look for a button-down.