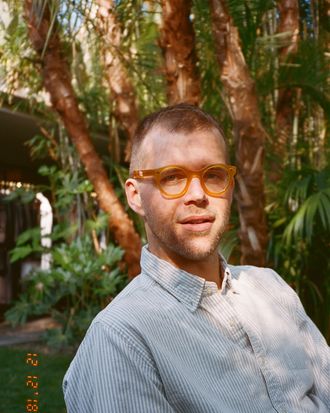 If you're looking for the most powerful hair dryer or the handiest chef's knife, those things can be easy enough to find. Other objects of desire are a little more taste-based. What's the next status water bottle or hand wash, for instance? Chris Black (he's a partner at brand consultancy Public Announcement) is here to help in the form of a regular column. If you have a burning question about the next fanny pack or Noah rugby shirt, drop us an email with the subject line "Ask Chris" at strategist@nymag.com.
My boyfriend has recently expressed he wants to start wearing more colors. Like real colors: yellow, red, pink, green. Do you have recommendations for logo-less tees for men in real colors? Or any other colorful — wearable — men's basics? 
I traffic in a muted color palette most days, but I get it. Sometimes you feel like making a statement!
A T-shirt is the most approachable option for injecting color into an otherwise dark wardrobe, though you can apparently also do so with sweaters (more on those below). Scott Sternberg's Entireworld — the brand behind some of these striped tees — also makes some great colorful T-shirts in solids, too. This organic-cotton boxy tee is described as "slouchy, not sloppy" and comes in a variety of fun hues. I am partial to the pink and yellow.
The 6.5oz garment-dyed T-shirt from Los Angeles Apparel is a certified hit. Perfect weight, great fit, and it comes in a full rainbow of colors. For $24, you can experiment!