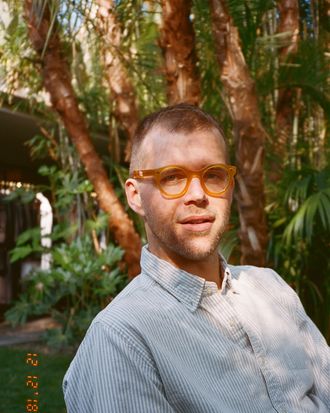 If you're looking for the most powerful hair dryer or the handiest chef's knife, those things can be easy enough to find. Other objects of desire are a little more taste-based. What's the next status water bottle or hand wash, for instance? Chris Black (he's a partner at brand consultancy Public Announcement) is here to help in the form of a regular column. If you have a burning question about the next fanny pack or Noah rugby shirt, drop us an email with the subject line "Ask Chris" at strategist@nymag.com.
My boyfriend has recently expressed he wants to start wearing more colors. Like real colors: yellow, red, pink, green. Do you have recommendations for logo-less tees for men in real colors? Or any other colorful — wearable — men's basics? 
I traffic in a muted color palette most days, but I get it. Sometimes you feel like making a statement!
A T-shirt is the most approachable option for injecting color into an otherwise dark wardrobe, though you can apparently also do so with sweaters (more on those below). Scott Sternberg's Entireworld — the brand behind some of these striped tees — also makes some great colorful T-shirts in solids, too. This organic-cotton boxy tee is described as "slouchy, not sloppy" and comes in a variety of fun hues. I am partial to the pink and yellow.
The 6.5oz garment-dyed T-shirt from Los Angeles Apparel is a certified hit. Perfect weight, great fit, and it comes in a full rainbow of colors. For $24, you can experiment!
Acne always has fun with color, and not just on top. These green track pants are very wearable and not your basic black. Their pink jeans are an advanced move, but if done right, could be a very cool look.
If your boyfriend decides he ultimately just want some color to peek out, socks can offer the perfect element of surprise. Wigwam's Balsam Fir Sock in the ice-blue "Biscayne Bay" hue would get your ankles some much-deserved attention. So would this multicolor dip-dyed pair from Stussy.
With fall weather arriving, I'm looking to refresh my sweater collection. What are some styles you like?
As it turns out, I recently have been on a hunt for some sweaters, a category of clothing I overlooked for years. What was I so afraid of? I will ask my