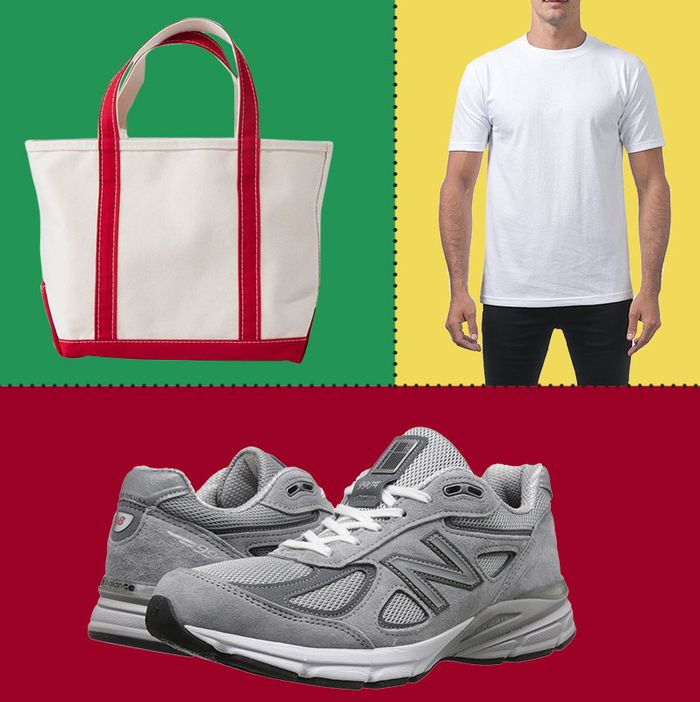 Photo: Courtesy Retailers
In fielding all the reader questions for our resident Cool Guy Chris Black week after week, we've noticed that a lot of folks continue to ask for his sage advice about basic but essential clothes (and other products) that will do the job while still flexing your sense of style. So instead of asking him to repeat himself, we combed his columns to date to compile this Chris-approved list of 25 basics he swears by, from white T-shirts to jeans to deodorant to socks to backpack (which, spoiler alert, is not a backpack). Read on for all of the basics that, according to him, will make you appear anything but.
White T-shirt
There's no need to splurge on your classic white tee, according to Chris, who loves these five-packs from Gildan because they're "so simple. I wear them without concern until they need to be disposed of and I just order more."
Thick-neck white T-shirt
A "THICC neck," as Chris likes to call it, gives a white tee a bit of a sturdier, more put-together look. As for how to wear white tees, he says, "they look good under a hooded sweatshirt, a cardigan, or even a suit."
Long-sleeve T-shirt
Chris calls this long-sleeve tee, also by Gildan, one of his "wardrobe staples." He adds: "A simple navy long-sleeved T-shirt looks good with almost anything."
Backpack
Black jeans
"Levi's basically invented jeans," says Chris, who told us these mid-rise 501s, with a button fly and straight leg, are his go-to black pair.
Non-denim pants
When he's not wearing jeans, "blue Dickies are my go-to pant," writes Chris, adding that "even though they are made for actual work, they can be dressed up easily with a little tailoring."
Socks
Deodorant
This spray-on deodorant is Chris's "little secret." He says it "smells incredible and mixes well with almost everything."
Button-down shirt
The Oxford button-down shirt is another "wardrobe staple," according to Chris, who told us he's a longtime fan of Uniqlo's, "which can't be beat for the price." In addition to white, it comes in other colors like light blue, black, and navy.
Fancier button-down shirt
"If you want to go a step up from Uniqlo, you cannot go wrong with Brooks Brothers," writes Chris. He goes for the brand's Regent fit, which is "heavy-duty and cut a little slimmer."
Suit
When it comes to a basic suit, Chris again says that budget-friendly Uniqlo's comfortable blazer and pants can't be beat. "The ultralight Kando pants in navy are quite breathable and functional and look nice, too. The matching Kando blazer will dress the outfit up," writes Chris, who notes that the jacket is equally lightweight, "so you won't show up drenched in sweat."
Moisturizer
Although he keeps three moisturizers in his bathroom at all times, Chris says this is the one he uses every day. "It is perfect for daily use after cleansing and toning," he says.
Birkenstocks